Summary
| | |
| --- | --- |
| Overall: | |
| Configuration: | |
| OnSIP Testing: | |
| Voice Quality: | |
| Ease of Use: | |
Quick Specs
7-inch 1024 x 600 capacitive adjustable touch screen
16 VoIP accounts
Built-in Bluetooth 4.0+, Built-in Wi-Fi (802.11b/g/n)
Up to 5-way video/audio mixed conferencing
Pros
Great video and sound quality
Exceptional touchscreen display
Cons
User interface can be confusing at times
No access to the Google Play store
The SIP-T58V is the newest high-end media phone from Yealink. The phone boasts the best video communication and screen we have yet seen for a desk phone. The T58V comes with a 7-inch 1024 x 600 touchscreen and support for up to 16 VoIP accounts. The phone also has built-in Bluetooth 4.0+ for headsets and mobile devices. This device is ready, right out of the box, for serious business-grade voice and video calls.
But how does the Yealink T58V fare in an actual business setting? We conducted a comprehensive review to find out.
First Impressions
The design is very similar to the last line of phones, the Yealink T4x series, but with a different button layout. Yealink says that the new layout is more intuitive, and we can see that there was some thought put into where the buttons were placed. Call handling features like transfer, do not disturb, and volume are on the left side of the phone, while the audio controls for headset, mute, and speakerphone are on the right. The spacing between buttons is also wider, so you're less likely to incorrectly enter a number.
The big attention grabber on the device is the screen. The Yealink T58V has a 7-inch (1024 x 600) adjustable touchscreen—the nicest we've seen on a SIP device and probably why the phone is so expensive. The text and color displays are very sharp. Both the camera and the screen itself are individually adjustable (up to 50 degrees), so you can easily find a comfortable viewing angle for the device.
Our reviewer was not very familiar with Android devices, so the user interface took some manual reading to figure out how to access much of the "nonphone" functionality. Although the phone is based on Android, there doesn't appear to be a way to access the Google Play store. Unlike Grandstream, Yealink doesn't provide its own sanitized version, so you won't be killing time with Candy Crush on conference calls. Apparently some people have figured out how to sideload APKs, but we did not attempt to do so ourselves.
Features
The Yealink T58V supports up to 16 SIP accounts, built-in Bluetooth 4.0+, and 802.11 WiFi. The T58 phone line is available in both "A" and "V" designations. From what we can see, the V designation means that the detachable video camera comes included in the box. In a welcome twist, you can also record your video calls in addition to your audio calls. If you want, you can record just your face during a video call by maximizing your own video, rather than the remote video, during the call.
The nonphone functionality is robust. Leveraging Android 5.1.1, the T58V gives you access to a calendar, a mail client, and a browser. The mail client worked, but we found it a bit clunky. The feature seems "value added" rather than something from which you'll get full functionality. Most desk phones are used in conjunction with a full computer, so you'll most likely be using whatever mail client you have available there. The browser seemed fine, if slow.
The Yealink T58V also boasts many other features, including:
One-touch speed dial, hotline
Mute, DND
Group listening, emergency call
Redial, call return, auto answer
Direct IP call without SIP proxy
Busy lamp field (BLF)
Bridged line appearance (BLA)
Anonymous call, anonymous call rejection
Remote office, hot desking, intercom, paging
Message waiting indicator (MWI)
Voicemail, call park, call pickup
Ringtone select/import/delete
Three-way video conferencing
Five-way video/audio mixed conferencing
HD speaker and handset
Hearing aid compatible (HAC) handset
Audio codecs: Opus, G.722, G.722.1, G.722.1C,G.711 (A/µ), G.723, G.726, G.729AB, iLBC
DTMF: in-band, out-of-band (RFC 2833), and SIP INFO
Full-duplex hands-free speakerphone with AEC
720p@30fps HD video call
Video codecs: H.264 High Profile, H.264, VP8
Yealink CAM50 camera: Two megapixel, plug and play, adjustable, with privacy shutter and LED indicator
Voice, Sound & Video Quality
The audio quality was great. We've never had an issue with Yealink phones, aside from complaints of echo in smaller rooms while using the speakerphone. This is not quite eliminated from the current model, though the echo is not as pronounced on the Yealink T48G phone.
The video quality is excellent. The specs say that the phone performs at 720p (30fps), and we could clearly see that throughout our test calls. When on a call, the video is smooth and avoids the tendency of looking excessively blocky when interoping with other manufacturers. We spoke to a remote employee who uses video phones every day and he remarked that this is probably the best video quality he had seen from this office to his. The inbound video is also excellent.
Compatibility Testing
At OnSIP, we put each of the phones we use through a multi-step interoperability test in which we apply ~30 test cases. An example of a test case would be the following:
Test phone calls phone B


B picks up


B puts test phone on hold


B calls phone C


C picks up


B transfers test phone to C

Call must be transferred correctly to C. B must be released correctly after the transfer. When C picks up, audio must work in both ways between test phone and C. When test phone is on hold, there is no audio between it and phone B.
Compatibility with the Yealink T58V is the same as with all previous Yealink devices. The launch firmware for this phone is the v80 series, which is a well-proven SIP stack that Yealink has been using for years.
OnSIP Setup
Step 1: Gather information for each user.
Each user has a set of credentials which will be needed to configure each phone. For each phone that you are configuring, obtain the following:
"SIP Address" (Address of Record)
"SIP Password"
"Auth Username"
"Username"
"Proxy/Domain"
You can find this information in the user detail pages under the "Users" tab in the "Phone Configuration" section.

Step 2: Log into your Yealink phone through a web browser.
When your phone is powered on and connected to your LAN, use a browser to navigate to your phone's IP address. You locate your phone's IP address by pressing the Menu button, scrolling to phone status, and pressing Enter. The IP and MAC addresses should be appear the top, or press the "OK" button from the main screen. The factory default administrative username for the phone is "admin," and the factory default password is '"admin."
Step 3. Enter your user information from Step 1.
Go to the "Account" tab on the web interface. Enter the information from Step 1 into the corresponding fields.
Line Active > Enabled
Label > Username
Display Name > Name of your choice
User Name > Username
Register Name > Auth Username
Password > SIP Password
Server Host > Domain
Enable Outbound Proxy Server > Select Enable
Outbound Proxy Server > sip.onsip.com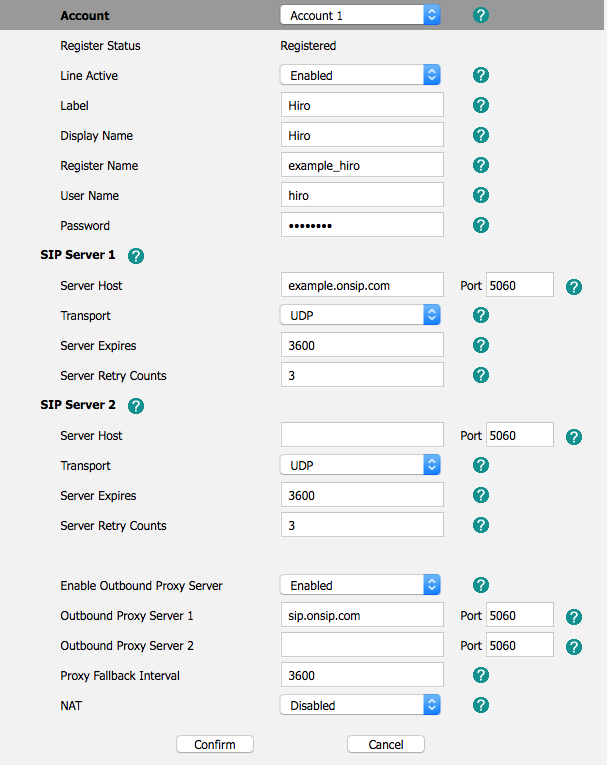 Scroll down to the bottom of the page and click on the "Confirm" button.
Step 4. Set audio and video codecs.
Once the page has refreshed, scroll down the page and click on Codecs. Verify that the following are listed in the "Enable codecs" section:
Audio:
Video: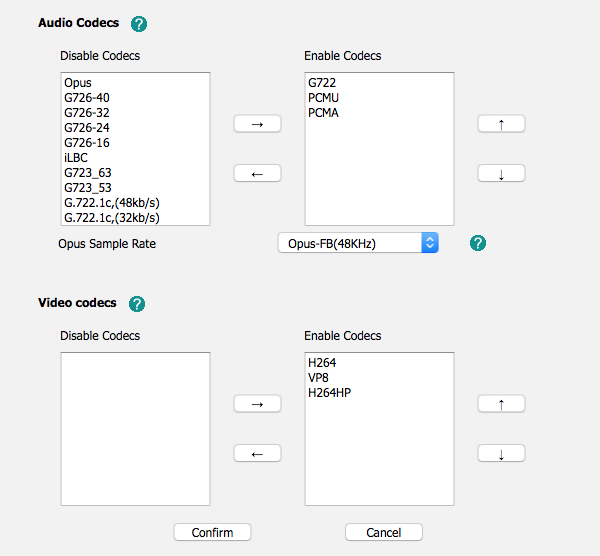 Step 5. Confirm that your phone is registered.
Under the "Account" tab expand the "Basic" section and verify that "Register Status" displays "Registered" next to it.
Final Thoughts
The Yealink T58V is a bold and mature video phone that's set a new standard for video capabilities on desk phones. The T58V feels like the video phone we've all been waiting for, with real HD video, a gorgeous screen that runs at 720p, and video call recording. This is the phone to beat for manufacturers that are trying to bring business-grade video to office desk phones.
The T58V is packed with features and boasts great audio quality to boot. Some of the features feel a little forced, like the on-board email client, but overall, the phone shows itself to be superior in not just video but also in call handling and functionality. The pricing will likely be your biggest sticking point. If you're a manager or remote worker who relies on video calling almost daily, this phone will give you an extra bit of professionalism and quality that other phones simply can't muster.