Summary
| | |
| --- | --- |
| Overall: | |
| Configuration: | |
| OnSIP Testing: | |
| Voice Quality: | |
| Ease of Use: | |
Quick Specs
8" 1280 x 800 capacitive

touch screen IPS LCD

Full-HD 1080px 30 FPS video calling

Built-in Bluetooth 4.0+ EDR for headsets

Built-in Wi-Fi (Dual-band: 2.4GHz &

5GHz, 802.11a/b/g/n)
Pros
Gorgeous video screen
Good interoperability with other units
Solid sound quality
Introduction
The SIP VP-T49G is Yealink's newest collaborative video phone. As part of the high-end T4X series offered by Yealink, it's an evolutionary leap over the VP-2009 model we've used in the past. The VP-2009 was Yealink's first attempt at combining video calling with SIP phones, and it's clear that the T49G is a more mature device.
The T49G comes with a beautiful LCD touchscreen and standard IP phone features, including 16 SIP accounts. Yealink clearly designed this phone to serve as a complete voice and video phone solution. However, with a price tag of $800, it's definitely on the pricey side. Is it worth the investment? In this review, we take a closer look at the T49G to find out.
First Impressions
Like the other "ultra luxury" phones Yealink produces, this is a solid device. People will be happy to learn that the device is sturdy and well constructed and will last a new user at least three or four years.
Even with the camera perched on top, the T49G seems to take a small portion of desk space. The screen and camera both fit comfortably onto the base and are separately adjustable. This flexibility is quite impressive, and we were able to adjust both pieces to an appropriate angle for all of our video calls. The touchscreen is responsive, and we were able to navigate through the menus quickly and efficiently. This made setting up the device a cinch.
In comparison to competing models, the Yealink T49G offers small adjustments that make a noticeable difference. For example, some video cameras on other phones aren't able to record at high angles, or the screen is obstructed by the phone's dashboard. The Polycom VVX 1500 looks quite similar to T49G, but the camera on the T49G is freed from the bezel, made wider, and given a longer range of movement.
Features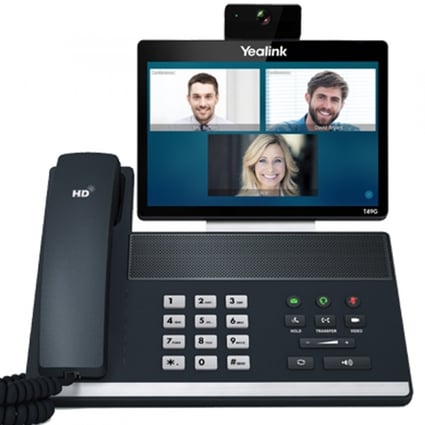 One of the T49G's most notable features is its ability to hold a three-way simultaneous video conference. This is an interesting feature for a number of reasons, but to start out, we were eager to simply try it. We used the T49G to initiate a three-way video conference with off-site employees who had video phones.
During the video call, we noticed that the T49G's screen was wide enough to accommodate the two other video feeds side by side. The video quality of the feed never dropped below HD, although it was hard to say if it remained at 1080 pixels throughout. Regardless, the video quality looked like an upgrade and is certainly much better than a Skype conference call.
The T49G's five-way audio/video mixed conferencing is even more salient to the average office phone than three-way video calling. Most employees are not equipped with video phones, much less ones with features like these. The mixed conference feature allowed us to have a diverse array of IP phones participate in the same call. Video participants were able to see each other speaking, while audio callers could only hear the voices on the call. Instead of seeing the world as audio versus video, Yealink has found a neat way to combine both mediums with ease.
The video features are the T49G's main draw. But even without the screen, the device still holds its own with the best voice phones on the market. The T49G can register up to 16 SIP accounts and could easily power call center operators, managers, and employees with multiple roles.
For the basics, the T49G has eight feature keys, including message, headset, mute, hold, transfer, redial, and speakerphone. It claims to have 29 one-touch DSS keys. Auto provisioning, phone locking, and a local phone book with 1,000 entries rounds out the most notable features.
Voice & Sound Quality
The sound quality with the handset was excellent. The speakerphone was loudly audible, without much clipping or distortion during calls. We had no complaints about the microphone quality. SIP to SIP calling was pristine, and calls to the public switched telephone network (PSTN) were better than many other models. This superb voice quality puts the T49G in a tier with the very best SIP phones.
Compatibility Testing
At OnSIP, we put each of the phones we use through a multi-step interoperability test in which we apply ~30 test cases. An example of a test case would be the following:
Test phone calls phone B


B picks up


B puts test phone on hold


B calls phone C


C picks up


B transfers test phone to C

Call must be transferred correctly to C. B must be released correctly after the transfer. When C picks up, audio must work both ways between test phone and C. When test phone is on hold, there is no audio between it and phone B.
We found no interoperability issues with the Yealink T49G.
Phone Configuration
Step 1: Gather information for each user.
Each user has a set of credentials that will be needed to configure each phone. For each phone that you are configuring, obtain the following credentials. You can find this information in the user detail pages under the Users tab in the Phone Configuration section.

Step 2: Log into your Yealink phone through a web browser.
When your phone is powered on and connected to your LAN, use a browser to navigate to your phone's IP address.
Step 3: Enter your user information from Step 1.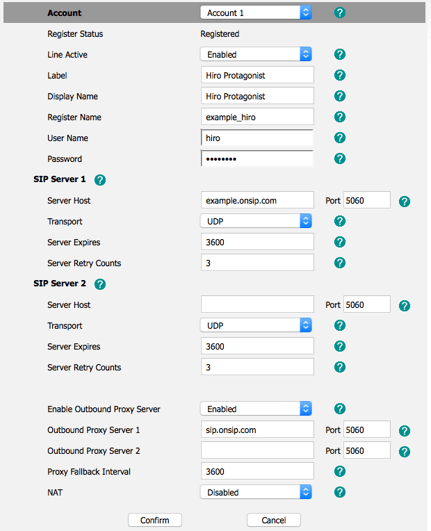 Or go to the Account tab and enter the info from Step 1:
Line active : Enabled
Label: Label for the line
Display name: Name to appear on the Caller ID of the other user
Register name: Auth Username
User Name: Username
Password: SIP Password
Enable outbound proxy server: Enabled
Outbound proxy server: sip.onsip.com
Transport: UDP
NAT: Disabled
SIP Server 1 Server Host: example.onsip.com Port: 5060
Server expires: 3600
Server Retry counts: Three
Step 4. Choose codecs.
Navigate to the Codec tab under Account and choose the codecs you want the T49G to use.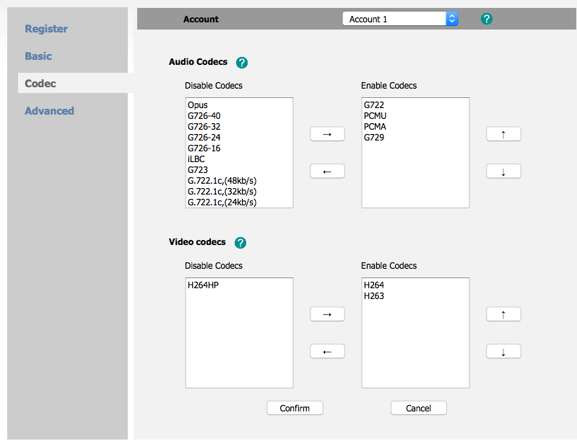 Step 5. Confirm that your phone is registered.
In the Admin Portal, click on the "Users" tab. You will see a green "online" notation next to each user with a registered phone.
Final Thoughts
The Yealink SIP VP-T49G is an outstanding video phone. When the T49G advertises HD video, it actually means it. With 1080 pixel resolution, it rivals Netflix streams in quality. Although the touchscreen interface isn't as advanced as some of the other devices we've reviewed, it's certainly got all the SIP phone fundamentals.
The video screen is gorgeous and probably the best video screen we've encountered on a SIP device. There are a lot of forward-looking features, in particular the three-way video conferencing and five-way audio/video mixed conferencing. As of today, we consider the T49G one of the three best video phones on the market.
The biggest drawback is the $800 price tag, and you're only getting your money's worth if you plan to use the video phone frequently. The ideal audience for this phone is people who use video calls routinely, such as telecommuters who need a daily video presence. Otherwise, there are plenty of other options for a less expensive touchscreen phone, such as the Panasonic KX-UTG300B. However, excellence should be recognized independent of price, which will surely drop in the not too distant future.