Summary
| | |
| --- | --- |
| Overall: | |
| Configuration: | |
| OnSIP Testing: | |
| Voice Quality: | |
| Ease of Use: | |
Quick Specs
7" 800x480-pixel touch screen with backlight
Gigabit Ethernet, PoE
Supports expansion module
Bluetooth headset
Pros
Up to 16 VoIP accounts
Intuitive touchscreen interface
Leading encryption technology
Cons
No camera
PSTN/cellular voice quality
Introduction
The Yealink T48G is designed to handle demanding integrated communications needs. Yealink claims that the T48G was crafted with a "future-proofed infrastructure investment," jargon essentially meaning that the phone will not fall into obsolescence in the coming years. But the T48G surpasses standard desk phones in many ways, offering comprehensive features such as 16 VoIP accounts and TLS, SRTP, HTTPS, 802.1x, OpenVPN, and AES encryption.
Does the Yealink T48G actually deliver the goods? We put it to the test to find out.
First Impressions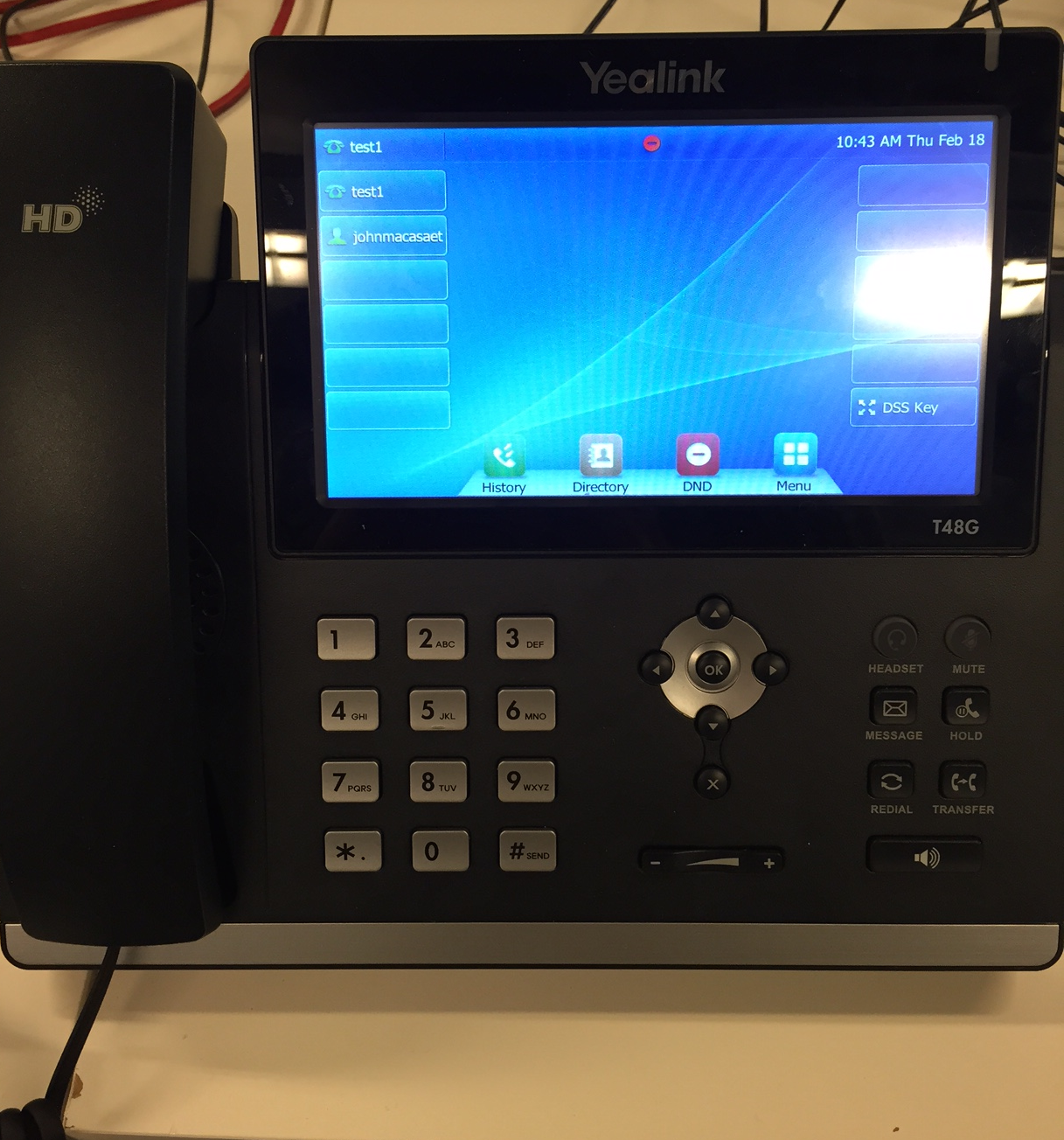 The Yealink T48G has a 7-inch touchscreen display and numeric pad. The touchscreen part has four quick buttons: history, directory, do not disturb, and menu. The T48G also has 29 DSS keys for call lines or busy lamp field, each of which is customizable from the admin portal or UI menu. Touchscreen or not, these are pretty standard features, and they're not going anywhere anytime soon.
At first glance, the most appealing feature of the Yealink T48G is the large LCD display that is fairly easy to navigate, especially when compared to other desk phones that lack a touchscreen interface. The T48G's interface will certainly be intuitive for a vast majority of phone users in the world today, since most of us are quite used to flipping through our smartphones. The menu sections are well apportioned across the screen, ridding it of unnecessary clutter that similarly designed phones suffer from.
The phone is flexible for different types of users. Users who are not technical will have no trouble finding their way around the simplistic interface, whereas technical users will be happy with the customization options that lurk in side menus, including third-party device integration. However, the phone does not come with a camera for video conferencing or image sharing.
Features
In general, the Yealink T48G comes with all the standard features that an IP phone needs for business use. These include call transfers, conferencing, phone directory, do not disturb, call history, and notifications.
Most impressively, the Yealink T48G can support up to 16 VoIP accounts. That's right: 16. To put that in perspective, almost all the desk phones we reviewed in 2015 supported four lines or fewer. Granted, the number 16 means little to a user who only has a line or two. But remember that the T48G was designed for managers. It makes sense that someone in a managerial position might have to answer up to 16 lines, especially if they're filling in for an absent employee. That's why this phone is a dream for call center managers but unnecessary for those who just need to make phone calls from a single line.
The T48G comes with 29 DSS keys, PoE ports, Bluetooth, HD audio, and Gigabit ports. It also features three-way conferencing and a phonebook than can hold up to 1,000 entries. Even though it's a touchscreen phone, it still has the numeric input—a respectable design choice that makes it easier to dial and keeps the device feeling like a desk phone. Aside from the numeric pad, the T48G also has buttons for quick access to functions like hold, transfer, redial, speakerphone, headset, mute, and volume.
Voice & Sound Quality
The sound quality for the T48G stacks up confidently against other touchscreen phones. Calls made to and from the PSTN were clear and discernible, while calls to office extensions and SIP phones were superb. The speakerphone offered perfectly reasonable sound quality, and we had no trouble hearing anything. The T48G earns its "HD voice" distinction in stride. That being said, we've reviewed touchscreen phones with better sound quality, such as the Panasonic KX-UTG300B.
Phone Configuration
Step 1: Gather information for each user.
Each user has a set of credentials that will be needed to configure each phone. For each phone that you are configuring, obtain the following credentials. You can find this information in the user detail pages under the Users tab in the Phone Configuration section.

Step 2: Log into your Yealink phone through a web browser.
When your phone is powered on and connected to your LAN, use a browser to navigate to the IP address of your phone.
Step 3. Enter your user information from Step 1.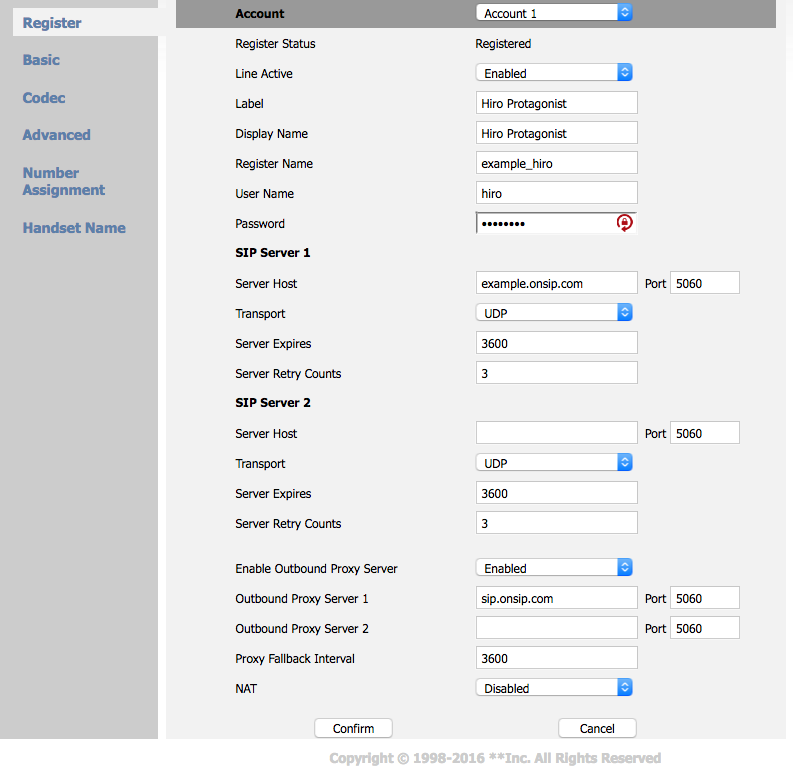 Use boot.onsip.com to configure the phone under Settings.
Or go to the Account tab and enter the info from Step 1:
Line active: Enabled
Label: Label for the line
Display name: Name to appear on the caller ID of the other user
Register name: Auth Username
User Name: Username
Password: SIP Password
Enable outbound proxy server: Enabled
Outbound proxy server: sip.onsip.com
Transport: UDP
NAT: Disabled
SIP Server 1 Server Host: example.onsip.com Port: 5060
Server expires: 3600
Server Retry count: Three
Step 4. Choose codecs.
Navigate to the Codec tab under Account and choose the codecs you want the T48G to use.
Step 5. Confirm that your phone is registered.
In the Admin Portal, click on the "Users" tab. You will see a green "online" notation next to each user with a registered phone.
Compatibility Testing
At OnSIP, we put each of the phones we use through a multi-step interoperability test in which we apply ~30 test cases. An example of a test case would be the following:
Test phone calls phone B


B picks up


B puts test phone on hold


B calls phone C


C picks up


B transfers test phone to C

Call must be transferred correctly to C. B must be released correctly after the transfer. When C picks up, audio must work in both ways between test phone and C. When test phone is on hold, there is no audio between it and phone B.
We did not experience any issues during our tests with the Yealink T48G.
Final Thoughts
The Yealink T48G is a top phone for managers who need to straddle multiple VoIP accounts. The T48G can support up to 16 lines, a number that is simply mind boggling. It's clearly primed for a call center-type environment where the manager needs access to everyone's account. The touchscreen interface is sleek and intuitive, although it's nothing we haven't seen before. Nevertheless, the combination of powerhouse features, easy navigation, and delightful aesthetic convinced us to give the phone a five-star rating.
That being said, this isn't the best choice for users who are only planning to use one or two lines. The interface may be slick and shiny, but there are other phones that could work better than the T48G and its 16 lines (such as the Polycom VVX 201).