Summary
| | |
| --- | --- |
| Overall: | |
| Configuration: | |
| OnSIP Testing: | |
| Voice Quality: | |
| Ease of Use: | |
Quick Specs
320x160 graphic LCD with 4-level grayscales
6 VoIP accounts
48 keys including 16 programmable keys
PoE, Headset, 2xRJ45, Expansion module
Pros
Changes made on the web interface are pushed immediately to the phone
Nearly every button is customizable
Very affordable 6-line phone
Cons
Hardware quality isn't the best
Note: The SIP-T28P IP Phone was discontinued as of December 31, 2015.
"The quality of a Polycom at the price point of a Grandstream."
We've often heard Yealink phones described this way. A few years back, "quality of a Polycom at the price of a Grandstream" would've meant a lot more. It wasn't long ago when only a few select VoIP phone manufacturers offered "high-definition" audio, crisp backlit LCDs, and some of the extra features you wouldn't find on a traditional desk phone. If you wanted exceptional audio back then, you got Polycom phones. If staying within your budget was your main prerogative, you probably went with Grandstream. And if you happened to be one of the few who wanted to do video calling via a desk phone, there were only a handful of options available.
Nowadays, the product lines of competing VoIP manufacturers aren't as different. Codec support and feature sets are pretty identical across the spectrum of brands. For example, nearly every VoIP phone we've tried and tested in the last year supports G.722 wideband audio. What we're seeing now is a homogenization of product offerings from VoIP hardware manufacturers, which is to be expected in this maturing market.
It's easy to say phone A is better than phone B when phone A has better audio quality, a color backlit LCD, and a built-in back scratcher, and phone B does not. When the two phones have incredibly similar feature sets, however, a lot of it comes down to personal preference.
The Yealink SIP-T28P is a PoE-enabled enterprise desk phone that supports up to six simultaneous SIP account registrations. The phone has a 320 x 160 pixel backlit LCD, 48 keys in total including ten programmable shortcut keys, and support for BLF and SMS. It features G.722 wideband audio, with the marketing materials on the company website suggesting that the hardware (handset and speaker) is also HD. Headset (RJ45) and extension module jacks can be found underneath the device. We did some digging around to see just how affordable the T28Ps are. The list price of $189 is already very reasonable for a six-line enterprise desk phone, but you can find it for even less on certain online retailers.
Phone Configuration
The following is a quick guide to manually setting up the Yealink T28P with OnSIP. The steps shown here should also work (more or less) if you're using another provider.
These instructions assume your phone has successfully booted and completed network configuration, including obtaining valid IP addresses for itself, an IP gateway and DNS servers either via DCHP, manual or other means (refer to your phone's documentation), and that your phone is running with factory defaults.
You will need your SIP credentials. You can find them in your OnSIP admin page under "users." The information you're looking for should look a little something like this:

Next, you will need the IP address of the phone to access the web admin portal. Select the "menu" soft key, and go into "1. Status." The IP address should be on the first line displayed.
Type your IP address into your Internet browser window. You will be asked for a username and password. Default is "admin" and "admin."
The first view in the web admin portal shows you your phone status. Note your phone's firmware version, as you may need to update it. At the time of this review, we are running version 2.60.0.120. To set up a SIP account, click on "Account" in the top navigation bar.
Enter your SIP credentials as follows in the empty fields on this view.
Account: Account 1
Label: Your Choice
Display name: Your Choice
Register name: Auth Username
User Name: Username
Password: SIP Password
SIP Server: Proxy/Domain
Outbound Proxy Server: sip.onsip.com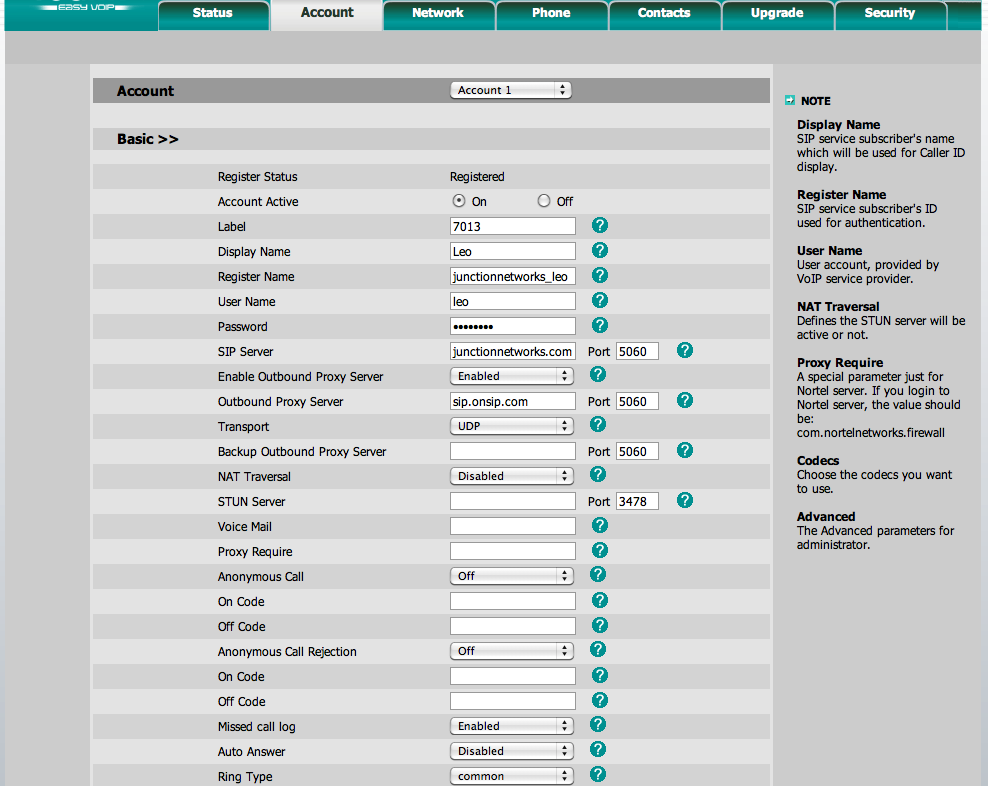 Select "codecs" to prioritize your audio codecs. You won't need to go into "Advanced" to set up a SIP account, but you may want to explore the further customization options there later. Repeat the above steps as necessary if you're setting up multiple SIP accounts.
The Yealink web portal lets you tweak almost every setting imaginable. Just click on "Phone" in the top navigation bar and you'll see what we mean. The "Preference" and "Features" views both have dozens of options you can customize. Upload ringtones, set your backlight brightness, choose who you want calls forwarded to when you don't answer, or upload a custom logo to display on your phone's background. It's all there if you do a bit of digging. To set up the ten customizable LED keys, select the "DSS key" view. The ten keys on the right side of the phone are called Memory keys, and there's plenty you can do with them. See the image below.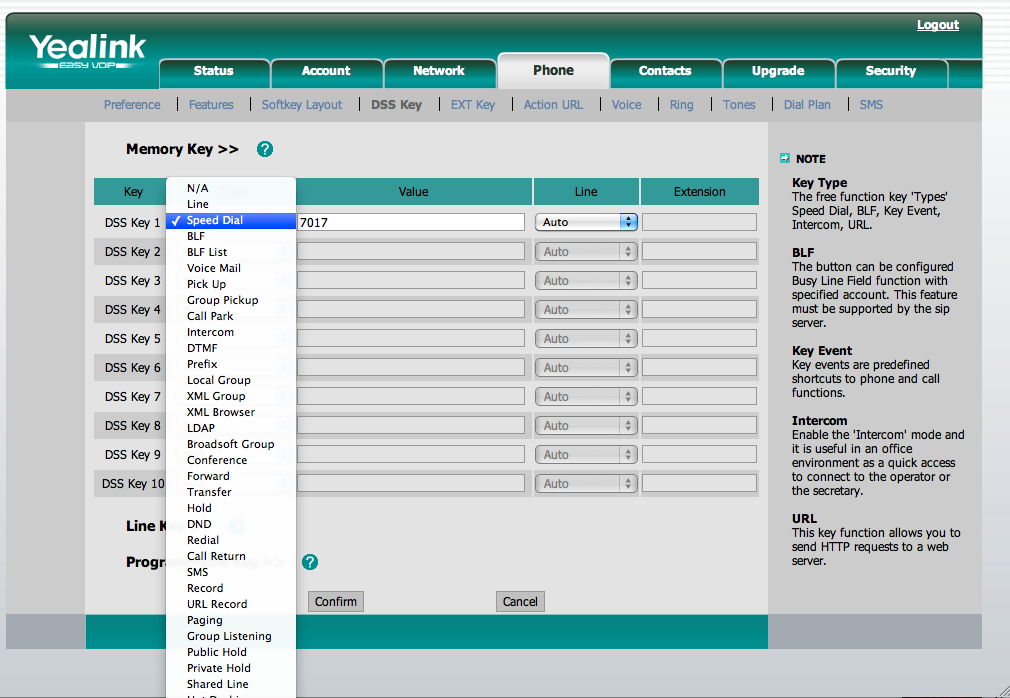 Note from the image that you can also customize the function of your six line keys, four soft keys and even some of the hard keys on the phone. Now that's customization you don't see built into every phone.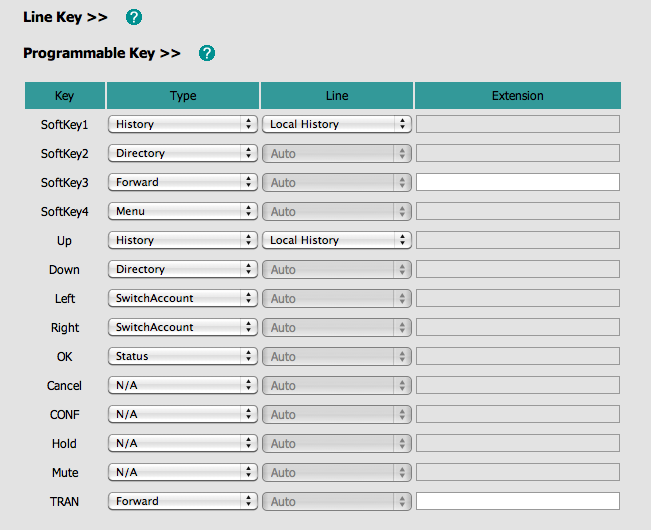 Changes made in the Yealink web admin portal are pushed to the phone nearly instantly, with no reboots necessary.
Compatibility Testing
At OnSIP, we put each of the phones we use through a multi-step interoperability test in which we apply ~30 test cases. An example of a test case would be the following:
Test phone calls phone B


B picks up


B puts test phone on hold


B calls phone C


C picks up


B transfers test phone to C

Call must be transferred correctly to C. B must be released correctly after the transfer. When C picks up, audio must work in both ways between test phone and C. When test phone is on hold, there is no audio between it and phone B.
We're happy to report that the Yealink T28P passed our interoperability tests with no issues. Note that this phone is also Broadsoft/Avaya/Asterisk validated.
Voice Quality
As mentioned earlier in this write-up, the Yealink T28P does do HD voice via the G.722 wideband audio codec. Keep in mind that you will only get HD-quality audio when the call does not traverse the public switched telephone network (PSTN). For OnSIP customers, this means extension to extension calls, calls to or from other SIP phones on the Internet, and conferencing.
It's not quite the HD calling experience you get when you're on a Polycom, but the overall voice quality from the handset is still quite good. It just doesn't sound as crisp, and we never really felt like the person on the other end of the line was sitting right next to us like we often do with Polycoms.
The speakerphone also does not disappoint. Again, it's not quite on par with Polycom speakerphones (arguably the best in the industry), as callers on the other end sometimes reported white noise, but it's still above average.
Ease of Use
You won't find anything too out of the ordinary when you're using the T28P. The hard key button layout is very similar to what you've seen a dozen times on other IP phones. You have your standard numpad on the left-hand side, a navigation wheel and volume keys in the middle, followed by your call-handling keys and your ten LED programmable keys on the right-hand side. Above this is the phone's 320 x 160 pixel backlit LCD, which is accompanied by four context-sensitive soft keys and six programmable line keys. Up to four menu items fit on the screen at once, which makes navigating through phone menus painless.
As we mentioned in the phone configuration section of this write-up, what sets the Yealink T28P apart from many phones we've tested is the fact that you can customize the function of nearly every button. You can alter the layout and default function of the context sensitive keys, make line keys into call handling shortcuts, and even change the function of clearly labeled hard keys. If for some reason you want to turn the conference button into a toggle for DND (not sure why you would want to), you can do that on this phone.
You will not be able to juggle calls using one SIP account (or start a second call, for that matter) without first doing a little tweaking in the web admin portal. By default, each of the line keys corresponds to a different SIP account, even if you haven't set up multiple accounts. If you press the second line key and you don't have it configured, you will get the message "Invalid Account." One way to solve this is to go into the web admin portal, click on the line key customization field (Phone > DSS Key > Line Key), and set a line key to line type "auto." This creates a second line instance of your first SIP account. Now if you want to start a second call, simply click on the "auto" line. This will automatically put your first caller on hold and allow you to dial a new number using the same account.