Summary
| | |
| --- | --- |
| Overall: | |
| Configuration: | |
| OnSIP Testing: | |
| Voice Quality: | |
| Ease of Use: | |
Quick Specs
DECT 6.0 (maximum register): 1 cordless headset VSP505/VH6102 and/or 1 cordless handset VSP601

Micro SD card slot

206 x 128 pixels (w x h) LCD resolution

32 programmable feature keys (2 pages x16)
Pros
Dual Gigabit Ethernet, POE

Local call recording
G.722 codec (HD voice)
DECT 6.0 compatibility
Cons
LCD screen - large screen with minimal functionality

Loudspeaker sound quality
The VTech VSP736 ErisTerminal SIP Deskset is a mid-range SIP phone that can register up to six SIP accounts. With 32 programmable keys, dual Gigabit Ethernet ports, local call recording, and DECT 6.0 support, VTech seems to have stacked this phone with some impressive features, considering the price range. Does the phone deliver everything it advertises? We reviewed it to find out.
First Impressions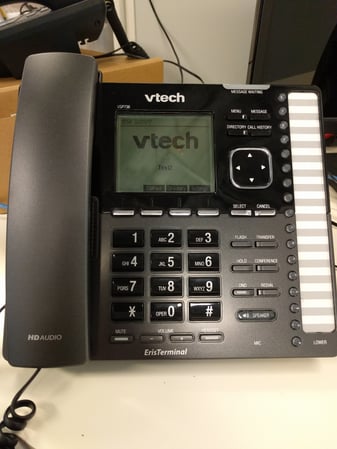 The VTech VSP736 has a large LCD screen with a resolution of 206 x 128 pixels and a white backlight. Although the phone is big, there's not much to see in terms of functions like line appearances and busy lamp field (BLF). The design is similar to earlier models, including the VSP715 and VSP726, only this device is bigger.
The VTech VSP736 has four soft keys, 18 dedicated hard keys, and 32 dedicated programmable keys. Aside from the four soft keys, the phone also has a few dedicated function keys for call transfer, hold, conference, and contact directory.
A message waiting indicator can be found on the upper right corner of the phone. The screen also displays notifications such as missed calls or if a call was forwarded. A navigational pad, with its own separate select key, is available for navigating the menu.
Features
The VTech VSP736 can register up to six SIP accounts. If you want to switch the SIP account you're using, you have to press the "line" soft key. You can also assign the line function to one of the phone's programmable keys.
You can access most of the features with the 32 programmable keys. We had to manually label the keys with the functions we assigned to them—otherwise, the keys can become confusing. The phone has only 16 physical programmable keys, so to access the other 16, you have to press the "lower" key found at the bottom right portion of the phone.
The standard business phone features that come with the VTech VSP736 include:
Do not disturb (DND)
Busy lamp field (BLF)
Three-way local conference
N-way network conference
Call blocking (block anonymous/blacklist)
Dial plan/digit map
Hotline, intercom, mute, redial
Ten speed dial entries
Call transfer: blind and attended
Call hold, call park, call pickup
Automatic call distribution (ACD)
Caller ID
The VTech VSP736 features a PoE port and dual Gigabit Ethernet ports. The phone also supports DECT 6.0, so it can be paired up with wireless devices, such as the VSP601 handset and the VSP505/VH6102 headsets.
One of the more impressive features on this phone is local call recording. A micro SD card can be used for storage. Troubleshooting tools, such as pcap trace, syslog and logs, are available through the phone's web interface.
Voice & Sound Quality
The sound quality for the VTech VSP736 is decent to good. The phone supports the G.722 codec, providing HD voice quality. Our SIP-to-SIP calls were in full HD, but tests to other phones saw a minor drop in quality. The loudspeaker quality was average. Overall, the phone's voice quality was quite similar to that of the VTech VSP715.
Compatibility Testing
At OnSIP, we put each of the phones we use through a multi-step interoperability test in which we apply ~30 test cases. An example of a test case would be the following:
Test phone calls phone B


B picks up


B puts test phone on hold


B calls phone C


C picks up


B transfers test phone to C

Call must be transferred correctly to C. B must be released correctly after the transfer. When C picks up, audio must work in both ways between test phone and C. When test phone is on hold, there is no audio between it and phone B.
Everything worked well with our internal testing. Call scenarios and registrations on the VTech VSP736 passed our tests.
OnSIP Setup
Step 1: Gather information for each user.
Each user has a set of credentials that you will need to configure each phone. For each phone that you are configuring, obtain the following:
"SIP Address" (Address of Record)
"SIP Password"
"Auth Username"
"Username"
"Proxy/Domain"
You can find this information in the user detail pages under the "Users" tab in the "Phone Configuration" section.
Step 2: Log into your VTech phone through a web browser.
When your phone is powered on and connected to your LAN, use a web browser on the same network to navigate to your phone'sIP address.
The factory default user name for the VTech VSP736 is "admin," and the factory default password is "admin."
Step 3. Enter your user information from Step 1.
Navigate to the General Account Settings section: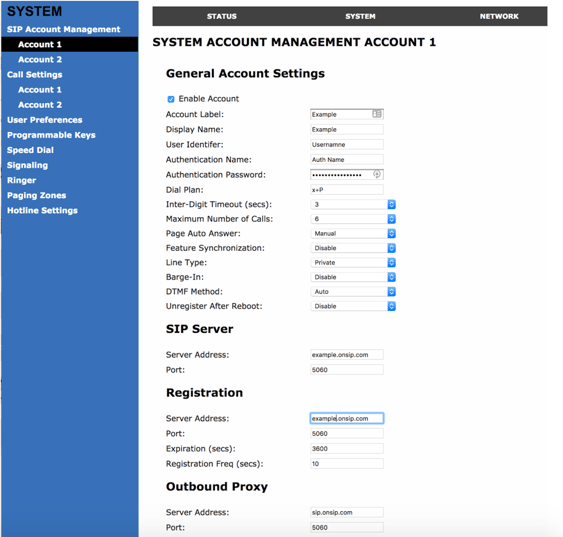 Check "Enable Account" box. Enter your OnSIP credentials in the appropriate boxes:
Display Name: Whatever you would like
User Identifier: Username
Authentication Name: Auth Name
Authentication password: SIP Password
SIP Server
Server Address: example.onsip.com
Port: 5060
Registration
Server Address: example.onsip.com
Port: 5060
Outbound Proxy
Server Address: sip.onsip.com
Port: 5060
Press "Save" when finished. Your VTech VSP736 phone will now be activated.
Final Thoughts
The VTech VSP736 is a solid mid-range phone. The LCD screen could be improved to handle more navigation and features. As it stands, the screen currently makes it difficult to manage calls or implement features. Compared to previous versions, such as the VTech VSP715 and VSP726, the larger screen size didn't add much value to the phone.
Most of the phone's features are placed in the keys. One of the best features of the VTech VSP736 is local call recording. This makes it easy to record your calls without having to pay an outside service. The sound quality of the phone is average.
Overall, the VTech VSP736 is a decent phone at a reasonable price. But for the price range, we'd rather go with the Grandstream GXP2170.