Summary
| | |
| --- | --- |
| Overall: | |
| Configuration: | |
| OnSIP Testing: | |
| Voice Quality: | |
| Ease of Use: | |
Quick Specs
Up to 12 line registrations
PoE support
2 USB ports for storage, multimedia
Application platform that supports HTML5, Javascript
Pros
Excellent audio quality
Responsive touchscreen display
Intuitive interface
Easy setup
Expandable with applications, video, and more
Cons
Relatively small display
Easy to fat-finger buttons on touchscreen
No way to easily transfer a call to another existing call
Note: The VVX 500 has since been discontinued.
The Polycom VVX 500 is the new addition to the company's line of business media phones, joining its big brother, the VVX 1500. Credit goes to industrial design firm White Box Design for successfully incorporating design elements from the brand's Soundpoint IP series into the phone's clean and updated look. The phone will feel both familiar and fresh to anyone who has ever used a Polycom before. Check out this case study on their work.
First, this is a good-looking device. The centerpiece is coated in a glossy black plastic that matches the phone's reflective LCD screen. Two thick, vertical bands of silver plastic border and accentuate this main focus area. These design tweaks make the VVX 500 different enough that it feels like an exciting new product but not so different that it's completely disjointed from other Polycoms.
This phone won't take up much desk real estate, being only slightly bigger than the Polycom Soundpoint IP 335, but its main highlight, the 3.5-inch TFT LCD touchscreen, allows users to do much more in the available space. More on this later.
The VVX 500 has a standard set of hard keys: a numpad with round buttons that are large and satisfying to use, buttons to control volume, activate headset, speaker, and mute, and finally, a button that takes users to the main "Home" screen on the touchscreen display.
The touchscreen itself is one of the nicest touchscreen interfaces we've used on a desktop phone to date. We feel like we keep saying this again and again to the point where it has started to lose all its meaning, but you can't really blame us for new products that are simply doing things better. The touchscreen is incredibly responsive compared to what the competition is offering and is multi-touch capable and gesture-based, which allows us to do things like type in SIP addresses quickly on the on-screen virtual keyboard and freely scroll around a webpage using just a finger.
In addition to the regular ports you would find on any VoIP phone (Ethernet port, RJ9 headset port, etc), the VVX 500 has two USB ports for multimedia, storage, and certain USB headsets. The phone is also electronic hook switch capable, allowing users to do some basic call handling (pickup, hang up) using controls on their wireless headsets. For more information on compatible headset equipment, check out Polycom's technical bulletins on USB headsets and Electronic Hook Switch. As you might expect, the VVX 500 ships standard with power over Ethernet support. A power supply is not included out of the box and must be purchased separately (48v AC power adapter).
According to Polycom's marketing website, their line of business media phones—the category that the VVX 500 is filed under—is "for one-touch video and a life-like meeting experience," but when we dug down into the phone's features, we found that video calling and conferencing isn't included out of the box. It's not that it isn't supported; you just need to purchase a separate Polycom-branded USB camera accessory to enable video, and we're not quite sure where to get one to test it out.
Phone Configuration
The following instructions assume your phone has successfully booted and completed network configuration, including obtaining valid IP addresses for itself, an IP gateway, and DNS servers either via DCHP, manual, or other means and that your phone is running with factory defaults.
SIP Address (Address of Record)
SIP Password
Auth Username
Username
Proxy/Domain
If you are an OnSIP customer, you can find this information in the user detail pages under the Users tab in the Phone Configuration section.

After you've plugged in your device and connected to your LAN, the first thing you'll need to do is find the phone's IP address. Press the home button and then select SETTINGS > STATUS > NETWORK > TCP/IP Parameters to get your IP address.
Enter this IP address into your Internet browser, select "admin," and enter the default password "456" to login.
The Polycom VVX 500 is the first Polycom we've received that was shipped with Polycom's new BootROM Software and UC Software version 4.0.1. As part of that package, we got an entirely redesigned web configuration utility that addresses the issues and complaints we had with the previous version.
They make it incredibly easy on SIP newbies with the new "Simple Setup" option.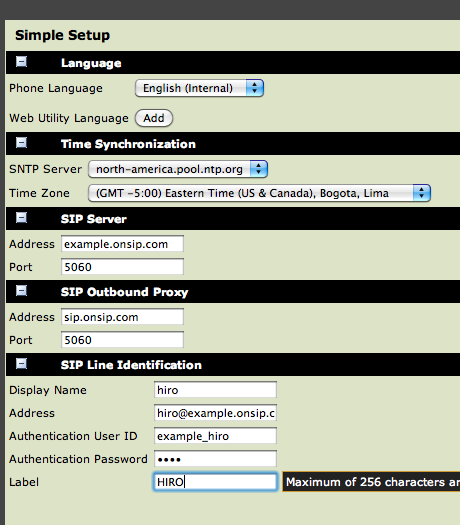 Expand the third option, "SIP Server," and input the following:
Address: Proxy/Domain

Port: 5060
Expand the fourth option, SIP Outbound Proxy, and input the following:
Address: sip.onsip.com

Port: 5060
Finally, expand the fifth option, SIP Line Identification, and input the following:
Display name: Username

Address: Address of Record

Authentication User ID: Auth Username

Authentication Password: SIP Password

Label: Your Choice
Hit Save and it will ask you if you want to save your configuration. Hit yes. The wonderful thing about the new software upgrades is that your changes are instantaneously pushed to your Polycom without the need to reboot the phone or reload the web configuration utility in your browser.
This is a big deal: Polycom phones were notorious for their required reboots during phone setup and management, even for the most minuscule changes. If you needed to make a few minor changes across three pages in the old web configuration tool, you would need to sit through three reboots, each of which would lock you out completely. It got old fast, and we're glad that this was finally fixed.
In the new web config tool, only a few settings require a full phone reboot, none of which you'll run into during setup and provisioning. It's also much more user friendly, with more intuitive menus, a stylish new look, and a dynamic help sidebar.
Compatibility Testing
At OnSIP, we put each of the phones we use through a multi-step interoperability test in which we apply ~30 test cases. Here's an example of a test case:
Test phone calls phone B

B picks up

B puts test phone on hold

B calls phone C

C picks up

B transfers test phone to C

The call must be transferred correctly to C. B must be released correctly after the transfer. When C picks up, audio must work both ways between test phone and C. When the test phone is on hold, there is no audio between it and phone B.
Not surprisingly, the Polycom VVX 500 passed each test case with no issues.
Voice Quality
This phone uses Polycom's HD Voice, which incorporates wideband technology (G.722, G.722.1, Polycom's own Siren codec, etc), Polycom's Acoustic Clarity technology, and sound quality-boosting hardware and software components to deliver incredible-sounding calls. Polycoms in general are some of the best-sounding phones in the industry, and the VVX 500 is no exception.
Here is a quick comparison of audio quality. The first file is a regular phone call. The second is a call with the Polycom VVX 500 using G.722.
IPhone Handset by junctionnetworks
Polycom VVX 500 handset by junctionnetworks
The voice quality on the speakerphone is just as good, with no noticeable sacrifice in clarity when we switched over. Our recording of the speakerphone is inexplicably quiet, which has everything to do with what we're using to record these calls and nothing to do with the actual phone.
Polycom VVX 500 Speaker by junctionnetworks
Users can also get Polycom HD Voice on their wideband headsets.
As always, we have to mention that users will only get HD voice when all the phones involved in the call support the same wideband codec. Typically, users will not get HD voice when their calls traverse the public switched telephone network at any point. For OnSIP customers, this limits HD calls to SIP calls, extension to extension, and conferencing.
Usage
The Polycom VVX 500 allows users to register up to 12 lines. That's up to 12 separate SIP accounts registered on this phone. In addition, they can give each line multiple line appearances to easily jump on multiple calls using the same SIP account. In the Polycom web configuration utility, the default "calls per line" value, the maximum number of calls that may be active or on hold for each line key, is 24. That's a huge number, and we haven't tested that upper limit for ourselves, so we'll just take their word for it for now. All of the lines and line appearances are presented in what we'll call the line menu.
The phone will default to this menu in its idle state; you can of course change your phone's idle state. Users can fill up their line menu (assuming it's not already filled to the brim with multiple lines and line appearances) with their favorite contacts to one-click call their most frequently called colleagues. Finally, the line menu also contains a few shortcuts and soft keys. An envelope and clock in the upper left-hand corner correspond to voicemail and recent calls, respectively. Non-configurable soft keys for New Call, which by default will use your first line, and Call Forwarding are presented at the bottom of the menu. Lines and favorite contacts in the menu are also provided in the form of a drop-down on most of the other important menus in the phone for easy accessibility.
Hit the "New Call" soft key, the clock for "Recent Calls" from the line menu, or simply lift your handset, and the phone will take you to what we'll call the phone menu. This menu contains four screens: the dial pad, the Directory, Recent, and Favorites.
The dial pad is nothing too unusual. It will display your three most recent calls if you haven't begun entering a number, which is useful since there doesn't seem to be a redial button anywhere to be found. When you start entering in a number, the phone will try to predict the person you're trying to reach by presenting you with potential matches (based on what you've entered) from your directory and recent calls to make your life easier. You also have the option to call SIP addresses with the VVX 500's onscreen virtual keyboard.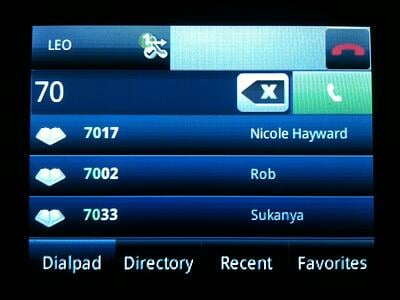 There's not much to say about the directory and recent calls screens, except that the directory has search functionality, and recent calls can be sorted by date, time, type, and line. You can give your contacts their own individual ring types or choose to auto-reject and auto-divert the contacts you really don't want to talk to. The favorites screen is just a subset of your directory. You can designate favorite contacts by editing your directory contacts, designating them as a favorite, and giving them an index number to determine their order in your Favorites list.
The Polycom VVX 500 makes call handling painless. The Call menu contains several options. You can hold the call, end it, transfer it, or start a conference. Drag your finger across the screen to the right, and you'll be taken back to the line menu, which will show you the occupied line.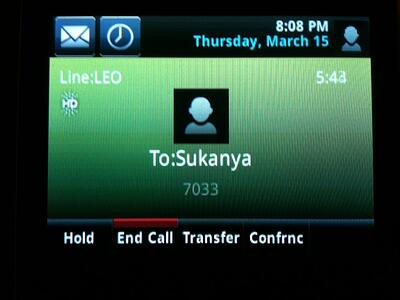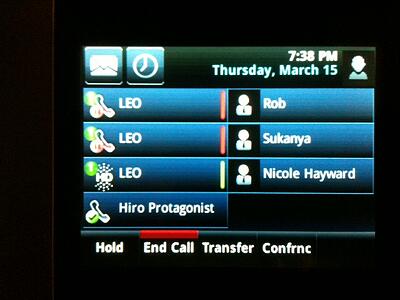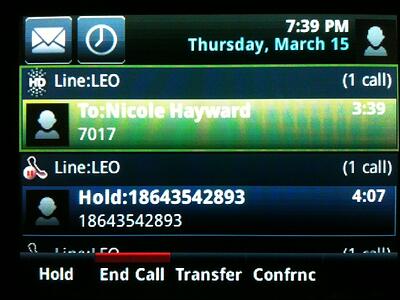 There's no clear-cut way to transfer an existing call to another existing call, which is functionality we'd like to see implemented. It's unclear how difficult it would be, but we think some kind of drag and drop functionality with these call rows would solve that problem. Users are free to go anywhere in the phone menus they want during a call. A "return to call" button presents itself at the top of the screen so that they can quickly get back to handling their calls when they need to.
Finally, let's talk about the home menu or the Main Menu, accessed by hitting the hard key with a picture of a house on it. Out of the box, we got five options, three of which are already covered in this section: New Call, which just takes you to your dial pad, Messages, and Directories. These are the main options, and you can actually adjust your home menu to only display these three by tapping and holding the small white square at the bottom of your screen. The two other options we got were "Settings" and "Applications." The settings submenu is like any other Polycom settings submenu, right down to the offered configuration options. Up to five menu options will fit on the screen at once. We still prefer to go through the web configuration utility, but if you don't have a computer around, customizing your phone via the phone's settings submenus isn't too bad. The Applications option will take you to whatever Main Browser Homepage you designate under the Microbrowser settings in your web configuration utility. We're not too big on custom web applications built specifically to be used on our phones, partially because we haven't really had the time to make any ourselves, so we don't currently have the experience to comment on how well this is implemented.
Polycom also offers a number of other productivity-enhancing applications via their Productivity Suite, including their new Polycom Desktop Connector, which ports your phone's display screen to your PC. Other integrations include Microsoft Exchange calendar integration, which again, we have no experience with since we don't use Microsoft Exchange here.
If we had to pick something we didn't enjoy using, it would have to be the onscreen virtual keyboard. It was too easy to fat finger something. The 3.5-inch TFT touchscreen display can also feel a bit on the small side if you're used to the bigger screens of competitor products or even the VVX 1500. The screen size is the same as the display on the iPhone, but keep in mind that the iPhone's display has a resolution of 960 by 640 pixels, which is eight times more pixels than what you get on the VVX 500.
Overall though, this is a great phone that we'd highly recommend to anyone. We can't wait to get our hands on the USB camera accessory and fully test out what the Polycom VVX 500 has to offer.