Summary
| | |
| --- | --- |
| Overall: | |
| Configuration: | |
| OnSIP Testing: | |
| Voice Quality: | |
| Ease of Use: | |
Quick Specs
Expandable up to 6 DECT 6.0 Cordless Handsets
Supports up to 8 Phone Numbers, 3 Simultaneous Calls
White Backlit Large LCD on Handset
Handset Call Button on Base Unit
Pros
Great audio quality
Easy to use 'joystick'
Large backlit LCD for DECT handset
Excellent battery life
Cons
'Embedded web' option turns off unexpectedly
Spongy rubber buttons
Note: The KX-TGP500 has since been discontinued.
The Panasonic KX-TGP500 is a SIP-based wireless DECT phone and base station combo for home and small office environments.
Full disclosure: Because we're mostly at desks in the office, we're not heavy wireless SIP users, so keep that in mind as you read this review.
In our experience, wireless SIP phones are a toss-up. You have your okay ones, which aren't a huge pain to use, and then your not-so-okay ones, which make us want to flip tables out of rage. We haven't tested out any other DECT phones that we love or that would make us consider replacing the Polycoms at our desks.
The Panasonic TGP500 comes with a base station, an unassuming black box that you can mount on a wall or hide in the corner of a room somewhere, and one Panasonic TPA50 cordless handset. Each base station supports up to six handsets and up to eight different lines. Each base station can also handle up to three simultaneous calls to the outside world, but you'll be able to intercom between handsets without taking up any of your three open lines. Other highlights include wideband audio, full duplex speakerphones, and large, backlit LCDs on the handsets.
Phone Configuration
We have a dedicated knowledgebase article on how to manually configure the TGP500 with our OnSIP service here.
There are a couple of things to keep in mind here. First, you won't be able to access your web admin portal if any of your handsets have the "Embedded web" setting set to "Off." This is because all of the handsets linked to a particular base station share a single IP address. To make sure that you have access to your web admin portal, go into Menu > IP service > Network setting > Embedded web on your handset. Select "On" and hit save. Sometimes your handsets will inexplicably revert back to "Off" for Embedded web, so if your web admin portal isn't loading, now you know why.
Secondly, the web admin portal makes it easy to perform a manual firmware update. All you have to do is download the file onto your computer and use it in the local firmware update menu under the top-level maintenance tab. Firmware can be downloaded for free from Panasonic's website.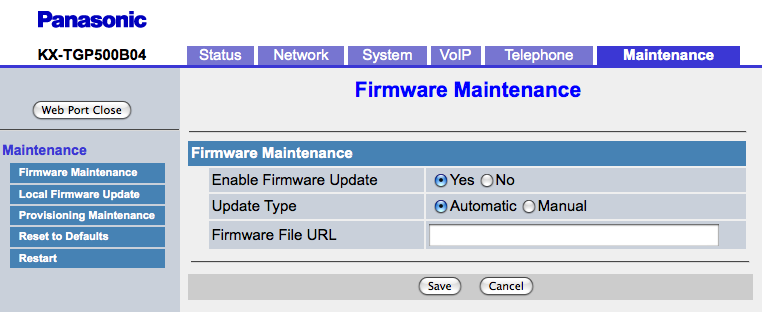 Something else worth noting is the Multi Number Settings menu located under the top-level telephone tab in the web admin portal. This is where you decide which handset rings when someone calls a particular line and which lines each handset will have access to for outbound calls. By default, everything is checked, which obviously isn't the most practical way to handle inbound and outbound calls for every business.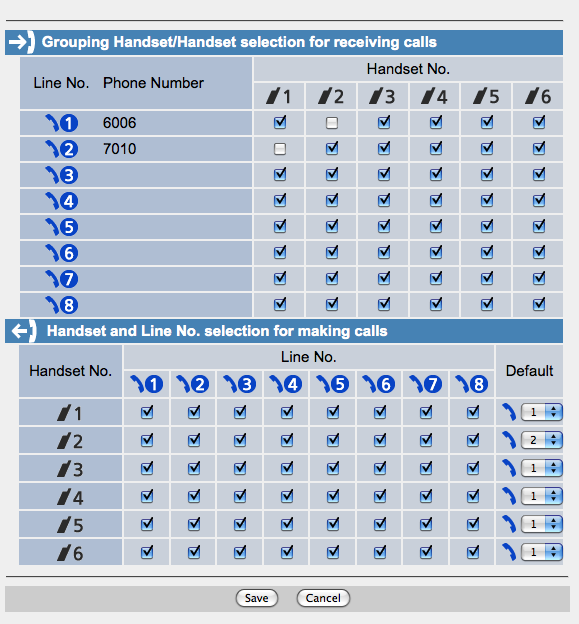 Overall, Panasonic made manual provisioning easy, although the web admin menu may be a little intimidating for first timers. It can get quite in depth (different phone books for each handset, call control rules for each line, etc.), which we can certainly appreciate. Changes we made within the web portal were pushed to the phone without any noticeable delay or the need to reboot the system.
Compatibility Testing
At OnSIP, we put each of the phones we use through a multi-step interoperability test in which we apply ~30 test cases. Here's an example of a test case:
Test phone calls phone B

B picks up

B puts test phone on hold

B calls phone C

C picks up

B transfers test phone to C

The call must be transferred correctly to C. B must be released correctly after the transfer. When C picks up, audio must work both ways between test phone and C. When the test phone is on hold, there is no audio between it and phone B.
[Firmware Version 12.35]
The Panasonic KX-TGP500 passed our interoperability tests with only minor issues. Some of the latest firmware updates have added transfer and blind transfer, which makes these phones viable in a business setting. These features worked without a hitch during our tests. What failed is actually a special case involving our own auto attendant. When we dialed into it using a @junctionnetworks.com SIP account, we didn't have any problems getting to another destination by punching in an extension. However, when we tried again using an @example.onsip.com SIP account (this is the SIP domain we typically use for testing) on another handset, this second phone would decide it didn't want to participate and return a 404. We're still digging into this issue and will hopefully get to the bottom of it soon.
Voice Quality
For a while now, we've been telling you how the voice quality is on the phones we test. Starting from this point forward, we'll let you listen for yourself.
Here are a few points for comparison.
This is a standard cell phone using GSM.
IPhone Handset by junctionnetworks.
This is a Polycom Soundpoint IP 550 using HD Voice.
Polycom 550 Handset by junctionnetworks.
And, finally, this is the Panasonic KX-TGP500 in wideband audio (G.722).
Panasonic KX-TGP 500 handset by junctionnetworks.
Not bad, right? For some reason the recording is much quieter, but we daresay it's comparable to the Polycom in clarity, which is pretty fantastic.
For the speakerphone comparison, we're just going to leave out the cell phone because it's pretty terrible.
This is a Polycom Soundpoint IP 550 speakerphone using HD voice.
Polycom 550 Speakerphone by junctionnetworks.
This is the Panasonic KX-TGP500 speakerphone through the cordless handset (G.722).
Panasonic KX-TGP 500 Speaker by junctionnetworks.
Again, we're impressed. We yelled a little at the beginning because we were afraid it would be too quiet. There's a slight increase in background noise when you compare it to the Polycom, but the speakerphone on this little puppy was way better than the one on the Panasonic KX-UT136 when we tested it a couple of months ago. We could hear the person on the other end very clearly, and they reported high clarity.
Of course, we have to mention that you will only get wideband audio on IP calls, calls that do not traverse the public switched telephone network at any point. For OnSIP customers, this means all SIP calls, extension-to-extension calls, and conferencing. For calls that do traverse the PSTN, Panasonic uses G.711. Those calls obviously don't sound as crisp, but what you do get is still much better than cell phone quality.
Overall, we're pleasantly surprised with the audio quality. Panasonic delivers on this front.
Ease of Use
First, we'll go over some of what we think are the phone's highlights in no particular order.
The Panasonic TPA50 cordless handset features a large, white, backlit LCD. It's the biggest one we've seen on a DECT handset, allowing up to six menu options to fit on the screen at once.
To navigate through the onscreen menus, Panasonic provides you with a mini joystick, which makes using the handset that much more tolerable. One of our biggest gripes with most DECT phones is that they're just not fun to use. In our experience, this is due to several things. The LCD may be too small (which we've already established isn't the case here), or menu options may be hidden behind layers of submenus and require too much alternating between arrow key presses and "select" key presses to find them. There may even be noticeable lag between user inputs and the desired responses, which always frustrates us to no end. Luckily, the TGP500 handset suffers from none of these issues. The joystick is multipurpose and acts as both your "select" key and call button in addition to being the navigation mechanism. We didn't experience any noticeable input lag during testing.
The handsets have good battery life when left in standby mode. We had one on a desk since Monday morning (after a full charge) and it's currently still at two bars out of three on the following Thursday night.
The handsets have the same form factor as most other DECT phones we've seen and are very well made, which isn't unexpected considering the brand. They come in black with a thick, reflective outline. It's simple, not too out of the ordinary, and wouldn't look out of place in the office.
The handsets can also serve as their own paging/intercom system. You can easily set them up so that they auto-answer when someone's using the intercom feature. On an unrelated note, if you ever happen to lose one of them in your home or office, clicking the "All" button on the base station will ring all the handsets associated with that unit.
We have only one thing we're not so crazy about: spongy rubber buttons. We've never been a huge fan of them. It's on our list of things that make a phone not fun to use. With the exception of the joystick, everything you can press on the TPA50 handset is a spongy rubber button. We will say that the numpad keys are quite far apart, so you're unlikely to fat finger anything. You can also set your handset so that it plays a tone each time it recognizes a key press.
To date, the Panasonic TGP500 would probably be our favorite DECT phone we've tested. If we had to replace our Polycoms with a DECT device today, it would be this one.