Summary
| | |
| --- | --- |
| Overall: | |
| Configuration: | |
| OnSIP Testing: | |
| Voice Quality: | |
| Ease of Use: | |
Quick Specs
iOS/Android compatible
Pre-configured list of SIP service providers
Multiple SIP accounts
Acoustic echo cancellation
Pros
Superb voice quality
Lightweight
Free version (with ads)
Cons
No presence
No video calling
Limited call handling features
The following review was conducted in June 2017 on Version 4.24.3.12382, and information on subsequent software updates and new version releases may not be reflected within. This review predates OnSIP's desktop app, free to OnSIP users, so is not affected by bias.
We last looked at Media5-Fone seven years ago, when the phone was in Version 2.4.1.9. At the time, we praised Media5-Fone's technical innovations because we felt it was the first mobile softphone to take advantage of multitasking and the quality of voice communication. Since then, several softphones on the market have offered similar functionality and quality. That's why we decided to revisit the Media5-Fone to see if it was still a solid competitor in the market.
First Impressions
Media5-Fone comes in two varieties. The free version gives you one SIP line but comes with advertisements. However, there are only a handful of ads in rotation, and they're easily ignored. With the free version, the active SIP line can place and receive calls but can't transfer calls to another line. The free version also disables HD voice, but it might work well for users who don't need full business phone functionality.
The "pro" version comes with multiple SIP accounts, HD voice codecs, and Bluetooth functionality.
Media5-Fone's presentation is a bit cleaner and more minimalist than other softphones. Gone are the black border and background, replaced instead with white and blue lettering. Either interface is easy to read, but we were surprised that you can't switch between the two.
There are a number of options you can use to customize your client. Advanced settings allow you to initiate Session Timers, choose Hold and Resume methods, customize your dial plans, set custom ports, and change a variety of NAT keepalives that you can set based on if your cell phone is on WiFi or a cellular network.
Features
Calling on the Media5-Fone is very easy. You can import your phone's contacts, although Media5-Fone doesn't filter out those contacts who don't have a phone number in the form. The dial pad doesn't mimic the iOS dial pad and presents you with the Media5 logo. We have nothing negative to say about it.
Transfers aren't as intuitive as we'd like. Blind transfers function as you'd expect. You hit the transfer button and then dial the destination number, and the phone transfers the current call. Attended transfers require you to set up a second call and select transfer again to choose your destination. Obviously, it's easier to have a transfer button that allows you to choose blind or attended, but that's more of our personal preference than a knock on functionality.
Other Media5-Fone features include:
Call history/Contact management
Voicemail integration/notification (SIP MWI)
Hold/Resume/Redial
In-call contact picture
Call waiting/2nd call/Call toggle/Call transfer/Conferencing
Switch between multiple SIP accounts (one registration at a time)
Secured SIP Transport (TLS)
Secured Encrypted Media (SRTP) with SDES
Voice Quality
The voice quality for the Media5-Fone is excellent. Whether on a WiFi or cellular network, G.722 was crisp and smooth, although we may be spoiled by the coverage in New York City. The uLAW and aLAW codecs on the free version of the phone were also about what you'd expect. We could understand the caller, but the voice quality wasn't perfect.
Compatibility Testing
At OnSIP, we put each of the phones we use through a multi-step interoperability test in which we apply ~30 test cases. Here's an example of a test case:
Test phone calls phone B

B picks up

B puts test phone on hold

B calls phone C

C picks up

B transfers test phone to C

The call must be transferred correctly to C. B must be released correctly after the transfer. When C picks up, audio must work both ways between test phone and C. When the test phone is on hold, there is no audio between it and phone B.
The interoperability of the Media5-Fone is excellent. We only noticed issues when we tried to transfer an extension to the same address of record (AoR) on another device. The phone would appear to get confused and drop the call. However, transfers to different AoRs were not a problem.
OnSIP Setup
Although there is a default OnSIP option on the Media5-Fone account page, we'll show you how to set up an account using the "Define Manually" option.
Step 1: Gather information for each user.
Each user has a set of credentials that will be needed to configure each phone. For each phone that you are configuring, obtain the following:
"SIP Address" (Address of Record)
"SIP Password"
"Auth Username"
"Username"
"Proxy/Domain"
"Outbound Proxy"
Step 2: Enter information into new account.
Start a new account and enter the information from Step 1 into the corresponding fields.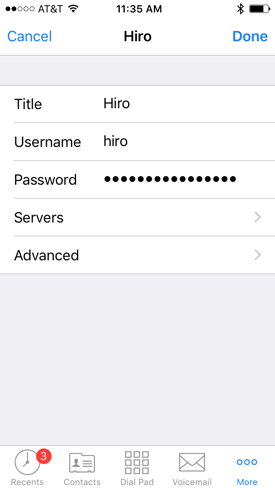 Step 3: Enter OnSIP boot server info.
Click on "Servers." Enter your domain credentials. After turning on Outbound Proxy, enter "sip.onsip.com" in the "Address" field.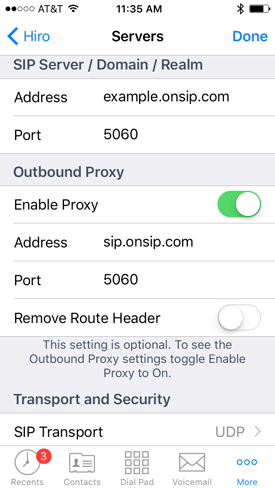 Step 4: Enter Auth Name and voicemail number.
Select "Advanced" and enter the Auth Name and voicemail number. You have now finished the phone configuration.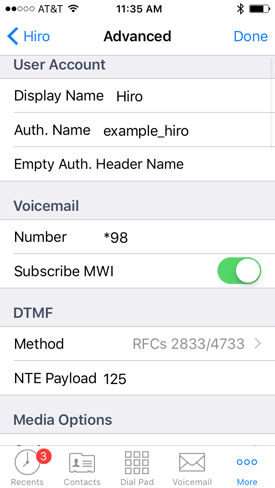 Final Thoughts
The free version of Media5-Fone is perfect for single users who want to use an iOS or Android device to engage in basic calling. The Media5-Fone certainly delivers on making and receiving standard phone calls. If you can stomach a few ads, you can use the free version for remote working and other ventures outside the office. The "pro" version will give you superb voice quality and a few more features for a relatively low price.
However, Media5-Fone doesn't offer video calling, presence, or other features that have become fairly routine for modern softphones. If you're looking to procure a softphone for your entire team, Media5-Fone's lack of presence, messaging, and SIP lines make the phone seem limited compared to models such as Bria. We recommend the Media5-Fone for solo use, but you might want to look for something more robust for business-wide deployment.