Summary
| | |
| --- | --- |
| Overall: | |
| Configuration: | |
| OnSIP Testing: | |
| Voice Quality: | |
| Ease of Use: | |
Quick Specs
480 x 320-pixel color display with backlight

8 line keys with LED, 4 SIP accounts

POE.

Dual-port Gigabit Ethernet

Up to 6 expansion modules
Pros
Dual gigabit Ethernet (PoE)

Color display

PCAP Feature

Programmable Keys
Cons
Monochrome theme/menu

Speakerphone quality
The HTek UC924 is a color enterprise IP phone that can register up to four SIP accounts, along with eight line keys and five-way voice conferencing. The target users for this phone are corporate staff, administrative assistants, and employees working with bandwidth-intensive application on collocated PCs.
The HTek UC924 has a 3.5" TFT-LCD with a 480 x 320 pixel frame and G.722 audio codec for HD voice. The phone also comes with dual Gigabit Ethernet ports and RJ9 ports for headsets, and it can accommodate up to six expansion modules.
It sounds like a good fit for users who want a clean, simple phone that meets basic VoIP requirements. But could it live up to our expectations? We took the phone for a test drive to find out.
First Impressions
The HTek UC924 is almost identical in design and features to the HTek UC926. The two phones only differ because the UC924 offers fewers account registrations and line keys. It's basically a slightly pared down version of the UC926.
The HTek UC924 has two types of keys. There are four soft keys beneath the LCD screen and ten hard keys, including the navigation key. Some of these keys are programmable. The phone has an LED notification on the upper right side of the phone to alert you about unheard voicemail messages and missed calls. These notifications also appear on the LCD screen itself. The line keys have LED indicators to show you if the line is busy or not.
The menu theme leaves something to be desired. It's basic monochrome, and you can't change it. The only thing that comes in color is the wallpaper. It's disappointing that the HTek UC924 is a color IP phone, but the theme is just monochrome. Even the line key doesn't change its status/color.
Features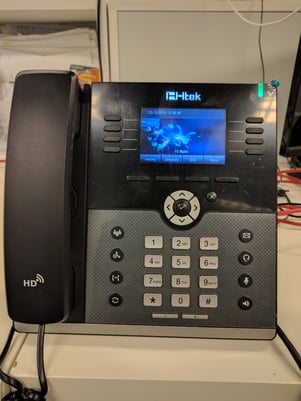 The HTek UC924 can register up to four SIP accounts. Configuration was easy—the phone registered quickly after filling up the entries. After that, you're ready to make calls.
There are eight line keys on the device, which can be customized to the function you want, such as hold, mute, and transfer. The phone also supports Power over Ethernet (PoE).
The HTek UC924 has a few tools for troubleshooting. One is the PCAP feature, which generates a packet capture for troubleshooting purposes. The second is the test key, which allows you to check which key is broken. Last are the system logs, which provide all the events that are happening on the phone.
Other HTek UC924 features include:
Call hold, mute, DND
One-touch speed dial
Call forwarding, call waiting, call transfer
Redial, call return, auto answer, direct IP call
5-way conferencing
Group listening, SMS, emergency call
HD voice (handset and speaker)
Local phonebook with up to 1000 entries
Call history: dialed, received, missed, forwarded
Busy lamp field (BLF), bridged line appearance (BLA)
Anonymous call, anonymous call rejection
TLS (Transport Layer Security), SRTP
Call park, call pickup
Voicemail, headset, mute, speaker, conference, hold, transfer, redial
Voice & Sound Quality
The voice codecs supported by the HTek UC924 are iLBC, G.722, G.711(A/μ). We tested the HTek UC924 with the G.722 codec. In our testing, the HTek UC924 sounded pretty good on the handset—not the best HD voice we've ever heard but fairly solid.
However, the loudspeaker's voice quality was just okay. Most loudspeakers don't sound as good as their respective handsets, but the HTek UC924 seemed to have a sharper decline. In terms of the price range and model type, the voice quality was about where we expected it.
Compatibility Testing
At OnSIP, we put each of the phones we use through a multi-step interoperability test in which we apply ~30 test cases. Here's an example of a test case:
Test phone calls phone B

B picks up

B puts test phone on hold

B calls phone C

C picks up

B transfers test phone to C

The call must be transferred correctly to C. B must be released correctly after the transfer. When C picks up, audio must work both ways between test phone and C. When the test phone is on hold, there is no audio between it and phone B.
The HTek UC924 passed all compatibility testing.
OnSIP Setup
Step 1: Gather information for each user.
For each phone that you are configuring, obtain the following credentials. You can find this information in the user detail pages under the Users tab in the Phone Configuration section.

Step 2: Log into your HTek phone through a web browser.
When your phone is powered on and connected to your LAN, use a browser on the LAN to navigate to your phone's IP address.
Step 3: Enter your credentials.
Enter the credentials you gathered in Step 1 into these fields.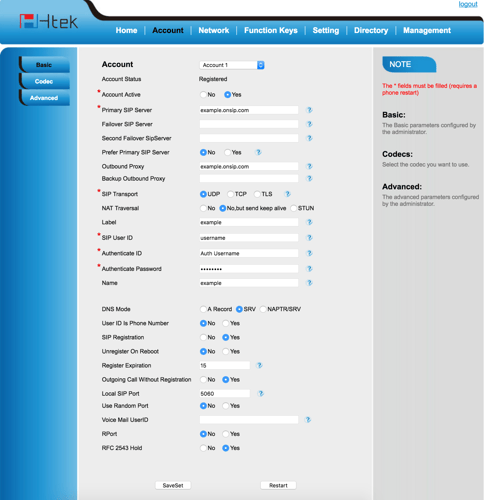 Account Active: Yes
Primary SIP Server: example.onsip.com
SIP Transport: UDP
SIP User ID: Username
Authenticate ID: Auth Username
Authenticate Password: SIP Password
DNS Mode: SRV
Step 4. Confirm that your phone is registered.
In the Admin Portal, click on the "Users" tab. You will see a green "online" notation next to each user with a registered phone.
Final Thoughts
The HTek UC924 is a solid basic IP phone for the price range. It comes with four SIP accounts and standard business calling features, including five-way conferencing and some troubleshooting tools. However, we found the interface a bit dull, and the speakerphone quality wasn't great.
Overall, the features and design make this a phone worth getting if you're in the market for a more bare bones option. We hope HTek will add video calling to this phone in the near future to make it more appealing for the daily office user.