Summary
| | |
| --- | --- |
| Overall: | |
| Configuration: | |
| OnSIP Testing: | |
| Voice Quality: | |
| Ease of Use: | |
Quick Specs
3.5"TFT-LCD, 480 x 320 c

olor display

3 VoIP accounts

Gigabit, PoE ports

Sidecar module available
Pros
Gigabit Ethernet
Color display
Cons
Loudspeaker

SIP accounts from one domain only
Introduction
The HTek UC842 is a color IP phone built for decision makers. The UC842 is positioning itself on the cusp of traditional desk phones and the touchscreen hybrids we've reviewed of late. In one sense, it's keeping the old desk phone architecture and avoiding a touchscreen interface. But the phone's color display certainly makes the device more graphically exciting.
The UC842 features four line keys, built-in three-way conferencing, 3.5" color TFT-LCD display, and support for up to three VoIP accounts. The phone comes with busy lamp field (BLF), shared call appearance (SCA), intercom, call pickup, and call park. The dual Gigabit Ethernet interface on the UC842 can power collocated PCs. The handset and the speakerphone both have HD voice.
How does the HTek UC842 truly perform? We took the phone through a full review to find out.
First Impressions
The HTek UC842 has four line keys, 37 keys (four programmable), and a 3.5" color LCD display. The HTek UC842 looks well spaced in terms of button placement and screen size. The number pad, the function keys, and the color screen are not placed too closely together. The colors on the screen are also fairly rich. Maybe other manufacturers will take a cue from HTek and start designing their own color screen phones.
Features
The HTek UC842 has a decent amount of features for its price range. In terms of standard features, the UC842 has caller ID display, DND, auto-answer, three-way conferencing, mute, speed dial, SMS, voicemail, and message waiting. It can register up to three VoIP accounts, but these accounts must all come from the same domain. Registration will not work otherwise.
The color screen is a 3.5" TFT-LCD, 480 x 320 color pixel display. The UC842 comes with ring tone selection, BLF/BLA, call history, redial, and call transfer. There are two Gigabit Ethernet ports with PoE on the back of the phone. The UC842 has a network connectivity feature that's helpful for troubleshooting connections. The phone supports 17 languages.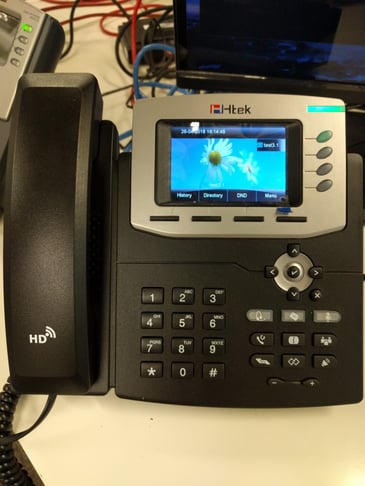 These features aren't the most impressive we've seen, but they're more than enough to handle standard office use. The one major caveat is the VoIP account registrations. All three accounts must have the same domain, so if you use SIP accounts with different domains or need more than three SIP accounts, this phone is not for you.
Video & Sound Quality
The UC842's sound quality is comparable to many other mid-range SIP phones. The device sounded clear and unobstructed on all the calls we made. The HD voice capabilities really shine on SIP to SIP calls. Calls to the PSTN were a bit more grainy, although they were much better than a landline phone could muster.
Our problem with the UC842's sound quality was with the speaker. Sometimes when we had the speaker on a call, the voices on the other end sounded scattered. These disruptions didn't happen every time, but they were noticeable when they did happen.
The UC842's sound quality is solid, on par with similarly priced phones. But don't expect the best audio quality you've ever heard.
Compatibility Testing
At OnSIP, we put each of the phones we use through a multi-step interoperability test in which we apply ~30 test cases. Here's an example of a test case:
Test phone calls phone B

B picks up

B puts test phone on hold

B calls phone C

C picks up

B transfers test phone to C

The call must be transferred correctly to C. B must be released correctly after the transfer. When C picks up, audio must work both ways between test phone and C. When the test phone is on hold, there is no audio between it and phone B.
Everything worked on our internal testing except for registering accounts with different domains. However, the busy lamp field (BLF) did not work with our testing because the HTek UC842 requires a pickup code that is not generated in the Admin Portal.
Setup
Step 1: Gather information for each user.
Each user has a set of credentials that will be needed to configure each phone. For each phone that you are configuring, obtain the following credentials. You can find this information in the user detail pages under the Users tab in the Phone Configuration section.

Step 2: Log into your HTek phone through a web browser.
When your phone is powered on and connected to your LAN, use a browser to navigate to your phone's IP address.
Step 3: Enter your credentials.
Enter the credentials you gathered in Step 1 into the given fields.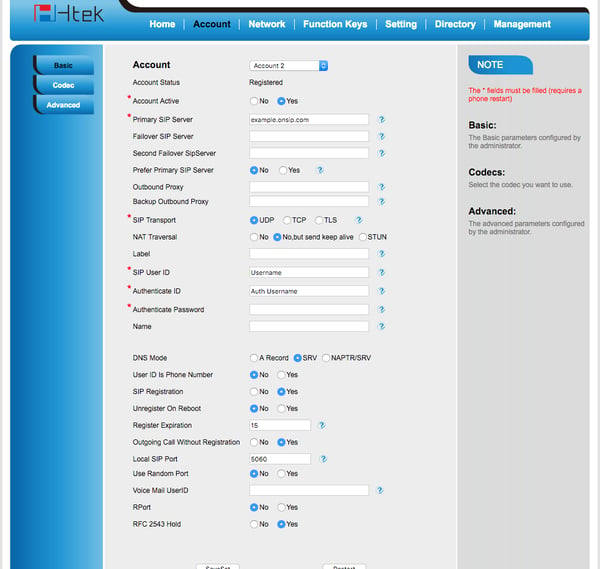 Username and password: admin
Account Active: Yes
Primary SIP Server: example.onsip.com
SIP Transport: UDP
SIP User ID: Username
Authenticate ID: Auth Username
Authenticate Password: SIP Password
Step 4. Confirm that your phone is registered.
In the Admin Portal, click on the "Users" tab. You will see a green "online" notation next to each user with a registered phone.
Final Thoughts
The HTek UC842 is an inexpensive SIP phone that can handle multiple lines and simultaneous calls. The features are similar to comparable mid-range phone models. It's a good choice for users who aren't managing call centers, straddling multiple lines, or using SIP accounts with separate domains.
While the phone hardly breaks new ground in terms of features, voice quality, or outward design, it does feel like the market needs a phone like this. Perhaps the UC842 hopes to find its justification with its unique color interface. But in our eyes, the color screen is a mere addendum to a product that already offers fundamental value with its bedrock features.