Two weeks ago, Eric Tamme was invited as a guest speaker on Grandstream's IP VideoTalks series to give his reviews of the Grandstream GVC3200 and GAC2500 video conferencing solutions. Dorothy Murach of Grandstream Networks moderated the session and hosted a short Q&A following the presentation.
Below, you'll find the slides and a recap of Eric's presentation. You can find our in-depth reviews of the Grandstream GVC3200 and GAC2500 on our Phone Reviews page.
The Grandstream GVC3200: Easy and Powerful Video Conferencing
Eric starts the presentation with his review of the Grandstream GVC3200, a video MCU (multipoint control unit). Right away, he points out how easy it was to setup - only four steps were needed to start the device. Next, a setup wizard walked through the rest of the process quickly.
The GVC3200 has many features, but the main highlights are its flexibility and high configurability. In particular, the video resolution, bitrate, and FPS (frames per second) can all be individually adjusted to meet your needs. The MCU supports H.264 and allows users to select baseline, mainline, or high profiles for varying degrees of quality broadcasts.
The GVC3200 has up to 24 presets for cameras, allowing users to move efficiently from one presenter to another during meetings. The screen sharing function is easy to use, allowing users to show presentations, review documents, or view web content. All you need is a VGA to HDMI cable to set up the display on your TV.
Another advantage of the GVC3200 is its flexible deployment options. It has 2GHz and 5GHz WiFi, as well as Bluetooth 4.0 with HFP1.6.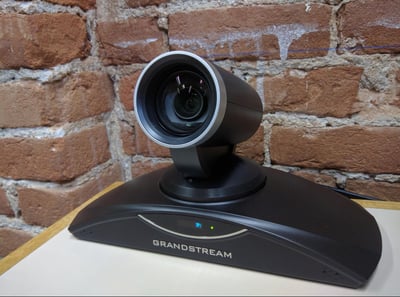 Eric points out that at OnSIP, the engineering team uses the GVC3200 for video conferencing and telepresence. Cameras in three different offices provide a livestream of team members across the country. Far end control of the cameras is managed via a web interface over a secure tunnel. Teams with remote employees or several offices will find the GVC3200 a useful device for everyday conferencing.
The Grandstream GAC2500: Simple Standalone Conferencing
Next, Eric talks briefly about the GAC2500, an enterprise conference phone that can be used as a standalone device, or as an external speaker and microphone when connected to the GVC3200.
The GAC2500 features an LCD touchscreen and can handle up to 6 lines with 6 SIP accounts and 7-way audio conferencing. It has a 4.3" touch screen, dual Gigabit network ports, built-in PoE, and daisy chain support for large room installations. It also has integrated Bluetooth including HFP1.6, USB and WiFi.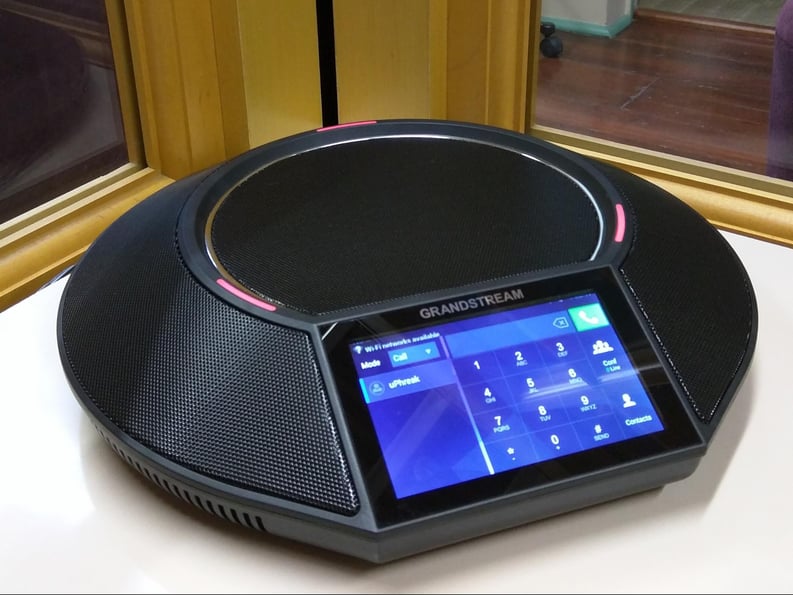 Two useful features of the GAC2500 are the ability to schedule calls ahead of time and upload your contact directory through LDAP or Google. Both the GVC3200 and GAC2500 run on Android operating systems and allow full access to the Google Play Store.
What's Next for Video Conferencing?
Following the presentation, Eric answered several questions prepared by Grandstream as well as a few from the audience. Click through the presentation slides above to see a full transcript of his answers to questions ranging from the future of the video conferencing industry to the top features requested by OnSIP customers when it comes to video conferencing hardware.
Eric concludes the Q&A session by explaining that having a hardware-based system with a dedicated MCU offers users much better speed and connectivity than a PC-based client. In general, PC-based clients will experience more severe lag compared to those using a device like the GVC3200.
If you have any questions about the Grandstream GVC3200 or GAC2500 conferencing solutions, connect with us on Twitter @onsip. We'd love to hear your thoughts!