Summary
| | |
| --- | --- |
| Overall: | |
| Configuration: | |
| OnSIP Testing: | |
| Voice Quality: | |
| Ease of Use: | |
Quick Specs
6 lines with up to 6 SIP accounts
7" (1024×600) capacitive (5 points) touch screen TFT LCD
Runs on Android
10/100/1000Mbps network ports
Pros
Impressive Android interface
Superior features
Access to App store
Sleek design
Easy to use
Cons
Voice quality lags in relation to comparable models

Music on Hold requires an MP3 upload
February 2018 Update: Added the music on hold note under "Cons."
The Grandstream GXV3275 is a touchscreen phone that tries to meld the seamlessness of Android smartphones with the functionality of leading IP phones. Overall, the phone appears to operate more like an Android tablet than a standard desk phone. With SIP video phone capabilities and a gaggle of software features, the device is well suited for anyone looking for powerful features and strong telepresence.
The GXV3275 is powered by a 7-inch TFT LCD touchscreen. It features integrated Bluetooth, Gigabit ports, a built-in web browser, integrated WiFi, HD audio, and PoE. It holds a capacity of six lines with up to six SIP accounts, six-way audio conferencing, three-way video conferencing, and a phonebook with up to 1,000 contacts. The phone runs on the Android 4.2 with access to the Google Play Store, which offers apps such as Skype, Lync, and Salesforce.
The GXV3275 sounds like an incredible phone on paper. But is the device really an "all-in-one communications solution" like Grandstream's marketing copy proclaims? We took the phone for a test drive to see if its awesome specs were successfully combined into a cohesive whole.
First Impressions
If you've been using IP phones long enough, the GXV3275's Android interface will be enormously welcome. Basic IP phones often have primitive, cumbersome user interfaces that act more like an old VCR than the bearers of an evolving technology. The GXV3275's UI operates just like any other Android smartphone, featuring full touchscreen functionality. Apps such as Pandora and Skype can be installed directly to the phone itself.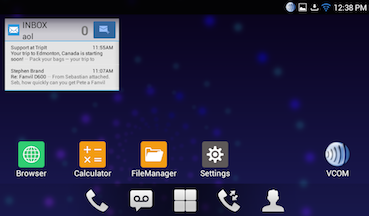 Unlike other IP phones with graphical interfaces, the GXV3275 gets everything right. The folks at Grandstream were smart enough to port the prebuilt reliability and functionality of Android onto the GXV3275. Other graphical IP phones we've reviewed have relied on in-house OSes that look somewhat puny when compared to Android's capacities. And after reviewing GUI phones that take input through the dial pad, smaller unadvertised perks such as an on-screen keyboard really accentuate why the GXV3275 is basically unparalleled in the realm of smartphone clone IP phones.
With video call support, the GXV3275 is breaking down barriers via its built-in camera. The possibility of creating sturdy video telepresence without having to break out a laptop adds efficiency and centrality to a user's calling options. Overall, the GXV3275 is truly a multipurpose device, with built-in email functionality and even games like Angry Birds for those who want to take a break during the day or possibly get fired from their jobs. (Then they can play all day!)
Features
The GXV3275 comes with all the standard features that make an IP phone essential for business. Audio calls, speakerphone, voicemail, conference bridge, contacts book, and call history are all included with the phone. Its video calling abilities are the best in the entire industry, which is why we use the GXC3275 to create telepresence with OnSIP engineers housed offsite.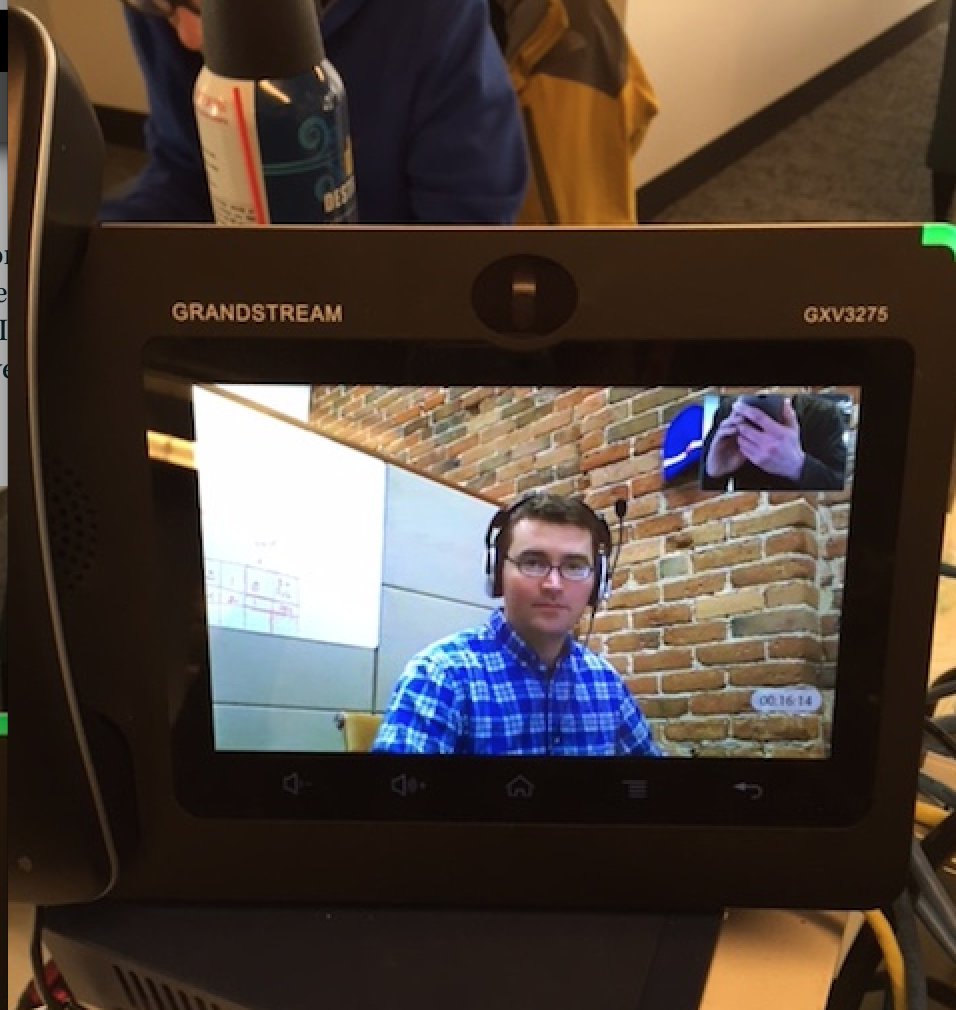 But it's the side features that really make the GXV3275 the total package. The phone offers email functionality and Internet access, crucial features that have been mostly sidestepped by IP phone manufacturers. Then there are little quirks like a personal calendar, a calculator, a music player, and a camera, all of which are easily accessible via sleek icons on the home screen. And let's not forget the GS Market itself, which on its own offers a voluminous library of free applications.
Voice Quality
The Grandstream GXV3275 claims to offer leading HD-quality voice capabilities. During testing, we found that HD voice over the handset was comparable to other leading brands. The Panasonic KX-UTG300B, a competing phone with similar functionality, outclasses the GXV3275 in terms of depth and clarity of its HD voice.
But overall, the voice quality of the Grandstream GXV3275 was reasonably good. The GXV3275 certainly does not offer the best voice quality on the market, but it's more than capable of conducting business communications in a clear and consistent manner.
The voice quality via speakerphone was effective and workable. We ran into some trouble when we called the speakerphone of a phone in close proximity, so if your workers are engaged in frequent speakerphone conference calls while sitting fairly close to each other, this might be something to consider before purchasing the GXV3275. But in sum, the overall voice quality of the GXV3275 was reliable enough to conduct business in an unimpeded fashion.
Compatibility Testing
At OnSIP, we put each of the phones we use through a multi-step interoperability test in which we apply ~30 test cases. Here's an example of a test case:
Test phone calls phone B

B picks up

B puts test phone on hold

B calls phone C

C picks up

B transfers test phone to C

The call must be transferred correctly to C. B must be released correctly after the transfer. When C picks up, audio must work both ways between test phone and C. When the test phone is on hold, there is no audio between it and phone B.
We did not experience any issues during our tests with the Grandstream GXV3275.
Final Thoughts
The Grandstream GXV3275 has it all: a superior interface, a bevy of advanced features, app store functionality, and ease of use. This is an industry-leading phone when it comes to design and execution. The GXV3275's Android interface is taking the IP phone industry in new directions, and other manufacturers are surely working on their own counterparts to match this achievement.
The only area the Grandstream GXV3275 lags in is voice quality. The voice quality is certainly great and perfectly capable of conducting day to day business, but it ultimately falls behind other top-tier phones such as the Panasonic KX-UTG300B. But the Grandstream GXV3275 undoubtedly beats the 300B in just about every other department. So the Grandstream GXV3275 tops just about any IP phone in voice quality, but it does not win first place in this category when compared to the very best on the market.
Overall, we have given the GXV3275 the highest rating possible in light of its groundbreaking contributions and ease of use.