Summary
| | |
| --- | --- |
| Overall: | |
| Configuration: | |
| OnSIP Testing: | |
| Voice Quality: | |
| Ease of Use: | |
Quick Specs
7 inch resistive touch screen color LCD (800x480), 1.3M pixel CMOS camera with privacy shutter
Dual switched 10M/100M Ethernet ports with integrated PoE, integrated WiFi (802.11b/g/n)
Multi-language, full web browser, weather, news, stocks, and many other apps
Strong security protection based on TLS/SRTP/HTTPS and AES
Pros
Multimedia device with functional Internet browser app
Web portal for the GXV3175 is expansive, easy to navigate. It even allows users to input the account details of their various social networks
Many features at good price point
Cons
Touch interface needs improvements
Response lag
This week we tested the GXV3175, the newest HD multimedia phone from Grandstream. The phone is an ambitious piece of hardware. It's paving the way for new products built on the idea that multimedia will become a bigger part of business communications: that video calling will become the norm, that touchscreen user interfaces are the next big thing, and that seamless access to social media networks will be a requested feature for business hardware solutions. Luckily for Grandstream, there certainly seems to be a demand for a new approach to the office desk phone. It feels like every week brings news about a new video calling solution or an easier way to integrate social media into existing hardware/software.
Announced as the upgrade and sibling to the highly praised GXV3140 from 2009, this phone has some interesting qualities. For one, there's only a single button. The UI is its 7-inch LCD touchscreen. The phone also supports WiFi connectivity, which is uncommon for VoIP desk phones. Other features include a full Internet browser, video conferencing, and support for an assortment of social media applications.
First Impressions
Grandstream's three-line GXV3175 isn't the company's first foray into developing a multimedia device. In 2009, the company released the GXV3140 to much fanfare. The GXV3175 was pitched during its release announcement last year as the upgraded version. There are similarities between the two devices but more than enough differences.
The first thing you'll notice off the bat is that there are no keys on the phone except the home button. Everything you do with the GXV3175 you do on the screen. You may as well think of this phone as a tablet with a handset attached to the side.
At the top is a 1.3 megapixel camera that can be tilted up or down using a cogwheel in the back. The phone also includes dual 10M/100M Ethernet ports with integrated PoE, dual USB ports, an SD port, stereo audio output, TV CVBS output, a stereo headset jack, and a stylus pen to interact with the touchscreen. The GXV3175 also supports WiFi.
For video, the phone supports H.264, H.263, and H.263+ compression standards. As you can probably expect from any recently released VoIP device, the GXV3175 also supports the G.722, the most commonly employed high-definition audio codec.
Phone Configuration
In our knowledgebase, we provide step-by-step instructions on how to set up an OnSIP user on the GXV3175.
The web portal for the GXV3175 is expansive but easy to use and navigate. It even allows users to input the account details of their various social networks so that they can be all set and ready to go when their phone boots up.
Compatibility Testing
At OnSIP, we put each of the phones we use through a multi-step interoperability test in which we apply ~30 test cases. Here's an example of a test case:
Test phone calls phone B

B picks up

B puts test phone on hold

B calls phone C

C picks up

B transfers test phone to C

The call must be transferred correctly to C. B must be released correctly after the transfer. When C picks up, audio must work both ways between test phone and C. When the test phone is on hold, there is no audio between it and phone B.
We're happy to report that the Grandstream GXV3175 (boot version 1.0.0.7, program version 1.0.1.4) passed our test cases with no issues.
Voice Quality
Audio quality on voice calls negotiated using G.722 is very good, although not quite on par with some of the best sounding phones we've tested such as the Polycom 550 or the Aastra 6739i. We're always excited to see manufacturers like Grandstream embracing wideband codecs. The fact that this feature comes standard with every recently released product means that anyone who buys a VoIP phone from this point forward can easily experience HD voice.
Note that you will not get the benefit of high-definition audio when calling a landline, mobile phone number, or a VoIP user without hardware or software that supports G.722. As with the Grandstream GXP 2100, we were unable to get high definition calls with the GXV3175 when we dialed our own extensions from our auto attendant menu.
The speakerphone leaves something to be desired, although it's certainly usable. We recommend using the handset even on video calls. According to the firmware release notes of the upcoming program version 1.0.1.18, Grandstream plans to improve the speakerphone duplex performance.
Ease of Use
Let's first talk about the touchscreen, since it's the only way to interact with the GXV3175. Holding down the home button and releasing it opens up the touchscreen calibration utility. The screen goes black and the phone will ask you to touch a series of crosshairs. Once you're done, you can save the settings by tapping the home button again. At first we thought the phone was measuring how hard you pressed on the screen and adjusting responsiveness accordingly, but tapping the crosshairs lightly with the stylus pen and pressing down hard with a finger yielded the same results.
If you're expecting the GXV3175 touchscreen LCD to be as responsive as your iPhone, iPad, or Android phone, you'll probably be disappointed. For the most part, it does okay, but don't be surprised if you run into some performance issues. For one, tapping on the same key quickly (for example, if you're trying to dial a "555" number) might not give you your intended result every time. You might also experience a little bit of lag every so often. We had a couple of instances when the phone would take a second or two to register that we were opening or closing a window. It's possible that the processor in the phone is not fast enough for these functions to occur smoothly when they are called on in rapid succession. From forum discussions on the topic (found here), it would appear that these issues are being addressed in the upcoming firmware update. Complete freezes and crashes are very uncommon, but we've had them happen once or twice during testing.
The GXV3175 uses spaces, more or less the same virtual desktop feature that has been used in Linux systems for years. Mac users should also be familiar with the concept. In desktop and laptop computers, spaces lets users create multiple virtual desktops tailored to their unique work habits and needs. On the GXV3175, users are given four spaces that they can navigate between by scrolling left or right across the screen with their finger or stylus pen.
When you are on any of these home screens, you'll notice an arrow pointing to the right at the bottom. Tapping on this arrow will open a sliding menu with applications you can add to your spaces. You can see below that we added Weather and RSS news to the third space. Currently, you are limited to only a few options: Info, Weather, RSS News, Favorite Contacts, and Internet Radio.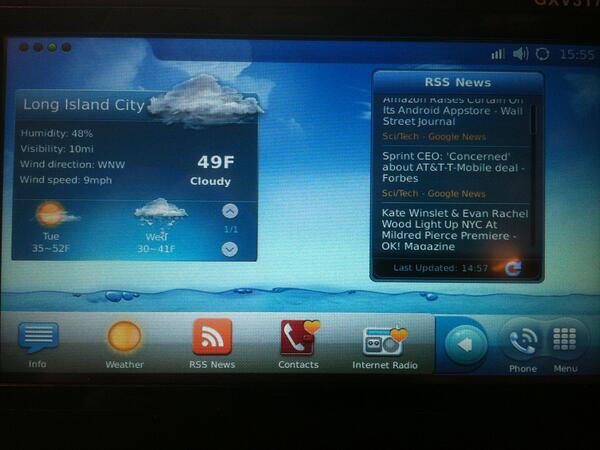 It doesn't seem like you can add any of the other applications within the phone to the sliding menu to put on your spaces screens. The option to view the sliding menu disappears entirely when you enter the main menu of the phone.
If you hide the sliding menu in your home view, you'll see a few shortcuts at the bottom of your screen. Default shortcuts include PIP (picture in picture), news videos, YouTube, etc. These you can switch out. Simply go into the main menu of your phone, find the application you want, hold your finger or stylus on it for a moment, and drag it into the bottom panel.
You'll find a lot of options in your main menu. There are the familiar ones like contacts, call history, messages, system info, and system settings. And then there are the options that you probably don't expect to find on a desk phone like an Internet browser, photos (Flickr, Photobucket), music (last.fm, internet radio), video (YouTube, movie trailer, etc), social networks (Google Voice), news, tools, and games (checkers, Tetris, sudoku, etc.). Since most of these have little to nothing to do with business communications, we only tried out a couple of these apps.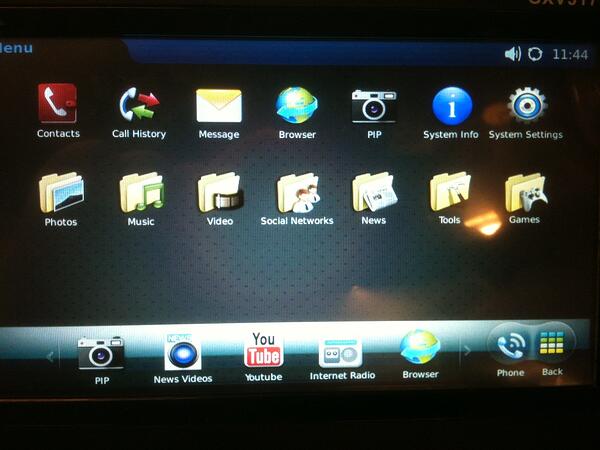 The browser works surprisingly well. Pages don't load nearly as fast as they would on an actual computer or iPad, but it is pretty close to a fully functional Internet browser. There are limitations, of course. For example, you can do XMPP chats in your Gmail on the GXV3175, but a Gmail video chat doesn't work too well. You are also limited to one webpage open at a time. There are no tabs here.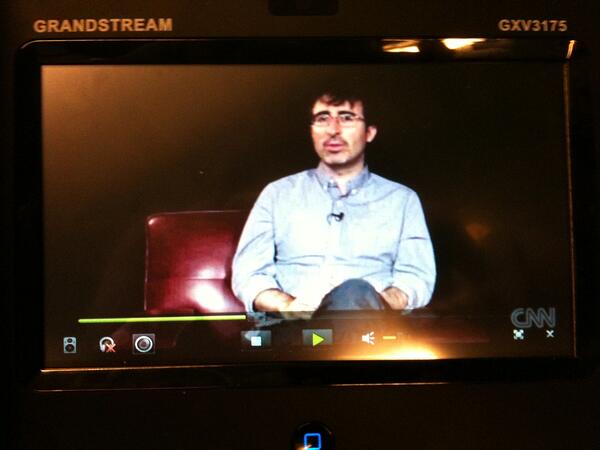 The Grandstream GXV3175 does a great job of playing movie trailers and news videos. However, we did experience some pretty big frame rate issues when we tried playing random videos we found using the built-in YouTube application.
At any time you can return to your home screen by clicking your home button. A small box with a number indicating how many applications you have open will appear at the top of your screen. Tap on it, and you can reopen anything you were previously using.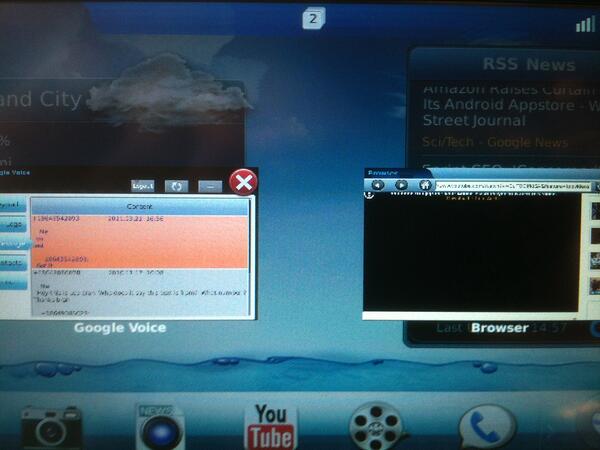 At the bottom right of your home screen, next to the menu button, is the phone button. (This is a phone after all, right?) You can get to your dial pad either by clicking on this button or by picking up your handset. The Grandstream GXV3175 lets you do either a call or an IP call if you know the IP address you want to reach. Noticeably absent is dialing by SIP URL/URI. The buttons that let you conduct either an audio call or a video call are hard to miss.
During a call, you have all your standard call handling (hold, mute, transfer, conference, volume, speakerphone/handset/headset) options on your screen. Above these you'll notice something that looks like this: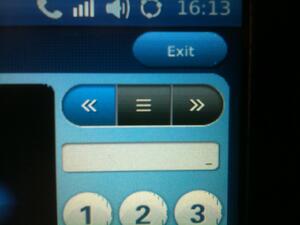 Clicking on the left button takes you to another dial pad so that you can interact with auto attendant menus. Clicking the button on the right takes you to a single button, video on, for when you want to switch from audio to video mid-conversation.
Video calling works extremely well if at the other end you have a user with another Grandstream video phone. We conducted a 30-minute video test call (GXV3175 to GXV3175) with VoIP expert and blogger Michael Graves at a steady rate of ~15–20 frames per second with absolutely no issues. We then did some video calling with other phones. Tests with the Bria softphone client on a laptop computer went without a hitch. Video also worked between the Grandstream GXV3175 and a Polycom VVX 1500, but for some reason, only when using H.263.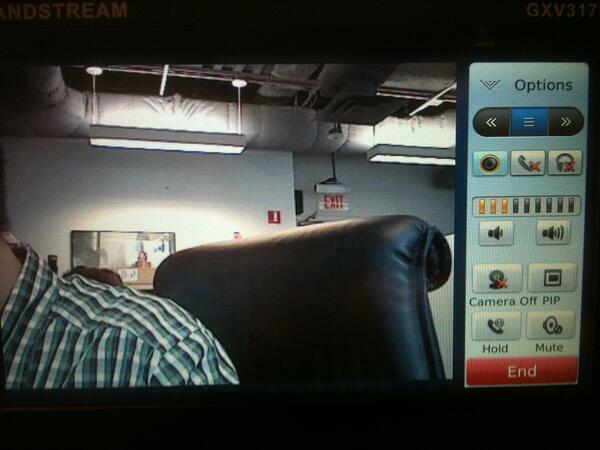 During a video call, you're given a few additional options. You can switch the camera off to return to a strictly audio call and hit the PIP button, which toggles picture in picture on/off. Clicking on the left button at the top of your options still takes you to an additional dial pad to interact with DTMF menus. Clicking on the right button will take you to some more video call handling options, including video transfer and conference, camera brightness, camera zoom, and snapshot. Unfortunately, we were unable to test out the video conferencing feature because we did not have three Grandstream phones on hand. Some of the phones we were trying to use could only handle one video stream at a time.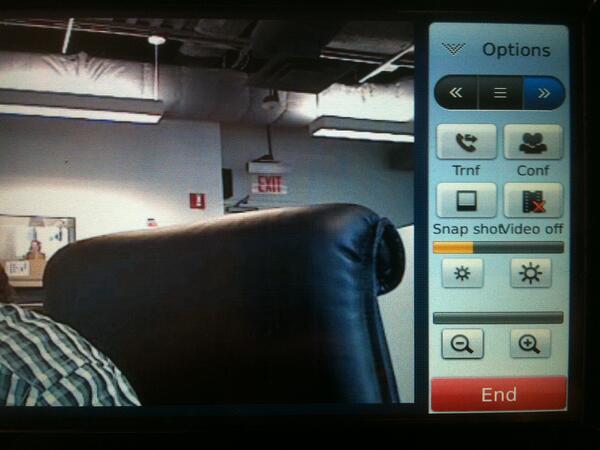 Closing Thoughts
Whether you're on board with combining Flickr and desk phones or not, the GXV3175 is an exciting product. The Internet browser application is the best one we've tried on a desk phone to date. GXV3175 to GXV3175 video calling worked seamlessly (no surprise), and there is evidence that video will play nicely with others as well. The phone offers so many features that I'm sure we left a lot of stones unturned. Is it perfect? No, but that's to be expected when you have a device that's trying to be a jack-of-all-trades. The touchscreen isn't the most responsive, and there were times when the device would take much longer than we would've liked to register our actions. Hopefully some of these issues will be resolved in upcoming firmware releases.
This phone has a lot to offer users at a very reasonable price point, and we look forward to new updates from Grandstream.