Summary
| | |
| --- | --- |
| Overall: | |
| Configuration: | |
| OnSIP Testing: | |
| Voice Quality: | |
| Ease of Use: | |
Quick Specs
480 by 272 pixel capacitive touch screen TFT LCD
6 lines
PoE
Bluetooth, EHS
Built on Android OS 2.3
Pros
Lots of features
Affordable
Customizable
Great audio quality
Super responsive capacitive touchscreen
Cons
Hard key input lag: minimal
Some of the 3rd party applications do not work
Note: The GXP2200 has since been discontinued.
In our last review of a touchscreen phone from Grandstream, we stated that we were excited about the direction the company was going with their multimedia IP desk phones—with the caveat that the sluggish, resistive touchscreen they included in the design detracted significantly from the user experience. If anything, it underscored the gap in user friendliness between smartphones/tablets and the newer desk phones trying to emulate them. Since the touchscreen was the only way to interact with the phone we were reviewing at the time (Grandstream GXV3175), there was no getting around it, which made even simple tasks like dialing a phone number more frustrating than they needed to be.
We're happy to say that our testing with Grandstream's newest touchscreen phone, the GXP2200, went much more smoothly.
The Grandstream GXP2200 Enterprise Multimedia Phone for Android features a super responsive 480 x 272 pixel capacitive touch screen TFT LCD that blows the GXV3175's touchscreen out of the water. The UI also includes a full set of hard keys (numpad, hold, speaker, voicemail, conference, mute, etc.) and another set of dedicated navigation buttons that longtime Android users should find familiar.
The GXP2200 is packed to the brim with features. The phone supports six lines for up to six SIP accounts, HD wideband audio, PoE, Bluetooth, and electronic hook switch (EHS) with Plantronics headsets. The phone doesn't come with a built-in camera, but it can receive video out of the box from IP surveillance cameras, not unlike Panasonic's KX-UT670. The USB port on the back of the phone allows users to connect a third-party camera to send outbound video. Other ports include dual-switched auto-sensing 10/100/1000 Mbps network ports, an SD port, and a port for RJ-9 headsets.
Last but not least, the GXP2200 is "Grandstream's first open-sourced IP phone running on the Android platform." It supports Android OS 2.3, which gives access to a store of Grandstream-approved third-party applications. It's not the full Android market by any means. We counted 53 available apps at the time of this review, but users will probably find the mix of popular apps (like Skype, Pandora, Facebook, YouTube) and business-oriented apps (Camera, IP Camera, MPK) more than sufficient. Users that need more apps can download Google Play and download/purchase to their hearts' content using a linked Google account.
Grandstream phones are known for being affordable, and even with all of the features we've mentioned, the GXP2200 is no exception. This phone has a list price of $239.
First Impressions
The Grandstream GXP2200's hardware design is simple. The main body is a rectangular, almost square piece with no frills except for a solid silver stripe around the outer edges. The plastic, a matte dark blue, feels up to scratch and comparable to the materials used in Polycom phones. We mention this because we've read comments on forums in the past about older Grandstream phones feeling cheap and shoddily built. Two aspects of a phone will give off that immediate impression. Number one is the weight of the device: Quality IP phones should feel like there's something substantial underneath its plastic casing. Number two is along the same vein: Gently tap on the plastic body. If the inside sounds hollow, we're more than likely going to question the quality of the device. The Grandstream GXP2200 has neither of these indicators, which is a promising first sign.
The handset, arguably one of the most important components on a phone, feels great. What was said above about weight giving off the impression of quality goes double for handsets. Our only minor complaint is that the GXP2200 handset feels a little loose in its hangup position.
Other physical features worth mentioning are the keys, which include a standard numpad along with shortcuts for both call handling and menu navigation, and the message waiting indicator in the upper right-hand corner. All keys on the GXP2200 are made of the same plastic used for the body.
Compatibility Testing
At OnSIP, we put each of the phones we use through a multi-step interoperability test in which we apply ~30 test cases. Here's an example of a test case:
Test phone calls phone B

B picks up

B puts test phone on hold

B calls phone C

C picks up

B transfers test phone to C

The call must be transferred correctly to C. B must be released correctly after the transfer. When C picks up, audio must work both ways between test phone and C. When the test phone is on hold, there is no audio between it and phone B.
We did not experience any issues during our tests with the Grandstream GXP2200.
Voice Quality
Audio quality is superb on both the GXP2200 handset and speakerphone. Like most of the IP phones we've reviewed, this Grandstream supports the G.722 wideband audio codec, which allows it to send and receive much higher-quality audio than a regular telephone. We tested HD calls comparing the voice quality between it and an industry leader in terms of sound, the Polycom 550, and both test subjects involved reported that they could hardly tell the difference between the two. Polycom HD voice might win out by a slight hair, but if anything that's just a testament to how good the GXP2200s sound.
Click to hear what calls sound like with the GXP2200 handset and speakerphone, and compare it to the call from a regular phone on the PSTN.
Using the GXP2200.
The Grandstream GXP2200 is basically a miniature Android tablet running Android OS 2.3 optimized as a desk phone, with standard phone features such as "Call," "Contacts," "Call History," "Blacklist," and "Message" represented as applications on one of the four available home desktop screens. As you might expect, the majority of the hard keys on the phone are linked directly to the "Call" application.
There are two main views: the home desktops and another that lists all of the applications you've downloaded.
To cycle through your desktops, simply swipe your finger across the touchscreen. You can add apps to your home desktops by holding your finger down on an application from the application view. The bottom of your screen will display a "Move to Desktop" message, and dragging the application into the message will create a shortcut to the app on one of your desktops. To remove applications from your home desktops, hold your finger on the app you want to remove on your home screen and drag and drop it into the trashcan icon that appears. You can further customize your home desktops by holding your finger down on any empty space, which brings up an "Add to Home Screen" menu. The options shown include shortcuts (direct dial, direct message, etc.), folders, and widgets (analog clock, weather, calendar, newsfeed, etc.). This is also where you go to change your desktop background.
Interacting with the GXP2200 using the onscreen menus is painless due to the super responsive touchscreen. This phone feels much more powerful than its predecessors. Animations are smooth, applications run seamlessly, and input lag is minimal. We've read other reviews implying that running multiple applications simultaneously on the GXP2200 could compromise performance, but we didn't experience any of it firsthand. As a check, there is a widget called "Running Processes" that you can add to your home screens. Among other things, it displays the number of applications currently active and allows you to quickly close the ones that are taking up too much memory. On the other hand, we did experience some lag from using the dedicated numpad; sometimes when we dialed numbers very quickly, the "Call" application would miss a few of our button presses. This did not happen often.
The "Call" app lets you conduct either an audio or video call via three modes: call (regular), paging (the callee's device will auto-answer), or IP call. Noticeably absent is dialing by SIP address. During a call, you will also see an additional on-screen button labeled "Options." Click on this button to either turn on video calling or start a recording (requires an SD card attachment). All other call handling options can be accessed using the dedicated hard keys on the phone.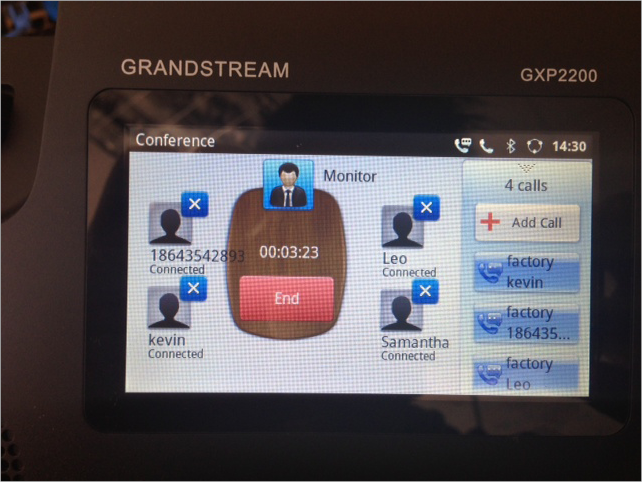 A noteworthy feature in the "Call" app is conferencing, which allows users to bridge up to four calls into a five-way conference. Adding callers to the conference is intuitive. Hit the conference button and your screen will show an interface with four plus signs arranged around a virtual conference table. Hit one of the plus signs to add to the conference by choosing one of your current active calls or by dialing a new number. Note that once you put someone into a conference, you cannot break them out of it and talk to them individually, which is odd.
We tried out Bluetooth with our Plantronics Savor, which allowed us to answer incoming calls to the GXP2200 on the earpiece simply by speaking the word "answer." When this phone senses that it's paired, it will also update the "Call" app (The Options button will now display a third Bluetooth option) and allow users to send their active calls to their Bluetooth devices. This worked seamlessly.
For our video calling tests, we purchased a pair of cheap Logitech HD webcams for $20 each from Amazon and plugged them into the USB ports on the back of our GXP2200s, hoping it would work. Luckily for us, it did. We like the idea that you can plug in any USB camera. (Note: We may have just lucked out with our first choice; we have not tested with other cameras.) Other phone manufacturers typically require you to buy their on-brand add-ons, which are more often than not both more expensive and less flexible. See below for a quick demo of one-on-one video calling.
We won't go into too much detail about the other features of this phone. Suffice it to say that there is a full web browser, there is an app to check your email, and if you're so inclined, you can download the entire Google Play Store to get as many applications as you want, up to the 3.18 GB storage limit.
Some applications work better than others. MPK, which acts like a busy lamp field application, works great. Others, like YouTube (which is Grandstream approved), didn't work for us at all. Assigning too much weight to this would be silly because performance really depends on the app you're trying to use, and honestly there are much better places to play Angry Birds than on your desk phone. For applications like email, you're still much better off using either your computer or your smartphone since you can't really wrap both hands around the GXP2200 to effectively use the onscreen keyboard anyway. But for fun, here's what Angry Birds Rio looks like running on this phone.
Overall, we think that the GXP2200 is the best phone that Grandstream has put out. It's also one of the best, all-encompassing VoIP phones we've reviewed in recent years. You'd be hard pressed to find another phone that does this much at this price.
Configuration
Customers can point their GXP2200s to OnSIP's provisioning server by using the phone's web-based administration interface. To do this, the phone's IP address is needed. Plug your phone into your LAN and click on the Settings app. Scroll down and select "About phone." You should see your phone's IP address under "Network Status."
Enter that IP address into your web browser to get to the GXP2200's web-based administration interface. The default password and login is "admin" and "admin." Once you're in, you should see a top navigation menu option labeled "Maintenance." Select it and then choose "Upgrade" from the left-hand menu. You will be modifying two fields, one labeled "Upgrade via:" and another labeled "Config server path:". Make sure that "Upgrade via:" is set to "http" and enter "boot.onsip.com" for "Config server path:." Hit save, and then apply. You can now assign or remove users to and from the lines on your GXP2200 in the OnSIP admin portal.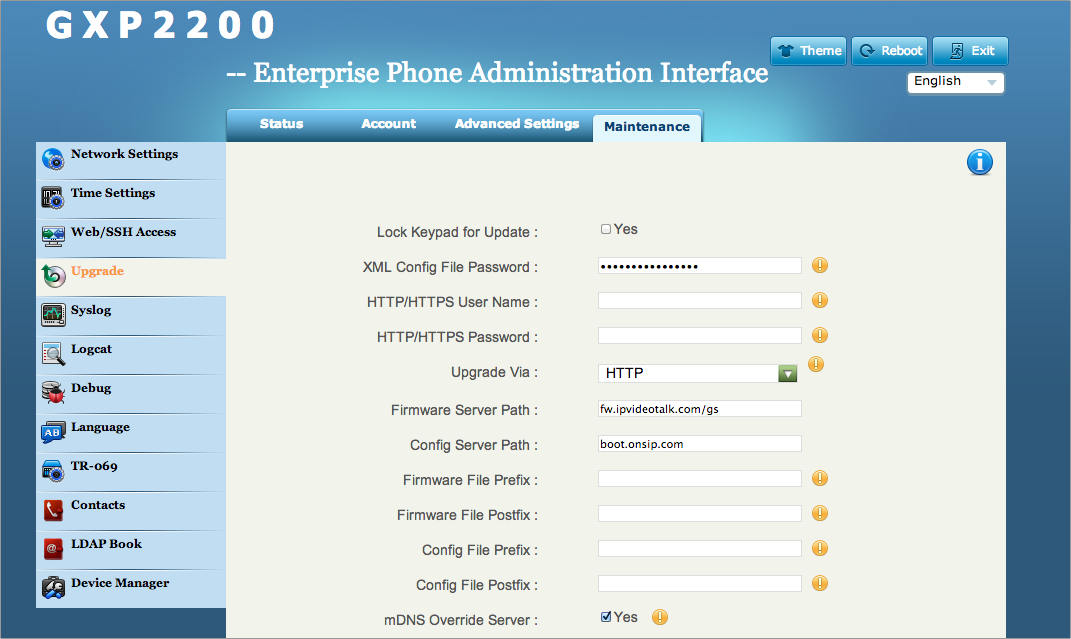 Click the image above to expand.
Finally, you can always set up your phones manually. You will need your SIP user credentials. They should look something like the information contained in the image below. OnSIP customers can find their SIP user credentials in the OnSIP admin portal under Users.

Log in to your GXP 2200's administration interface just like we mentioned above, using your phone's IP address and a web browser. Select Account from the top navigation menu option, and enter in your SIP user credentials as follows:
Account Active: Check
Account Name: Your choice
SIP Server: Proxy/Domain
SIP User ID: Username
SIP Authentication ID: Auth Username
SIP Authentication Password: SIP Password
Name: Your choice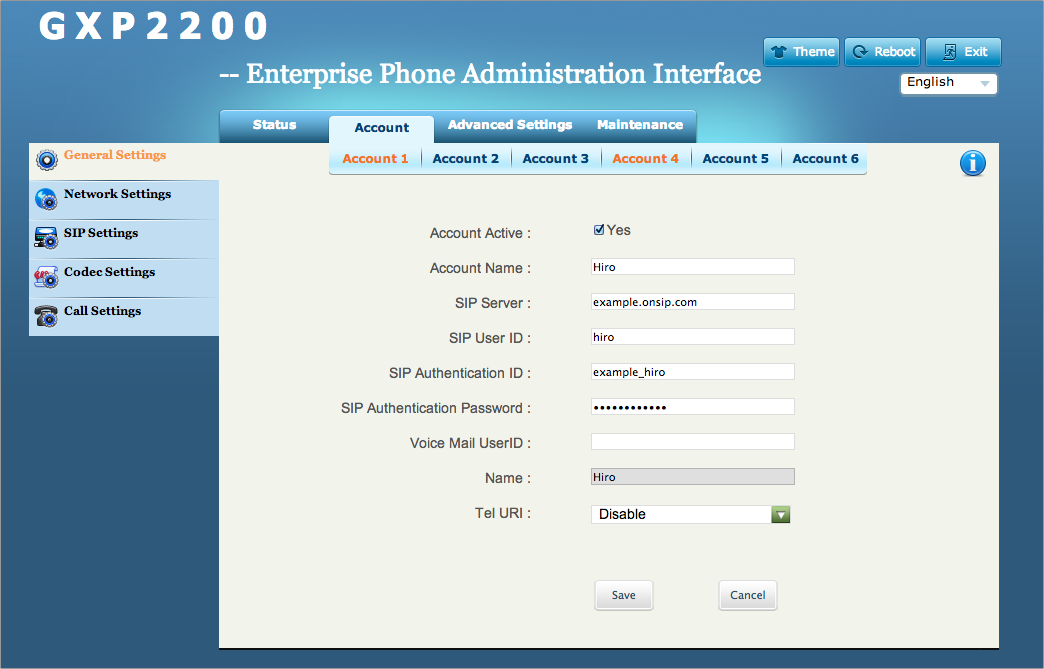 Click the image above to expand.
Hit Save and then click on Network settings in the left-hand menu. Type in "sip.onsip.com" for the field labeled Outbound Proxy, and hit Save again. Click on the "Apply" button in the yellow bar that appears at the top of your screen. Repeat as necessary if you need to set up multiple SIP accounts.
Overall, configuration is relatively easy and straightforward. Boot times were short, and many of the changes we made in the Grandstream administrative interface were pushed instantaneously to our phones. The amount of content in the Grandstream admin interface might be intimidating to VoIP newcomers at first, but the menus are intuitive enough that it shouldn't take more than a few minutes to get the hang of it.