Summary
| | |
| --- | --- |
| Overall: | |
| Configuration: | |
| OnSIP Testing: | |
| Voice Quality: | |
| Ease of Use: | |
Quick Specs
200 x 80 pixel backlit LCD display

8 physical line/vMPK keys, supports 4 SIP accounts.

32 programmable virtual multipurpose keys

4 XML programmable context sensitive soft keys.
Pros
Great speakerphone

32 Multi Purpose Keys

Lots of functionality and flexibility
Cons
Potential handset ergonomic issues

No Bluetooth
The GXP1782 is Grandstream's latest offering in the mid-range IP phone market. The device is designed for people who want an enterprise-level phone without dipping all the way into the touchscreen market and beyond.
The mid-level phone market is already saturated, so what exactly does the Grandstream GXP1782 bring to the table? Thanks to Grandstream's beta testing program, we were able to receive a copy of this phone before the official release and take it for a test drive to find out.
First Impressions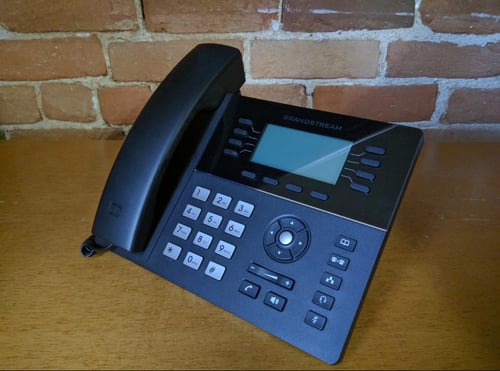 The Grandstream GXP1782 is visually similar to the GXP2170 and GXP2135. In addition to the same black gloss screen bezel as the other two phones, the GXP1782 has a silver highlighted color screen, along with silver DTMF keys. The look is nice, but we'd like to see Grandstream pick a style and stick with it, at least for a little while.
The GXP1782 is 9" wide with a 2"-wide handset with no central taper. The layout is good and the buttons are large and well spaced. The eight-line/vMPK keys are positioned around the backlit 200 x 80 pixel LCD screen. It comes with the standard array of dedicated function keys: phone book, transfer, conference, headset, mute, and volume. There are also four-way directional keys for menu navigation. This layout seems consistent across all of Grandstream's enterprise phones.
Features
The Grandstream GXP1782 supports up to eight SIP accounts. As far as telephony features go, the GXP1782 offers hold, call transfer, call forward, call park, auto answer, and off-hook auto dial. The phone also has call waiting, 11 dedicated function keys, and 4 XML programmable context-sensitive keys. One feature that the GXP1782 may be lacking for a mid-range IP phone is Bluetooth.
Here's a closer look at some of the leading features:
Handset Shape
This may come down to personal preference, but we found that the wide, nontapered handset was uncomfortable to hold. It really just feels too wide and too thin.
5-Way Conferencing
A nice feature of many newer Grandstream models is multi-party conferencing. In the case of the GXP1782, the phone can conference up to five people together without having to use any third-party conferencing service. This is a big plus. Not every mid-range phone offers standalone five-way conferencing.
Virtual Multipurpose Keys
Users have myriad configuration options available to them with the GXP1782's virtual multipurpose keys (vMPKs). You can configure each vMPK to do one of 22 different features. The GXP1782 has 32 different vMPK's that you can configure. That brings the different possible setup combinations to more than 700. Below is a screenshot that captures some of the possible behaviors you can assign to a vMPK.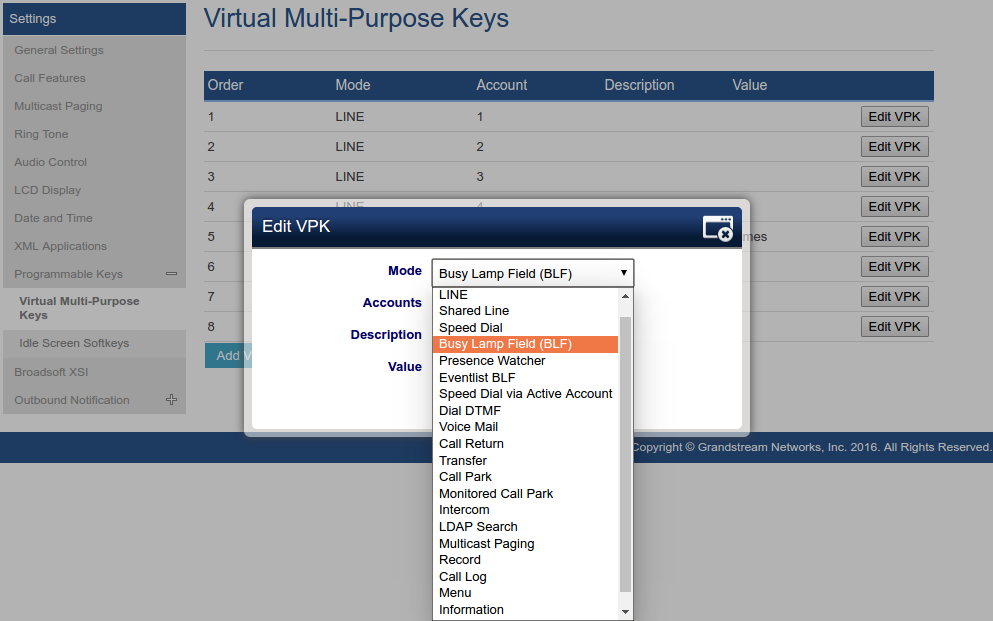 The number of vMPKs on the GXP1782 is one of the main reasons why the phone is a mid-level phone and not an entry-level one.
Snappy Phone Navigation
Many phones offer the bare minimum when it comes to hardware because it reduces manufacturing costs. This often means that trying to navigate through phone menus is a laggy and frustrating process. That was not the case with the GXP1782, pleasantly enough. Navigating through the LCD menus was responsive and snappy. The whole experience was a nice change of pace.
Voice Quality
The Grandstream GXP1782's voice quality yielded excellent results in testing. Grandstream continues to add Opus codec support to new models, including the GXP1782. We found that SIP to SIP calls were pristine, and calls to the PSTN suffered from almost no quality dips.
We called some colleagues with the GXP1782 speakerphone to see how it sounded to them. Everyone we spoke to was very impressed with the call quality. The speakerphone picks up voices well, with minimal background noise. The voice quality is full, not echoey or tinny. Overall it was very much like speaking with someone using a handset.
Compatibility Testing
At OnSIP, we put each of the phones we use through a multi-step interoperability test in which we apply ~30 test cases. Here's an example of a test case:
Test phone calls phone B

B picks up

B puts test phone on hold

B calls phone C

C picks up

B transfers test phone to C

The call must be transferred correctly to C. B must be released correctly after the transfer. When C picks up, audio must work both ways between test phone and C. When the test phone is on hold, there is no audio between it and phone B.
The Grandstream GXP1782 passed all compatibility testing.
Setup
Step 1: Gather information for each user.
For each phone that you are configuring, obtain the following credentials. You can find this information in the user detail pages under the Users tab in the Phone Configuration section.

Step 2: Log into your Grandstream phone through a web browser.
When your phone is powered on and connected to your LAN, use a browser on the LAN to navigate to the IP address of the Grandstream GXP1782.
Step 3: Enter your credentials.
Enter the credentials you gathered in Step 1 into these fields.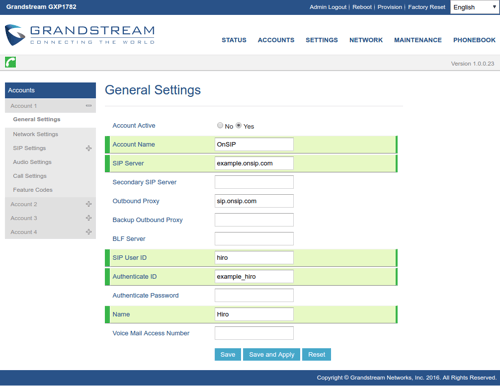 Account Active: Yes
Account Name: OnSIP
SIP Server: example.onsip.com
Outbound Proxy: sip.onsip.com
SIP User ID: hiro
Authenticate ID: example_hiro
Name: Hiro
Step 4. Confirm that your phone is registered.
In the Admin Portal, click on the "Users" tab. You will see a green "online" notation next to each user with a registered phone.
Conclusion
The Grandstream GXP1782 is a solid mid-range phone that comes fully equipped for standard office life. With excellent voice quality, including an awesome speakerphone, a legion of multipurpose keys, and up to eight SIP lines, the GXP1782 should work well for anybody who wants all the firepower without the cost of a touchscreen phone.
We were bummed that the phone didn't support Bluetooth. This seems like such a simple addition. We also noticed some ergonomic issues with the device that can make it uncomfortable to hold. But overall, the GXP1782 is an impressive mid-level device with all the major features that a phone needs to succeed in today's workplace.