Summary
| | |
| --- | --- |
| Overall: | |
| Configuration: | |
| OnSIP Testing: | |
| Voice Quality: | |
| Ease of Use: | |
Quick Specs
6 SIP accounts

Integrated WiFi, Gigabit Ethernet, Bluetooth

4.3" capacitive touch screen

7 way conferencing

HD voice
Pros
Great voice quality
Powerful and easy to use interface
7 way conferencing
Opus support
The Grandstream GAC2500 is the company's first conference phone. It follows in the path of the GXV3275 and GXV3240 as a touchscreen Android device. The smartphone-esque feel makes it sleeker than the conference phones we've become accustomed to, and the inclusion of this sort of interface means that the GAC2500 has already broken new ground, before we even start the review.
The GAC2500 also has many of the same features as the GXV3275 and 3240 models, including: six SIP accounts, integrated WiFi, Bluetooth, Gigabit Ethernet, 4.3" capacitive touchscreen, the ability to daisy chain multiple units to work in concert in a large room, three cardioid microphones for pickup as far as 12 feet away, integrated seven-way conferencing, and HD audio, including the Opus codec and G.722.
But does the GAC2500 live up to the hype? We tested the phone from all sides to find out.
First Impressions
The GAC2500 is thinner than expected, but the construction feels solid. It features wraparound metal speaker grills rather than plastic holders, each of which has a very sturdy feel, lending to a solid overall build quality. The unit has three LED indicators unobtrusively inlaid into the circular edge of the device. The rest of the casing is matte hard black plastic that feels solid and avoids picking up fingerprint tracings. The 4.3" touchscreen interface is at a pleasant angle for interaction, and the GAC2500 provides brightness controls to allow for adjustment in different lighting environments.
The GAC2500's home screen is notably different than the GXV32XX series. Grandstream has effectively made the entire dialer screen a widget that takes up the whole monitor, as opposed to an actual Android home screen. This is a change for the better, since the GAC2500 is a special purpose conference device. But the phone still allows you to swipe to get to a different desktop with features like apps or widgets.
There are many control integrations within the web UI. You can entirely control the phone from the web interface by making calls, transferring calls in progress, or starting or stopping call recording. The GAC2500 also has some very interesting conference-specific features. The phone allows you to create and schedule conferences from the web UI, add participants, determine whether reminders should be sent ahead of the conference, and auto call participants if necessary.
Features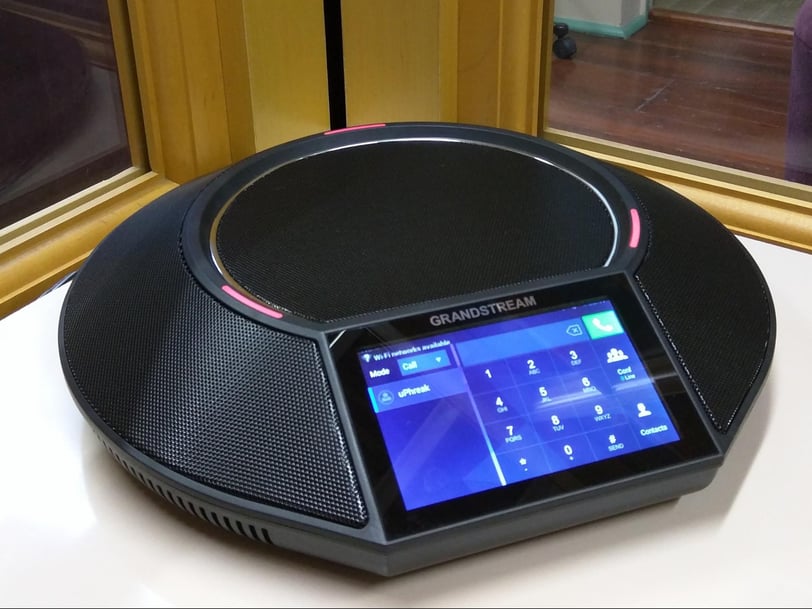 The GAC2500's ability to schedule conferences is a novel feature that streamlines the calling process. Seven-way conferencing is also a new capability that stands out. Another plus is that the device does not need a conference server to operate. This allows for inclusive conference calls that span a wide range of devices.
The GAC2500 doubles as a USB speakerphone for use with softphones. This marks the first time we've seen a phone offer such a feature. This would work great with Bria or some other softphone offering, and it lets you take private phone calls and broadcast them in the event that they need to be magnified. With six SIP accounts, the phone offers more lines than many leading desk phones on the market. The phone can receive either WiFi or PoE streams.
The GAC2500 offers a variety of downloadable apps from its Android interface. It allows you to participate in Google Hangouts or Skype meetings directly from the phone. If the person you're calling has a video-enabled device, you can actually see them on the screen. This mixture of voice and video conferencing is a standout feature that gives the GAC2500 a level of interoperability that few speaker phones offer.
Voice Quality
The GAC2500 has excellent sound quality that puts some popular desk phones to shame. The volume on the phone can rise to very loud levels, but the increase never appears to affect the crisp, penetrating voice quality all that much. Codec support is top notch. Grandstream continues to push the barriers by being one of the only hardware manufacturers to include the Opus codec. The GAC2500 can also double as a multifunctional paging unit because it has a high volume output and supports multicast paging.
When Grandstream says the GAC2500 offers HD voice, they really mean it. Unlike other manufacturers, Grandstream has put forth a device worthy of the term. If you've ever used a conference phone, you'll be surprised to find how clearly the sound quality articulates your voice. This is a fundamental upgrade that veteran office goers will be thankful for when they're on a busy conference call.
Compatibility Testing
At OnSIP, we put each of the phones we use through a multi-step interoperability test in which we apply ~30 test cases. Here's an example of a test case:
Test phone calls phone B

B picks up

B puts test phone on hold

B calls phone C

C picks up

B transfers test phone to C

The call must be transferred correctly to C. B must be released correctly after the transfer. When C picks up, audio must work both ways between test phone and C. When the test phone is on hold, there is no audio between it and phone B.
We did not experience any issues during our tests with the Grandstream GAC2500.
Setup
Step 1: Gather information for each user.
Each user has a set of credentials that will be needed to configure each phone. For each phone that you are configuring, obtain the following:
SIP Address (Address of Record)
SIP Password
Auth Username
Username
Proxy/Domain
You can find this information in the user detail pages under the Users tab in the Phone Configuration section.

Step 2: Log into your Grandstream phone through a web browser.
When your phone is powered on and connected to your LAN, use a browser to navigate to the IP address of your phone. The IP address of your phone should automatically display on the screen. Password "admin." Once you've logged in, select "Account 2."
Step 3. Enter your user information from Step 1.
For most setups, you will need to simply configure "Account 1." If you are trying to configure multiple users or multiple line appearances, you can repeat the steps below for each of the identities you are configuring.
Account Active: Yes
Account Name: Whatever you would like
SIP Server: Domain
Outbound Proxy: sip.onsip.com
SIP User ID: Username
Authenticate ID: Auth Username
Authenticate Password: SIP Password
Name: Whatever you would like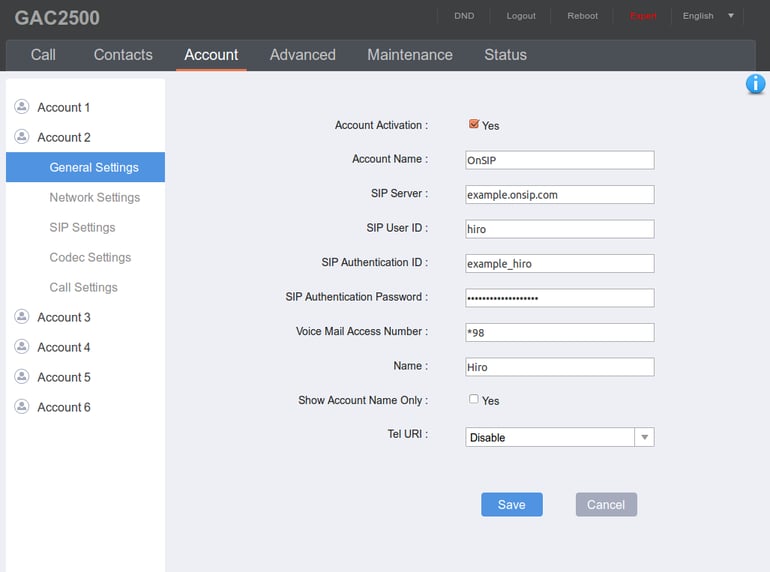 Under Network Settings, set Outbound Proxy to "sip.onsip.com," DNS Mode to "A Record," and NAT Traversal to "Keepalive."

Step 4. Confirm that your phone is registered.
In the Admin Portal, click on the "Users" tab. You will see a green "online" notation next to each user with a registered phone.
Final Thoughts
The Grandstream GAC2500 is at the top of its class in every department. Its slick Android interface is more than just for show. It gives the GAC2500 unique customization options and capabilities that other conference phones simply lack. This cross between voice/video conferencing is a new domain for conference phones, and features such as auto scheduling calls separate it more than just aesthetically from other leading models on the market. Even without the smartphone-esque interface, the device still goes beyond what other options are offering.
Stalwart features such as voice quality also exceed expectations. This conference phone raises the bar for aural quality among conference devices, and its HD voice sometimes makes it seem like you're having a conversation with somebody in the room. Anybody who uses conference phones with frequency knows how welcome this shift in quality is for office workers. The Grandstream GAC2500 is the new speakerphone to beat, and we're eager to see what other companies build in response.