Introduction
The Grandstream DP750 is a long-range DECT VoIP base station with the capacity to host up to five DP720 cordless DECT handsets. DECT is a radio technology used for voice data devices such as cordless phones. The DP750/DP720 set features up to ten SIP accounts, with up to ten lines per handset and five concurrent calls, along with three-way audio conferencing. The DECT base station features integrated PoE, while the DP720 handset includes HD audio with G.722 and Opus support, along with full duplex speakerphones and a 3.5 mm headset jack. The DP750/DP720 claims a range of 50 meters indoors and 300 meters outdoors.
Thanks to Grandstream, we were able to test the DP750/DP720 before it enters the market. What do users have to look forward to when the DP750/DP720 hits the shelves? We conducted a thorough phone review to find out.
First Impressions of the Grandstream DECT Base Station & Handset
The DP750 base station is quite small, about the size of an ATA, and is very clean and simple. It has a set of backlit LED status indicators, an Ethernet jack, a micro USB power jack, and a button used for pairing handsets. It's preferable that Grandstream is now using micro USB power instead of power adapters because the cord is less obtrusive, and it won't take up any space on your surge protector. The DP750 also features wall mounting slots on the back that allow for positioning in various orientations. Overall, the base station is clean, simple, and unobtrusive.
The DP720 is more comfortable than the DP710, the previous Grandstream DECT handset. The body of the handset is made of a much more robust plastic material, similar to what the GXP21XX handsets are made of, giving it a durable and solid feel. The buttons on the DP750 are also more durable than the ones on the DP710. The buttons are still a type of rubber, but they are much harder, unlike the very squishy soft buttons on the DP710.
The DP720 has a backlit color screen and easy-to-navigate menus for making calls— even when multiple lines are configured. It also has call handling while on a call: transfer, conference, and hold. The DP720 offers full HD voice for both the earpiece and the speakerphone. It's exciting to see the DP720 support not only G.722 but also 48 kHz Opus as well. Grandstream continues to push the barrier as the only manufacturer we're aware of that has Opus support for its newest offerings.
Features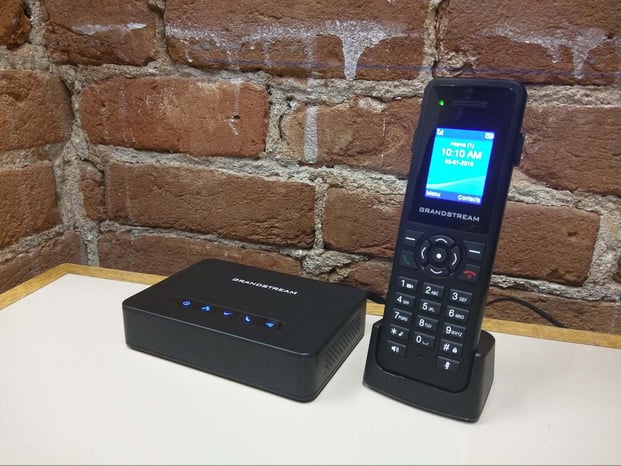 The DP750/DP720 are both configured a bit differently than most other VoIP phones, and that may throw some people off. But once you figure out how it works, it's pretty straightforward. The DP750 supports four "profiles" (SIP providers). You can set the outbound proxy and general configuration options for each given profile in the browser-based admin portal.
From there, you can configure up to ten different lines. These lines are individual SIP accounts that are linked to a specific SIP profile. You can then specify which lines are available on which handsets: You can make as few as one line available, or you can make all ten lines available. Further down, we've taken screenshots of configuring two profiles, a SIP account for each profile, and then adding each of those SIP accounts as lines to a DP720 handset.
We were able to put the DP750 base station at one end of the office and walk to the other end without losing any audio quality. This is roughly 30–40 meters indoors. We then decided to go outside and see how far we could walk away from the office before we experienced call degradation. To say the least, the range was impressive. Here is a photo to illustrate. We took this from the balcony of our office, then walked across the parking lot, across the alley, and across the parking lot to where the yellow circle and star are: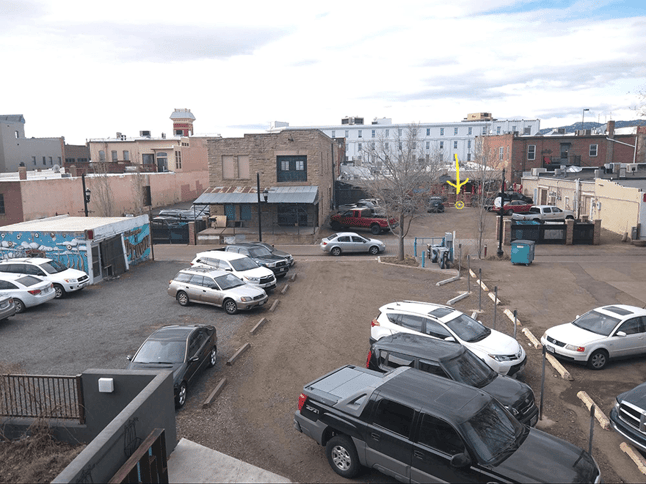 Even at this distance there was only very minor loss of quality.
Voice & Sound Quality
The DP720 has excellent sound quality, and the speakerphone is surprisingly clear and loud for a DECT handset. Support for the Opus codec gives the DP720's audio quality a significant boost. It's nice to see a company deliver on HD voice capabilities in a serious and diverse way. Normally, the term is just a marketing buzzword designed to distinguish VoIP from landline voice quality. But in this case, the phrase actually undersells the benefit of having support for multiple codecs, both of which support real HD voice.
With these codec options, the DP720 is a uniquely versatile phone paving the way for future handsets to be more dynamic. Handsets are never much thought of as breaking new ground in phone design, but in this case, the customization rivals the kind you find with leading desk phones.
Compatibility Testing
At OnSIP, we put each of the phones we use through a multi-step interoperability test in which we apply ~30 test cases. Here's an example of a test case:
Test phone calls phone B

B picks up

B puts test phone on hold

B calls phone C

C picks up

B transfers test phone to C

The call must be transferred correctly to C. B must be released correctly after the transfer. When C picks up, audio must work both ways between test phone and C. When the test phone is on hold, there is no audio between it and phone B.
The DP750/DP720 meets all interoperability testing requirements.
Setup
Step 1: Gather information for each user.
Each user has a set of credentials that will be needed to configure each phone. For each phone that you are configuring, obtain the following:
SIP Address (Address of Record)
SIP Password
Auth Username
Username
Proxy/Domain
You can find this information in the user detail pages under the Users tab in the Phone Configuration section.

Step 2: Log into your Grandstream phone through a web browser.
When your phone is powered on and connected to your LAN, use a browser to navigate to your phone's IP address. To locate the IP address of your phone, select menu and then status. The IP address will be located on that informational page.
Step 3: Find the appropriate Profile.
Click on your chosen Profile on the sidebar and enter the following information:
Profile Active
: Yes
SIP Server: example.onsip.com
Prefer Primary SIP Server: No
Outbound Proxy: sip.onsip.com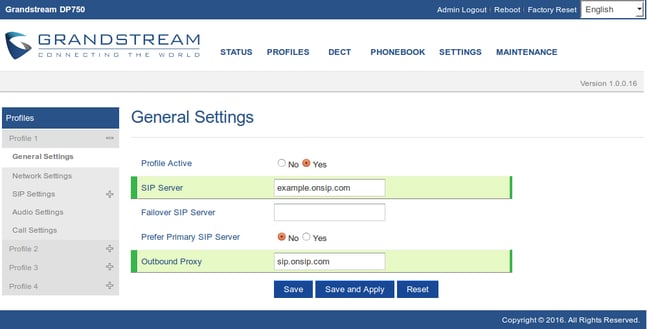 Step 4: Enter credentials in SIP Account Settings.
Click on "Settings" in the top bar. Then click on "SIP Account Settings" on the side bar. Enter the information that you gathered in Step 1 into the fields. Set the profile to "Profile 1."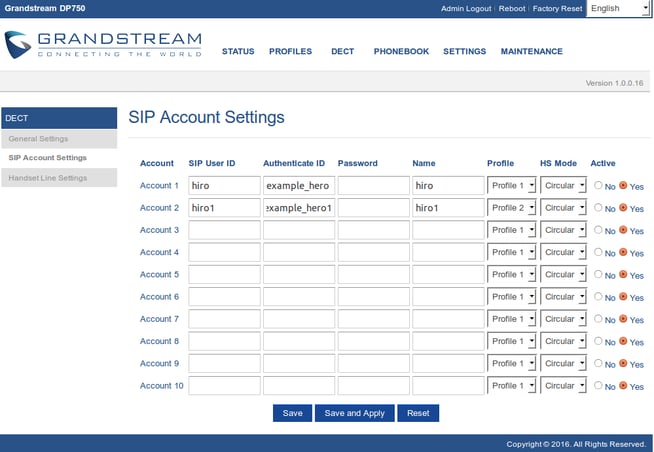 Step 5: Choose the Handset Line Settings.
Click on "Handset Line Settings" on the sidebar. Handsets 1–5 can all be configured with the account you registered in Step 4.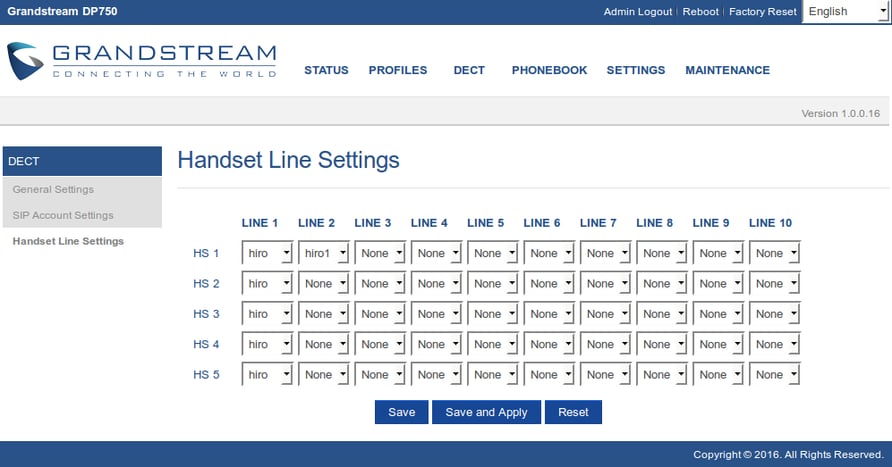 Final Thoughts
The DP750/DP720 is a huge upgrade from the old Grandstream DECT series. With great HD codec support, excellent range, and a quality design, the DP750/DP720 is a combo that offers all the prime features a DECT phone needs. The number of SIP lines/accounts supported per phone is impressive, and the phone should be at the top of the list for anyone who wants a multi-line phone that offers geographic freedom.
VoIP handsets are becoming increasingly prevalent, and the DP750/DP720 is more proof that DECT devices can compete with traditional desk phones. Of course, the DP750/DP720 lacks a shiny Android interface like many of the smartphone-esque options we've reviewed in the past few months. But the question of whether to purchase the phone or not ultimately comes down to how much flexibility you want with your phone. Do you mind being tethered to your desk? Or do you want to be able to walk around your office with relative freedom?
That's probably the main selling point of any DECT phone. And if flexibility is what you're looking for, the DP750/DP720 is a superior product to consider.