Time for a new router
Over the weekend, my home router died. Well not "died" died, per se, but began to fail to live up to my needs. It was a Buffalo WHR-HP-G300N, purchased from Amazon on sale. Total mistake. I bought it to use as a home router because the default "stock" firmware was the amazing DD-WRT firmware, probably the best firmware available for use in SOHO routers.
Tragically, the DD-WRT flat out didn't work on the device. It would lock up the device, lock me out of the web interface, and not allow SSH or Telnet access. On top of all that, it was just so unbearably slow. I was frankly a little shocked that a router supposedly designed around DD-WRT would be so horrible and unfriendly to work with.
There was a "secondary" firmware included with the router. It wasn't much better. The device locked up after I made any changes, and I'd have to do a reset to the factory default settings whenever I wanted it to work.
Yet, I kept it around out of optimism, I suppose. They had a forum full of people complaining about the router's various issues and they seemed committed to addressing the issues. Unfortunately, no relief ever came, so when the UPnP stopped working, I said 'to heck with it' and checked the Internet for the current best routers.
Choosing between the Linksys E4200 series and Asus RT-N56U
I read many reviews and ended up settling on either Linksys's new E4200 series or Asus RT-N56U (both awarded CNET's Editor's Choice award). I haven't liked a Linksys device since the WRT days. New bells and whistles have added functionality, certainly, but usually at the cost of performance. There is also a tendency for newer Linksys devices to treat SIP as an afterthought, which means that more often than not, the additional SIP routing options come broken and need to be switched off.
This can be an issue because in some instances the SIP instructions are tied into the SPI Firewall, meaning that if you turn off the SPI Firewall to gain SIP functionality, you are potentially putting your entire network at risk.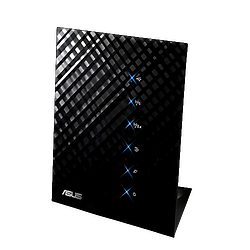 Knowing that I'd have to potentially use SIP phones at home for work purposes, I thought I'd take a risk with the ASUS RT-56U. Our only previous experience with an Asus device was the RT-N12, which we discovered didn't allow inbound or outbound SIP packets to pass regardless of what we did. Release notes for newer firmwares don't fill me with confidence that the issue has been addressed, but we will be giving another look at the device as we continue with our updating of the knowledgebase.
Asus RT-56U performance
The Asus RT-56U worked with OnSIP right out of the box. There was no SIP ALG option and the included SPI firewall did not interfere in any measurable way with regard to SIP. Calls completed both inbound and outbound and I was able to daisy chain several transfers back and forth without losing either the call or the media stream.
There is one point I'd like to bring up. It's a minor security concern but as there is no SIP ALG, nothing masks the contact address in your SIP packets so your phone could be inadvertently exposing network architecture you'd rather keep hidden. It is also highly advisable that the very first thing you do with this router is update the firmware which will make the web portal respond much faster to changes.
This is only lab testing, so it may not reflect real life experiences, but I am enthused and somewhat impressed. Asus has managed to turn around their reputation with us in the field of wireless routers with this device.