The following review was conducted in April 2017.
Introduction
The Digium D60 is an entry-level IP phone developed for Switchvox and Asterix PBX systems but supports open SIP standards, making it usable by any SIP phone system. The Digium D60 has many standard business phone features, including four feature keys, four context-sensitive keys, and two lines. The device is meant for deployment in offices that don't experience frequent call traffic.
First Impressions
The Digium D60 is a little larger and heavier than most other entry-level phones. The phone has a clear, spacious 4.3" screen. The text on the screen is extremely sharp and easy to read—you won't have to squint to make out the letters. For an entry-level phone, the screen size seems just right.
The phone has four feature keys, four context-sensitive soft keys, and six key navigation controller keys. The buttons have a nice resistance that provide a satisfying tactile feel when pressed. They don't feel jumbled together, and there's plenty of space on the console.
Even though the phone is in a lower price bracket, it feels quite sturdy and substantive compared to other models. We didn't experience any wear and tear during usage.
Features
The Digium D60 is light on features, boasting just two SIP lines. Here are some of the standard business phone features that are included with the phone:
Auto-answer
HD voice
Custom ringtones
Call waiting
Call transfer (blind & attended)
Call forward, call hold, call parking, call pickup
Intercom / Paging
Message Waiting Indication (MWI)
Busy Lamp Field (BLF)
3-way conferencing
Do Not Disturb (DND)
Redial
Call timer
Caller ID display
Visual voicemail
Presence/Status
Contacts
The D60's core functionality is equipped for standard business calling. While the device lacks Bluetooth capabilities, it offers most of the features an office would need on a day-to-day basis. If you're looking for Gigabit Ethernet ports and Internet-based applications such as web browsers, you'll need to look elsewhere. This phone is meant for basic usage.
Voice, Sound & Video Quality
The Digium D60 has excellent sound quality. If you're on a budget but voice quality is a priority for you, this phone will deliver. The D60's voice quality is better than that of phones that cost twice as much. SIP-to-SIP calls on G.722 had a pronounced fullness for the bass and mid-range of coworkers without the treble being overshadowed or sibilants breaking up.
We did get reports that the microphone may be a bit too sensitive at times, and that if we spoke loudly into the phone, the sound quality would begin to flatten out and break up. Even with this issue in mind, everyone we called was impressed with the call quality, especially when they learned that this was an entry-level phone.
Compatibility Testing
At OnSIP, we put each of the phones we use through a multi-step interoperability test in which we apply ~30 test cases. Here's an example of a test case:
Test phone calls phone B

B picks up

B puts test phone on hold

B calls phone C

C picks up

B transfers test phone to C

The call must be transferred correctly to C. B must be released correctly after the transfer. When C picks up, audio must work both ways between test phone and C. When the test phone is on hold, there is no audio between it and phone B.
The Digium D60 interops perfectly with OnSIP when using firmware 2.2.1.3. Earlier firmware versions had an issue where inbound calls to the second line would only ring on the first line of the phone. This firmware fixes that bug.
We found that swapping out the default dial plan with a more permissive "x.T|*xx.T" made dialing more natural. Before making this change, we would get dial plan errors trying to dial four-digit extensions or other numbers.
You may want to go through the user guide to make sure that you understand the language for common functions. For example, do not disturb is activated by hitting the "Status" button, something you could only know after reading or experimenting.
Setup
Step 1: Gather information for each user.
For each phone that you are configuring, obtain the following credentials. You can find this information in the user detail pages under the Users tab in the Phone Configuration section of the OnSIP Admin Portal.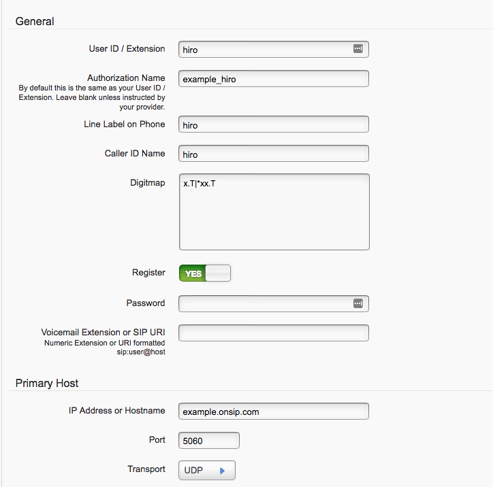 Step 4: Set the outbound proxy.
Scroll down to "SIP Outbound Proxy." Enter "sip.onsip.com" for the IP address/hostname and "5060" for the port number. Hit "Submit Phone Settings."

Step 5: Choose codecs.
Select the "General" tab. Scroll down to "Advanced: Audio Codecs." Disable everything except for G722, PCMU, and PCMA. Press "Submit Phone Settings."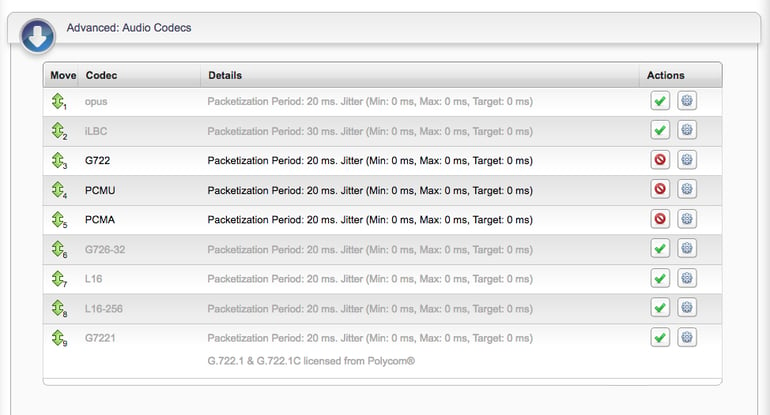 Step 6: Confirm that your phone is registered.
In the Admin Portal, click on the "Users" tab. You will see a green "online" notation next to each user with a registered phone.
Final Thoughts
The Digium D60 doesn't really break new ground, but entry-level phones almost never do. That's why we judged the D60 for its solid capabilities and continued consistency rather than for a lack of new or web-based features. The Digium D60 is a reliable, low-cost device that can function as a basic phone for individual employees who don't receive a high volume of calls.
If sound quality is a major deciding factor for you and you're trying to stay budget conscious, then the Digium D60 is definitely the right fit for you. The D60 sounds just as good as some of the executive-level IP phones we've reviewed in the past. This is definitely the feature that distinguishes the D60 from other phones in the same price range.