The Polycom VVX series business media phones are some of the most popular on the market. With reliable business phone features and Polycom's excellent HD voice quality, it's no surprise that VVX devices are at the top of every phone wish list.
If you're not sure which Polycom VVX models are best suited for your everyday business calling needs, here are the key features that distinguish each series.
Polycom VVX Series Phone Differences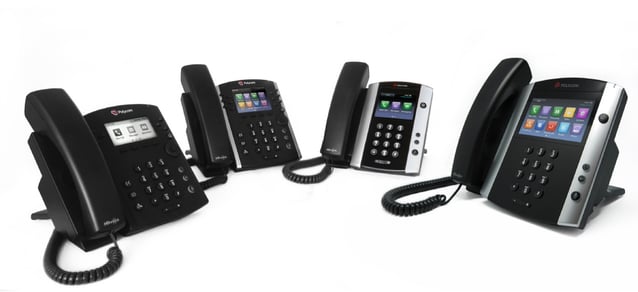 The Polycom VVX 300s are the brand's popular entry-level phones. One step up are the VVX 400s, which are marketed as mid-range devices. Both of these phones come with basic call handling capabilities, such as call transfer, hold, mute, 3-way calling, and other standard features.
The more advanced models are the Polycom VVX 500s and VVX 600s, which are designed as fully-featured, web-enabled devices in the Unified Communications (UC) vein. In addition to the capabilities of the 300s and 400s, the 500 and 600 series include HTML5 browsers for integrated communications and are compatible with the Polycom VVX camera for video conferencing.
Standard Desk Phones: Polycom VVX 300 vs. VVX 400
Polycom VVX 300 series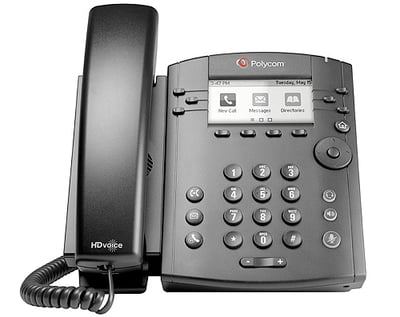 The Polycom VVX 300 phones offer a solid range of business calling features for the everyday office worker, including:
6 SIP lines
12 key dialpad
Power over Ethernet (PoE)
Mute, call hold, call waiting, call forwarding, call timer, call transfer
One-touch speed dial/redial
Speakerphone and volume control
6 Busy Lamp Field (presence indicators)
Do Not Disturb (DND)
HD voice (up to 7kHz)
Remote missed call notifications
Paging groups
3-way audio conferencing
SRTP/TLS encryption
RJ-9 headset jack
Here's an excerpt from our review of the Polycom VVX 300:
The Polycom VVX 300 is a fantastic entry level phone. The audio quality is excellent, the features are on par, there are 6 SIP lines, and the speakerphone is crystal clear. Our only major gripe was with the menu cursor on the interface. It was hard to see, but it didn't completely disrupt our experience. Despite its entry level status, the VVX 300 can handle a wide variety of use cases.
Polycom VVX 400 series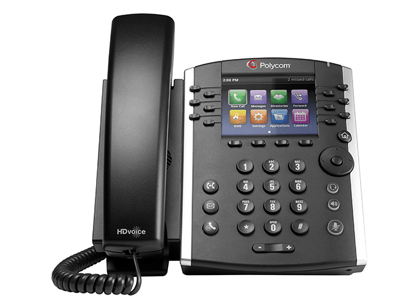 The Polycom VVX 400 series is a little more advanced than the VVX 300 series. In addition to all the features found on the VVX 300s, these phones include:
12 SIP accounts
Color screen UI
USB port
ADA Volume Control Compliant
While the VVX 400 phones don't offer additional call handling features, the six extra SIP accounts are a big deal. You're basically doubling the capacity of the VVX 300. Not only that, but the SIP line keys can also serve as BLF indicators for your co-workers to tell you when they're on a call.
Here are some more thoughts from our review of the Polycom VVX 400:
With solid features and impressive voice quality, the VVX 400 is about the best you can do for a mid-range office phone. The LCD screen is also a major plus. The speakerphone stands out when compared to other similar models, and has a broad array of codec options, including Opus.
Polycom VVX 300 Series vs. VVX 400 Series: What Should I Buy?
The Polycom VVX 300 series and VVX 400 series phones share many features. The two distinguishing factors are the number of SIP lines per phone and the screen size and color.
The VVX 300 series offers 6 SIP lines per phone. This works well for smaller offices with low to medium call volume. The VVX 400 series offers 12 SIP accounts per phone. There's room for additional BLFs, speed dials, and other features you could conceivably use in an office. This phone would appeal to someone who wants several SIP accounts, high co-worker connectivity, and standard business phones features. Design-wise, the VVX 400 phones have larger color screen, while the VVX 300 phones have smaller monochrome screens.
Premium Executive Phones: Polycom VVX 500 series vs. 600 series
Polycom VVX 500 series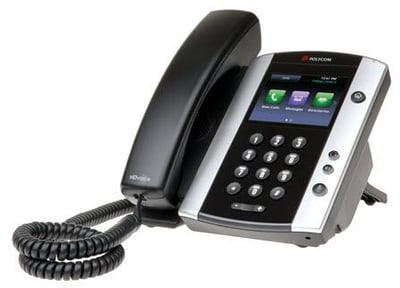 The Polycom VVX 500 series are designed for managers and executives who require more advanced phone functionality. Key features of this phone include:
HD voice
12 SIP lines
2 USB 2.0 ports
2 Gigabit Ethernet ports
Streaming media video playback
Video conferencing via external USB
12 key keypad
Touch-screen interface
Microsoft Exchange calendar integration
Skype for Business and Office 365 Cloud PBX integration
3-way conferencing
Media encryption via SRTP
The VVX 500 phones also have all the call handling features of the VVX 300 and VVX 400 series. This includes call transfer, hold, mute, caller ID, do not disturb, and other standard business phone functions.
The most noticeable difference is the color touchscreen that gives the phone a smartphone-esque feel. The phone is also compatible with the Polycom VVX camera, which offers 720p resolution and a quick plug-and-play installation for HD video conferencing. Othewrise, the biggest upgrade is the web integration. The VVX 500 series offers calendar syncing, integration with Skype and Office 365, and a web browser that supports HTML5, CSS, SSL security and JavaScript.
As our review of the Polycom VVX 500 notes:
The touchscreen is incredibly responsive compared to what the competition is offering and is multitouch capable and gesture-based, which allows me to do things like type in SIP addresses quickly on the on-screen virtual keyboard, and freely scroll around a webpage using just a finger.
Polycom VVX 600 series
The Polycom VVX 600 series offers premium business media phones marketed to heavy phone users. The VVX 600 models look very similar to the VVX 500 phones, but have larger screens. While the VVX 500 has a 3.5" TFT (320 x 240) touchscreen, the VVX 600 has a 4.3" TFT (480 x 272) touchscreen.
The VVX 600 series has the same features as the VVX 500 phones, including Skype and Office 365 integration, a web browser, two Gigabit Ethernet ports, and Polycom VVX camera compatibility. The features exclusive to the VVX 600 are:
16 SIP lines
Integrated Bluetooth
API toolkit for custom development
The VVX 600 series adds Bluetooth and a few more SIP lines to the VVX 500 series. There's also an API toolkit so developers can build their own apps for the phone. But overall, the calling functionality is essentially the same.
We talk about Bluetooth functionality in our review of the VVX 600:
The VVX 600 does add integrated Bluetooth (Core Specification Version 2.1 + EDR) support, which the VVX 500 did not have. We were able to easily pair the phone with a Plantronics Savor Bluetooth headset by tapping on the Bluetooth icon on the main screen, turning on Bluetooth Radio, and then using the 'Manage Bluetooth Headsets' menu to scan and connect. When a Bluetooth headset is connected, you will see a headset image added to the Bluetooth icon on the VVX 600's main screen.
Polycom VVX 500 Series vs. VVX 600 Series: What Should I Buy?
The key differences between the VVX 500 series and the VVX 600 series are the number of SIP lines offered, Bluetooth functionality, and screen size.
The VVX 500 comes with 12 SIP lines, which is typically enough for most phone users. If you're looking for more slots for BLF and speed dial keys, the VVX 600 does offer 4 more lines. The Bluetooth support of the VVX 600 is a nice perk for those who prefer to use a wireless headset when making calls. Finally, the VVX 600 also has a larger screen, which offers more space for customization and notifications.
Business VoIP Phone Reviews
Polycom is one of the leading business phone manufacturers, so it's no surprise that you're considering the VVX series for your team. With Polycom's superb HD voice and wealth of business phone features, VVX phones make a great addition to any office.
The key differentiators between the Polycom VVX 300, 400, 500, and 600 series are the number of lines, screen size and type, and web access. Ultimately, the phones you buy will depend on your phone usage and required calling features, as well as your budget. For more information on the differences within each VVX series (e.g. VVX 300 vs VVX 310), check out our previous blog here.