Summary
| | |
| --- | --- |
| Overall: | |
| Configuration: | |
| OnSIP Testing: | |
| Voice Quality: | |
| Ease of Use: | |
Quick Specs
Multiple account support for up to 25 accounts on any SIP-compliant server

Audio codecs include G.711 a/u, G.722 (HD), GSM, OPUS and SILK

TLS and SRTP encryption,

VPN support

Stun & Ice network traversal
Pros
Integrations with

Siri, Facebook contact list, Google XMPP, and contacts on the iPad

Multitasks effectively

Auto-record phone calls option

Easy configuration
Cons
In-app purchases for video codecs and XMPP
No USB headphones
Distributing client to enterprise end users is challenging via iTunes Store
X-Lite client (free version) not available for iPad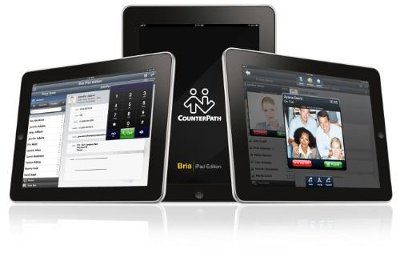 The following review was conducted in January 2017, and information on subsequent software updates and new version releases may not be reflected within. This review predates OnSIP's mobile app for iOS and Android, free to OnSIP users, so is not affected by bias.
Bria for iPad is a softphone developed with the power user in mind, marketing itself as a business productivity application. It offers several multitasking features that allow users to work on other iPad apps while maintaining voice and video communications.
Bria for iPad targets the traveling business user and has some business class features, such as as automated call recording, presence, call forwarding, selective contact integration with Facebook and Google, and VPN support.
On paper, Bria for iPad sounds like a powerful softphone app for Apple's tablet. But does it live up to its potential? We took the app for a test-drive to find out.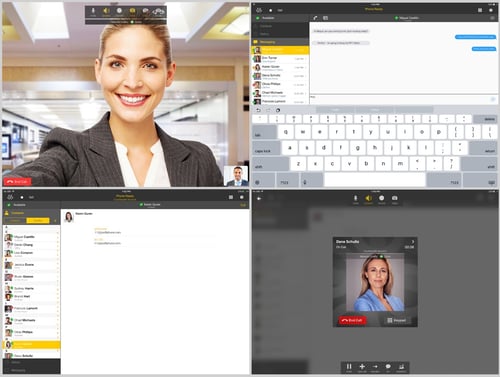 It was easy to configure the Bria for iPad with OnSIP. We were up and making phone calls within a few minutes. The number of available preference settings was really impressive compared to other softphones, as was Bria's ability to work coherently within a VPN.
The interface is very intuitive, and setting up the account was simple. Contact integration was easy, but adding groups was trickier. The iPad itself doesn't have a way to create contact groups, so we had to use an iCloud account to do that. Then we had to sync the groups to the iPad and restart Bria. This is important for anyone who only wants to sync a group rather than their full contact list. Adding contacts via Bria is nice because there's a field for the SIP URI, but that doesn't sync back to the Apple contacts.
One of the first things we wanted to do was connect a headset to improve the sound quality from just using the speakerphone. Unfortunately, the iPad doesn't have a USB port, so you can't use a USB headset. As alternatives, there's a 3.55 mm stereo headphone jack or Bluetooth headphone. This is a definite consideration for anyone who wants to use Bria for iPad on a regular basis.
The stereo speakers are good enough on the iPad that the user experience is pleasant, but without headphones, a lot of background noise is also transmitted to the other side of the call. Bria does allow you to toggle whether to use speakerphone or a headset on a per call basis.
Features
The configurable options available with Bria for iPad are mature and sophisticated, clearly showcasing Counterpath's many years of software development in the VoIP sphere. This is not a basic SIP client; it has many of the features that you'd expect from a deskphone and has the same rock-solid reliability.
Regular call functions all worked seamlessly. Transfers were intuitive. Recording a call was really simple, as was retrieving and sharing the recording of that call, which is something that many deskphones don't do well. Dialing from the contact list was great. There's really not much to complain about with regards to everyday calling—Bria works well and is designed well.
The most frustrating part of the phone was using selective contact integration. We were able to get this to work, but occasionally we had to restart the Bria client to have selected group of contacts show up correctly.
It also wasn't clear how to toggle between input sources. This was the only non-obvious interface issue. In order for you to switch between a pair of headphones and using the iPad's native stereo speakers and microphone, you must make a call first and then hit the speakerphone icon. This opens up a window that allows you to adjust the setting. We would like to see a permanent setting in the preferences for this, although the ability to also adjust the input during the call is nice.
We also noticed that the Siri integration is a little buggy. There's an issue where Siri only recognizes Bria if you pronounce it with Bri as in Brian, although the official pronunciation is as we've been saying it ("bree-ah").
Some other features include:
Multiple account support for up to 25 accounts on any SIP-compliant server
Contact List and Contact Favorites, leveraging the device's native contact directory
Call display and voicemail indicator
Speakerphone, mute, and hold functions
Call history with a list of received, missed, and dialed calls
Call recording
Ringtones and contact avatars
Dial plan support
Multiple call support

Swap between two active calls
Merge and split calls (three-way conferencing support)
Call transfer (attended and unattended)

Audio codecs include G.711 a/u, G.722 (HD), GSM, OPUS, and SILK
Automatic codec selection to ensure optimal call quality
TLS and SRTP (secure call signaling and media encryption)
Support for DTMF (the ability to enter numbers to use an auto attendant)
Media efficiency and quality

noise reduction
echo cancellation
voice activity detection
quality of service
codecs variable bitrate
HD Voice and Video Quality
The voice quality on the Bria for iPad was good, particularly with a headset. The app is equipped with HD voice, including the G.722 codec. Note that you can only access some of the voice codecs, G.729 and AMR-WB, through in-app purchases. Video quality was really nice, although it was tested over a LAN, with optimal network settings. The quality of the return picture is dependent on the other client, which was Jitsi for Linux in this case. The picture on Jitsi was very sharp.
Here's a screenshot of the video calling display. It's curious that Bria doesn't use more iPad screen real estate for video calls. This video call interface looks like it's been designed for a much smaller device, like a phablet phone.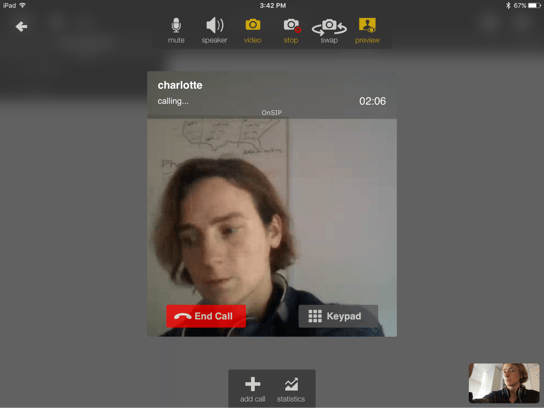 Compatibility Testing
At Junction Networks, we put each of the phones we use through a multi-step interoperability test in which we apply ~30 test cases. Here's an example of a test case:
Test phone calls phone B

B picks up

B puts test phone on hold

B calls phone C

C picks up

B transfers test phone to C

The call must be transferred correctly to C. B must be released correctly after the transfer. When C picks up, audio must work both ways between test phone and C. When the test phone is on hold, there is no audio between it and phone B.
Bria for iPad passed all compatibility testing.
OnSIP Setup
Step 1: Gather information for each user
Obtain your user credentials. You can find this information in the user detail pages under the Users tab in the Phone Configuration section of the OnSIP Admin Portal.
Step 2: Add new account
On the Bria home screen, tap on "Accounts." Tap on the + sign in the upper right-hand corner. You'll see a drop-down of VoIP providers. Scroll down and select OnSIP.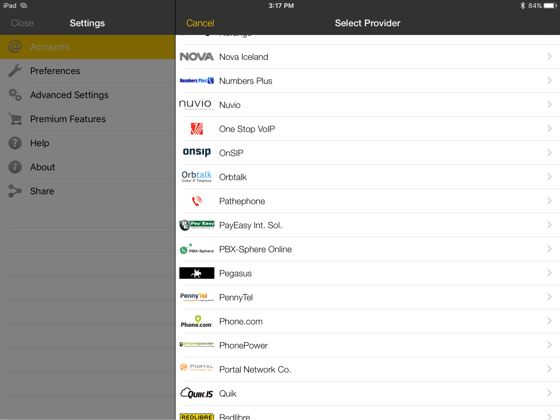 Step 3: Enter credentials
Enter the OnSIP account credentials you gathered in Step 1 into the appropriate fields. Then press "Save" in the top right corner.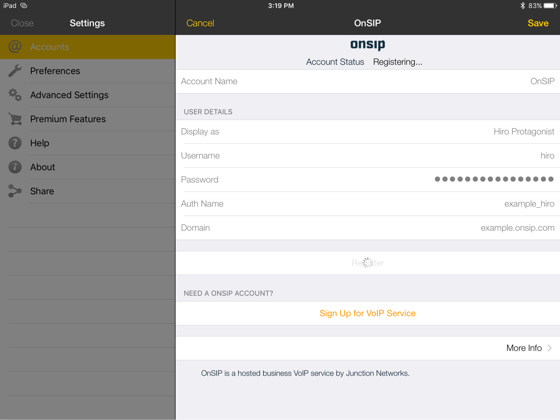 Final Thoughts
With a good set of headphones, Bria for iPad can function as a reliable phone for full-time work. The ability to easily record calls and engage in video calls brings a great deal of value, particularly when combined with the overall stability of the app.
The frustration of getting contacts to work reliably and appropriately was a major drawback, especially as changes occasionally meant having to restart the Bria client. That is certainly something Counterpath should improve upon in future versions. Although it's not their fault, the inability to create contact groups on the iPad or within the Bria interface was frustrating.
Ultimately, this is a softphone on a tablet. That brings some good things to the table, like more real estate for displaying video calls. The downside is that you need to consider your headset choice carefully since you're constrained by the available ports on the device (no USB). The Bria for iPad is a really interesting solution for workers on the go who find a tablet more suitable to their work style than a laptop or desktop computer.