Summary
| | |
| --- | --- |
| Overall: | |
| Configuration: | |
| OnSIP Testing: | |
| Voice Quality: | |
| Ease of Use: | |
Quick Specs
G.711, G.722, SPEEX, SILK, and Opus voice codecs
VP8 and H.264 video codecs
Multi-language support
Echo cancellation
Pros
Video calling
Wide range of supported voice/video codecs
Ease of use
Account registration

Full business phone features
Cons
Price (pay extra for additional features)
No logs for troubleshooting
Note: The following review discusses Bria for Android version 3.7.2.91750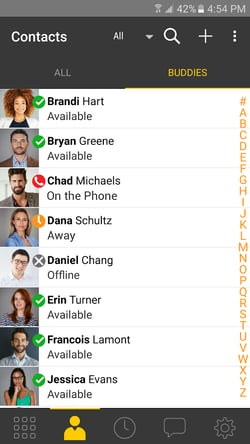 The following review was conducted in October 2016, and information on subsequent software updates and new version releases may not be reflected within. This review predates OnSIP's mobile app for iOS and Android, free to OnSIP users, so is not affected by bias.
Bria is a long-established softphone app produced by Counterpath. The app is now available on almost every mobile platform, including iOS, Android, iPad, and PC. We wanted to see how Bria for Android stacked up, so we had our team take it for a test drive.
Bria for Android can merge calls/conferences, swap between calls, make blind and attended transfers, and generate video calls. Bria for Android supports G.711, G.722, SPEEX, SILK, and Opus codecs for voice calling. It has VP8 and H.264 as video codecs. Bria for Android works on both cellular data networks and WiFi.
The app sounds very powerful for a softphone, but we wanted to subject the app to full-scale testing before recommending it to customers.
First Impressions
Bria for Android is installed via a simple download from the Google Play store. The phone interface is similar to a typical smartphone interface. The phone operates from a self-explanatory number keypad.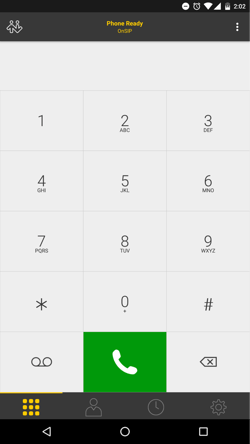 After making a call, the interface switches to six buttons that can mute the audio, bring up the number pad, initiate the speakerphone, hold the call, add additional callers, find call history, and open up a list of all settings.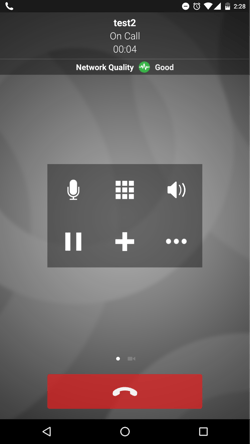 Bria for Android supports the G.722 codec, which is compatible with OnSIP HD calling. HD calling works on both cellular data networks and Wifi. You can switch to video calling by swiping to right of the screen, which also tells you the quality of your network.
However, Bria for Android requires in-app purchases to access additional features such as video calling, the G.729 codec, and presence/messaging. The app only supports voice calling upon initial download. Nobody likes being told that they need to spend more money after making a purchase, but it's up to you to decide if the premium features are worth the extra cash.
Premium Features:
G.729a codec: $8.99
AMR-WB codec: $8.99
Presence and Messaging: $2.99
Video Calling: $2.99
Bria for Android Features
Bria for Android has a variety of business phone features that rival traditional desk phones. That is the strange triumph of Bria for Android. In appearance, it is an extension of a smartphone, but in terms of capability, it mirrors a standard desk phone. Bria truly wants to be a replacement for the device sitting on your desk. Here are most of the Bria for Android features:
Contact list and contact favorites, leveraging the device's native contact directory
Multiple account support for up to 25 accounts on any SIP-compliant server
Call display and voicemail indicator
Speakerphone, mute, and hold functions
Call history with a list of received, missed, and dialed calls
Call recording
Ringtones and contact avatars
Dial plan support
Multiple calls support

Swap between two active calls
Merge and split calls (three-way conferencing support)
Call transfer (attended and unattended)

Audio codecs include G.711 a/u, G.722 (HD), OPUS, GSM, SPEEX, and SILK
Automatic codec selection to ensure optimal call quality
Support for DTMF, the ability to enter numbers to use an auto attendant

Via RFC 2833, SIP INFO, and in-band
There are also a lot of options in the advanced settings. You'll see QoS settings, which SIP port you're going to use, RTP Port for audio and video, and even the type of codec that you want to use on a certain network. Bria for Android also supports IPv6 and not just IPv4. You can also specify which IP type you want to use on a certain network as well.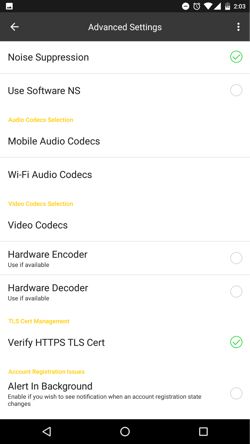 Bria for Android has a set of highly customized codec settings, including options for mobile audio codecs, Wi-Fi audio codecs, and hardware encoder/decoder. These robust codec options are configured in the advanced settings section.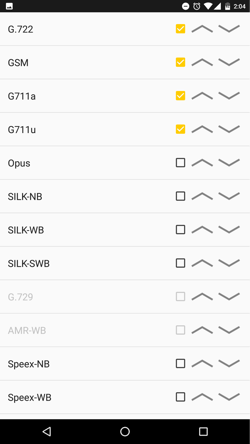 Voice/Sound Quality
The voice quality is superb on the Bria for Android, perhaps the best we've ever reviewed on an app-based phone. SIP to SIP calls are topnotch, and calls to the PSTN are stellar. What's most impressive about the voice quality is the number of codecs Bria for Android supports; it has five voice codecs, including Opus, which puts it ahead of most business phones.
The video quality is fine. We wish that Counterpath didn't charge extra for video calling, but that's a knock of the pricing, not of the video quality.
Compatibility Testing
At OnSIP, we put each of the phones we use through a multi-step interoperability test in which we apply ~30 test cases. An example of a test case would be the following:
Test phone calls phone B

B picks up

B puts test phone on hold

B calls phone C

C picks up

B transfers test phone to C

The call must be transferred correctly to C. B must be released correctly after the transfer. When C picks up, audio must work both ways between test phone and C. When the test phone is on hold, there is no audio between it and phone B.
We encountered no compatibility issues with Bria for Android.
OnSIP Setup
Step 1: Gather information for each user.
Obtain your user credentials. You can find this information in the user detail pages under the Users tab in the Phone Configuration section of the OnSIP Admin Portal.
Step 2: Add account.
From the Bria for Android home screen, press the gear icon at the bottom of the page to access the Settings page.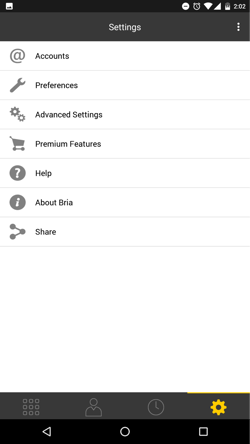 Select Accounts. Click the addition icon in the top right corner to add an account.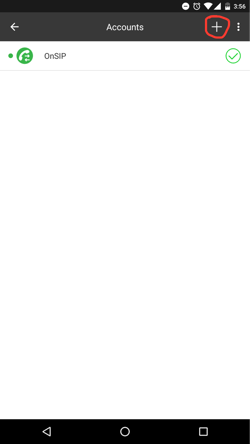 Step 3: Select OnSIP as account type.
On the Account Types page, click the OnSIP icon.
Step 4: Enter credentials.
Enter your credentials from Step 1.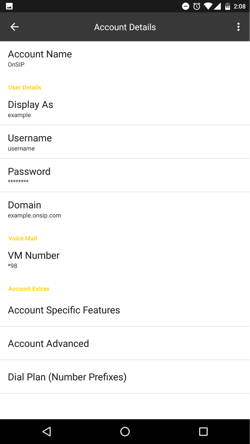 Step 5. Confirm that your phone is registered.
In the Admin Portal, click on the "Users" tab. You will see a green "online" notation next to each user with a registered phone.
Final Thoughts
Bria for Android is an excellent softphone app for mobile users. It comes with an impressive list of business phone features, sturdy functionality, and great voice and video quality. Bria remains one of the most respected softphone apps in the industry, and there's a good reason for that. The fact that this softphone does not sacrifice capabilities on mobile makes it a top tier choice for anyone who's looking to make calls on the go.
Our only serious issue is the price. The phone requires in-app purchases if you want to access all the features, including video quality, presence, and messaging, which are some of the leading features that separate Bria from standard desk phones. Since we don't judge phones on price, we won't dock Bria for Android any points for this issue. But Bria should consider combining all of these features into a lump sum purchase or at least give away messaging for free.