Summary
| | |
| --- | --- |
| Overall: | |
| Configuration: | |
| OnSIP Testing: | |
| Voice Quality: | |
| Ease of Use: | |
Quick Specs
G722, Speex, G711, GSM and iLBC codecs
Instant Messaging (MSRP chatroom support)
File Transfers (MSRP file transfer support)
Screen Sharing (private SylkServer extension)
Pros
Packed with features - Chat sessions, IM, file and desktop sharing
Built-in SIP account integration, account management interface
Clean Interface allows for intuitive call handling
Cons
Some features can only be used with a SIP account from AG Projects
MAC only

The following review was conducted in November 2011.
App Configuration
The preferences menu you see during the setup process has an updated look. It's now very similar to the the preferences menu in Bria.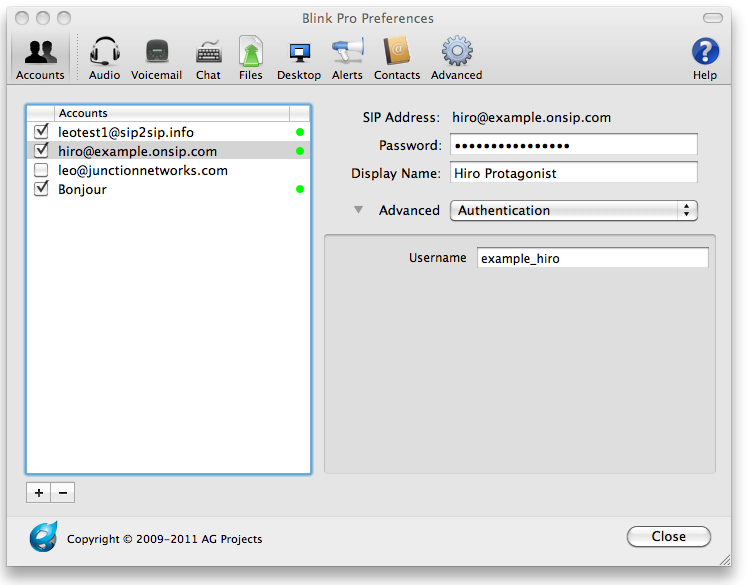 The 'Advanced' menu screen has also been updated.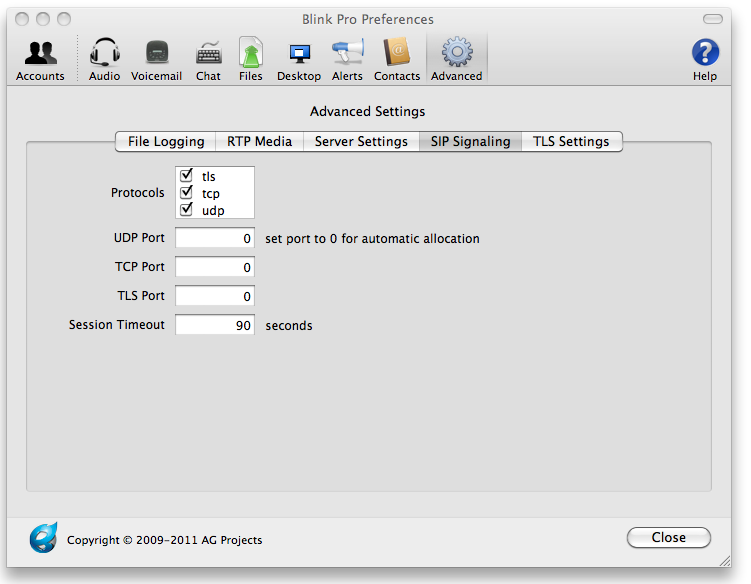 JN Testing
At Junction Networks, we put each of the phones we use through a multi-step interoperability test in which we apply ~30 test cases. An example of a test case would be the following:
Test phone calls phone B

B picks up

B puts Test phone on hold

B calls phone C

C picks up

B transfers test phone to C

Call must be transferred correctly to C. B must be released correctly after the transfer. When C picks up, audio must work in both ways between test phone and C. When test phone is on hold, there is no audio between it and phone B.
Version 1.3.0 passed all of our test cases. Blink Pro now does both blind and attended transfers. We did run into a couple of situations where the client thought it failed at transferring a caller when in actuality, it was successful. The application thought that it still had an active call even though there was no audio going between it and the transferred device. If this happens, just hang up; it should not have any adverse effects on the caller you transferred. Interestingly enough, if the caller you transferred hangs up on the call with the person you transferred her to, your Blink client will also hang up. I'm not too clear at the moment what's happening, but I'll provide an update if and when I find out.
The developers have also added a dialpad, which addresses the DTMF issues we had with an older version of the application.
Ease of Use
Version 1.3.0 adds blind and attended transfer. This is presented to you as a small 't' icon within each call box. When you're on two or more calls, clicking on the 't' within a call box allows you to transfer that caller to any of the other people you're speaking to (attended transfer). If you want to conduct a blind transfer, you can drag and drop a call box onto any of your contacts to do so. You can also blind transfer to an arbitrary number or address. Simply type a number or SIP URI into the contact search bar / dial field and it will appear as a searched contact. Drag and drop the call you want to transfer into it just as you would for a number or SIP URI that's already in your contact list.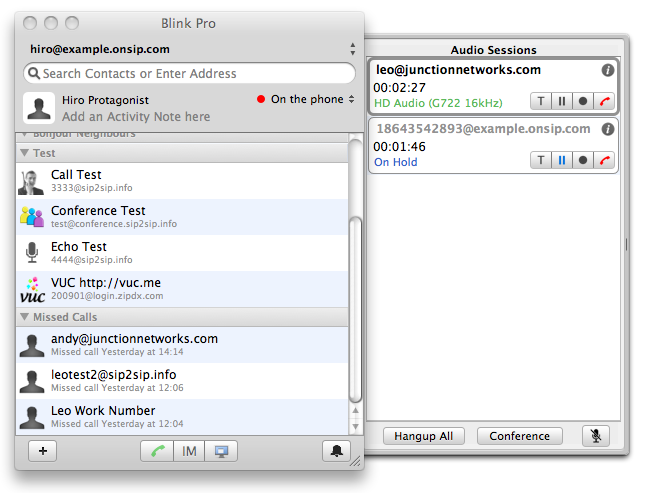 The MSRP chat session window has also been updated: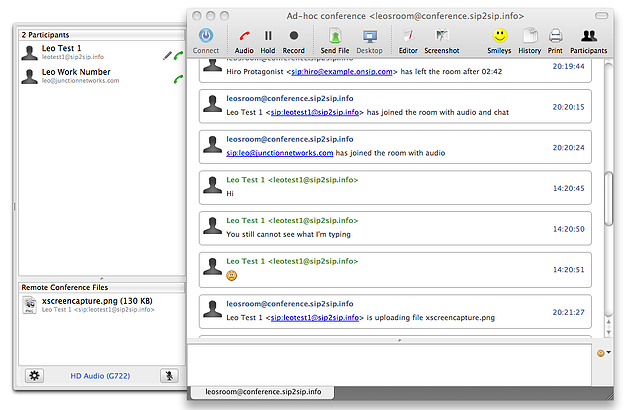 You will find a couple of new features in the chat session. There is an 'Editor' button, which opens up a blank document that you can supposedly edit with other members in the session. We tested it a few times using a sip2sip account on Blink Pro and a sip2sip account on Blink Lite. It didn't seem to be working but maybe we were doing something wrong. There's also a new 'Screenshot' button. Press this button and a camera icon will pop up. Anything on your screen can be captured (whatever you mouse over gets highlighted); simply click your mouse and the application will take a screenshot and share it with the rest of the room. Assuming the other participants are using a sip2sip account & Blink, they should get the screenshot image in their downloads folder (or whatever folder they've designated). There used to be a nonfunctioning video button within the chat sessions UI (see pic of older version above), but the developers seem to have taken it out. I'm not sure if that means they're planning on executing video calling another way or if they're simply tabling video for now.