"Technical support" … "Make a payment" … Have you ever found yourself speaking commands into the phone when calling a business?
If yes, then you've already interacted with an IVR system. Done right, they answer calls and send callers to the right destination with as little hassle to the caller—and your business's staff—as possible.
What Is an IVR, and How Does IVR Call Flow Work?
Interactive voice response (IVR) is an automated phone system feature that recognizes speech and/or DTMF (a.k.a. touch-tone) keypad selections. A caller interacts with an IVR menu by speaking commands to it or by pressing numbers on his phone keypad. The system recognizes the selections and automatically sends the caller to the desired destination, whether it's a support queue, dial by name directory, or voicemail box.
IVRs perform the same functions as auto attendants and virtual receptionists: They answer calls to your business and efficiently route them to the appropriate destinations. And since they all use a pre-recorded message and menu of options, they can answer each and every call without making the caller wait on hold first.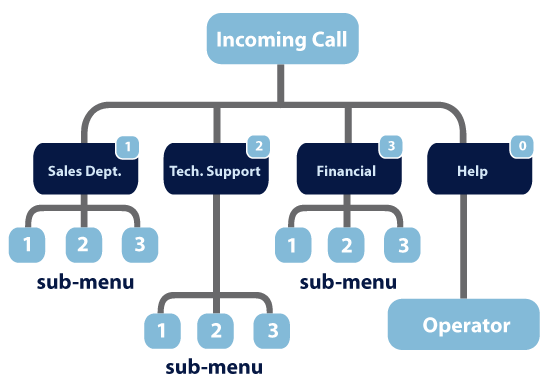 The main difference between them is that while auto attendants and virtual receptionists can only process keypad selections, IVRs additionally utilize speech recognition software to recognize spoken words and route calls accordingly.
Creating a Simple IVR Menu: Start With User Experience
You should always approach your IVR menu with your company's user experience (UX) design parameters in mind. Since it's a way that customers (and potential customers) interact with your business, it's crucial that you get the experience right and not create headaches or dead-ends that will turn people away.
When creating a simple IVR menu, add routing to each of your main customer-facing departments: Sales, support, billing, etc. Add another option for your dial by name directory so callers have the ability to reach a specific employee. This way, when a caller says "sales," "support help," or "billing question," or presses "1," "2," or "3" on his keypad, they'll be directly connected to that department.
You might also add options that route to announcements which provide main details about your company. Doing so allows customers to get that info (such as street address and hours of operation) automatically without taking up one of your representative's time.
And finally, spend some time developing a great introduction. A long-winded intro with unnecessary tangents will tire callers out and likely make them hang up. Thank them for calling, state your company's name, and let them know that you'll be giving them options to choose from.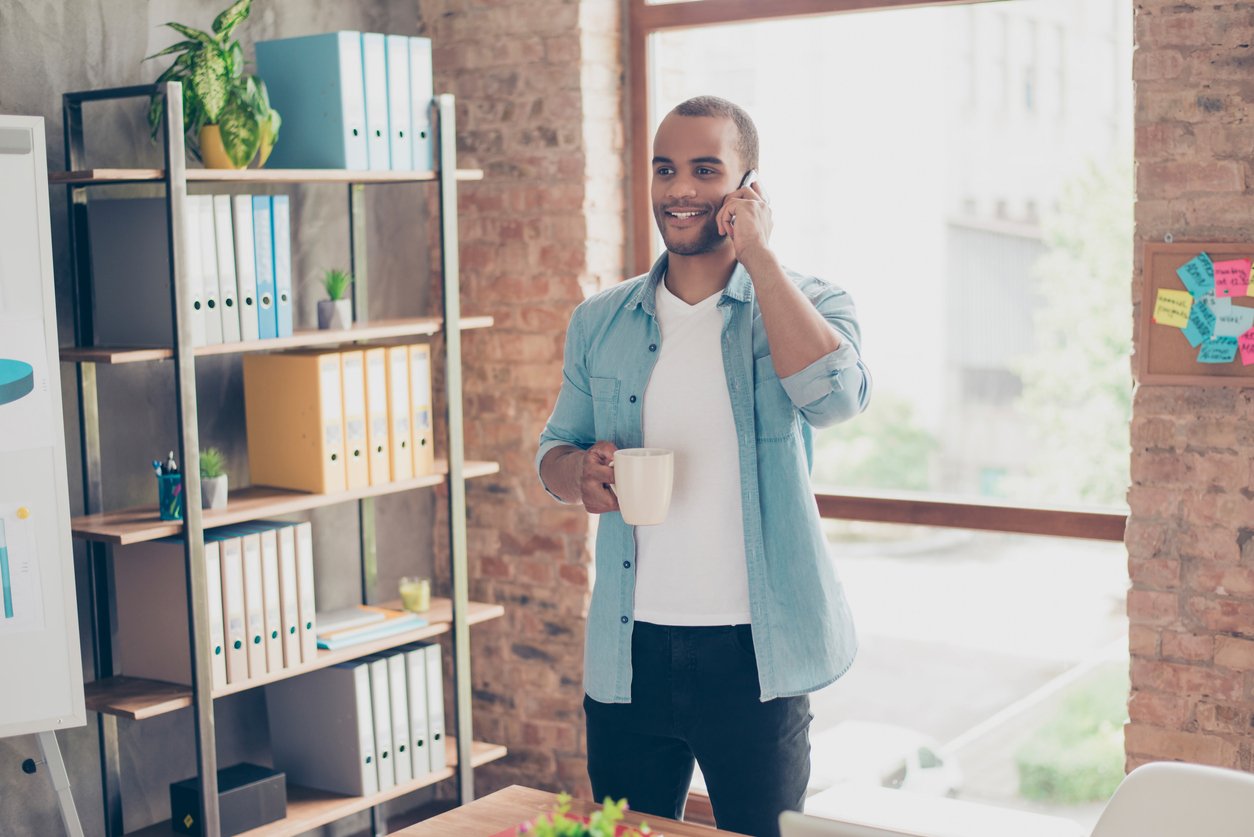 IVR Best Practices
Write Out a Script and Plan Menu Options First
It's always best to write out your greeting and menu options beforehand. Provide links to your company's main departments and work in a couple of options that address your most frequently asked questions. By crafting an auto attendant greeting script, you can ensure that your IVR call flow actually helps people who get on the phone with your company.
Use Voice Talent That's in Line With Your Brand
Consider using voice talent to record your messages. Your phone system recordings are a palpable way in which the public interacts with your business's brand, so make sure the voice you're using fits in with your brand identity.
Keep the IVR Menu Concise
A rambling IVR is the quickest way to aggravate your callers. Keep your introduction concise and your stated menu options short so that people can get to where they need to go with the fewest obstacles possible.
Take Advantage of CRM Integrations
Does the phone system that you're using integrate with business SaaS apps? Set them up! A HubSpot integration, for example, will automatically display the incoming caller's contact record on your rep's screen. Seeing that information beforehand, she can greet the caller by name and have his account number at the ready.
Always Allow for a Caller to Reach a Live Representative
Always provide an option for the caller to reach a live rep at any point in the IVR menu: "To reach a representative, say Representative or press 0." You're showing your customers that you're available to help them if they have an inquiry that isn't addressed by the menu options.
With these IVR best practices and creation tips, you'll have a plan on how to improve your IVR system. And a better IVR menu means happier customers and more closed leads—a win-win scenario!