In December of 2015, Slack launched its Slack App Directory, an online marketplace for 3rd party integrations. Users can choose from hundreds of apps across dozens of categories to 'be more productive' with Slack. These apps range in functionality, with the majority being either a 'bot' that posts notifications to a Slack channel and/or a set of slash commands that allow you to generate content or trigger actions inside your Slack client.
At OnSIP, our team members are spread across three office locations, with several more remote employees in different cities. We rely heavily on Slack to stay in touch throughout the day. In addition to creating different channels for specific teams and departments, we use several Slack apps to streamline our everyday communications. Here's a look at five business Slack apps that we find useful for our daily interactions:
Google Drive

Google Drive is a business cloud platform for documents, spreadsheets, presentations, and other files. Since we use Gmail and other Google services, the majority of our collaborative work happens in Google Drive. In particular, the Marketing team at OnSIP uses it for tracking metrics, drafting content, designing presentations, and other projects.
The Google Drive app for Slack allows users to easily add Google Drive files to a Slack conversation. Since we have remote members on our team, this app makes it easy for everyone to find and open a referenced document during a meeting.
"As a remote member of the Marketing team, the Google Drive integration with Slack makes it easy for me to follow along during working meetings. I just click on the link, and it opens up the document, spreadsheet, or presentation that the team is currently working on." - Joe DeBari, Marketing
Zendesk

Zendesk is a Customer Relationship Management (CRM) platform that "helps companies provide a great overall customer experience, and build customer relationships that are more meaningful, personal, and productive". At OnSIP, we use Zendesk as our second major tool for customer communications (the first being our Enhanced Queues). It's how we manage over 200 tickets a week, and gives us the data necessary to find trends and measure productivity and happiness.
The Zendesk Slack app posts real-time notifications about tickets into a Slack channel. We created a #zendesk channel to house notifications on new tickets and updates to existing tickets. This helps our Customer Success team keep track of tickets that don't come through our phone lines and instantly alerts them of urgent updates.
"Anytime a customer adds an update to an open ticket, Slack sends a notification to my mobile device. This helps speed up the reply process and ensure that all customers receive a timely response." - Larry Browne, Customer Success
Intercom

Intercom is "a customer platform with a suite of products for live chat, marketing, feedback, and support." We started using Intercom to communicate to users on the OnSIP app, our softphone and collaboration interface for Mac, Windows, Chrome, and Firefox.
In addition to notifying users of new features and collecting UX feedback, we occasionally receive support questions via the chat function. To help coordinate responses between our Marketing team and our Customer Success team, we installed the Intercom Slack app.
When the Marketing team needs help from Customer Success to respond to a user, we use the #intercom Slack channel to ask if any agents are available to log in and take over the conversation. Once an agent assigns a conversation to themselves, a Slack notification lets the Marketing team know that the hand off is complete.
"The Intercom notification for assigning a conversation to a different person is useful because it lets me know that a Customer Success team member has read my Slack message and will respond to the customer." - Alicia Knight, Marketing
Pivotal Tracker

Pivotal Tracker is an agile project management tool to help teams "evolve their collaboration and development so they can deliver quality software". Our Engineering team uses Pivotal Tracker to keep track of sprint progress and see upcoming tickets and stories. It also lets the rest of the company view the overall product roadmap and see the priority of different features.
We installed the Pivotal Tracker Slack app to help make sure everyone is aware of new, ongoing, and completed stories. While the majority of updates take place during daily stand-ups, the Slack notifications are useful during the rest of the work day. It replaces the need for people to setup email notifications, since the team is more likely to check a Slack notification than an unread email.
"We all have Slack open all the time, so if someone doesn't want to keep the Pivotal window open all day, the Slack notifications are a good way to keep track of what's happening in real-time." - James Criscuolo, Engineering
OnSIP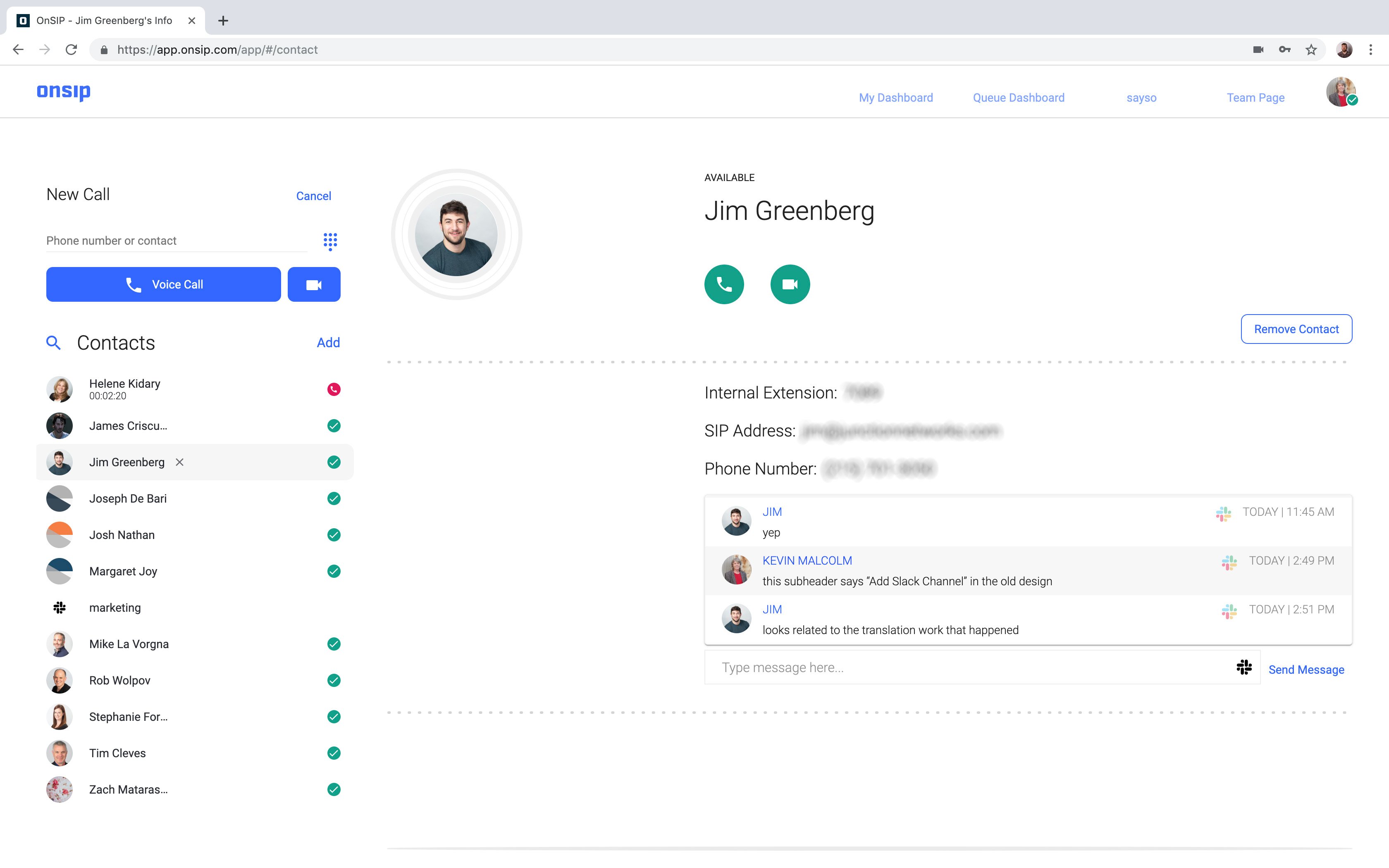 OnSIP offers unified communications solutions for modern teams. We recently announced that the OnSIP Slack app has been accepted to the Slack App Directory. By installing the app, customers can generate custom web call links directly in Slack, as well as check the status of the OnSIP network, and more. Customers can also connect their Slack account to the OnSIP app for seamless business communications.
The Slack integration with the OnSIP app has been useful for our team, especially for people who are constantly on the phone. When a conversation requires input from a team member, or someone is late to a conference call, we can send them a quick message directly from the OnSIP app. If that person is away from their computer or desk, they can even receive Slack notifications on their smartphone via the Slack mobile app and respond accordingly.
"With my laptop screen and monitor, I constantly switch between browser windows and tabs. I love being able to Slack someone without leaving the OnSIP app if I'm on a call. It's easy and minimizes my clicks." - Nicole Hayward, Marketing
Slack Apps for Just About Everything
While we rely on a few Slack apps for our day-to-day business communications and productivity, there are hundreds more that are available for Slack users. Check out the Slack App Directory yourself and tell us @onsip which ones you like and use!