Reimbursing employee cell phone bills for work expenses is a popular business practice. It makes sense, on paper, for both the employer and the employee. The employer thinks he'll save money by outsourcing hardware costs to the employees. The employees think they'll save money on their phone bills.
The practice seems like it could both save employers money and boost employee morale. But reimbursing employee cell phone bills can prove rather costly and burdensome in the long run.
Here are 6 reasons to stop reimbursing employee cell phone bills.
Reason #1: Cost Savings
Switching away from a BYOD cell phone policy can save you a significant amount of money. According to a recent J.D. Power report, the average monthly cell phone bill is $73. If you're paying anything close to this amount per employee per month, you're simply draining money out of your pocket.
Cloud phone systems offer flexible pricing plans that can save you more than cell phone plans. Leading cloud phone systems offer Pay-As-You-Go, per seat metered, and unlimited pricing plans. These plans give you leeway over how you're charged for your phone service. Charges can be accrued per minute, per feature, or in bulk packages. An unlimited minutes package, for instance, would cost around $18.95 per month. This is nearly 75% cheaper than America's average cell phone bill.
Some managers who implement the BYOD cell phone policy believe that they'll save money on hardware costs. But over time, the cost of employee cell phone reimbursement can dwarf that of the new phones you purchase. Many IP phones cost under $50, a figure you'll more than recoup when you stop paying for your employees' cell phones.
Reason #2: Call Center Features
Call center features are withheld from your employees under a BYOD cell phone policy. Auto attendants, automated menu operators, are not offered with landline cell phone services. ACD queues, the waiting line that sorts callers, are also absent from cell phone services.
Going without these call center features can look unprofessional at best, and be hindering at worst. That's why a BYOD cell phone policy may limit your employees in terms of caller retention, especially if they're dealing with several calls per day. But virtually all hosted VoIP services and cloud phone systems have these call center features.
Reason #3: Call Supervision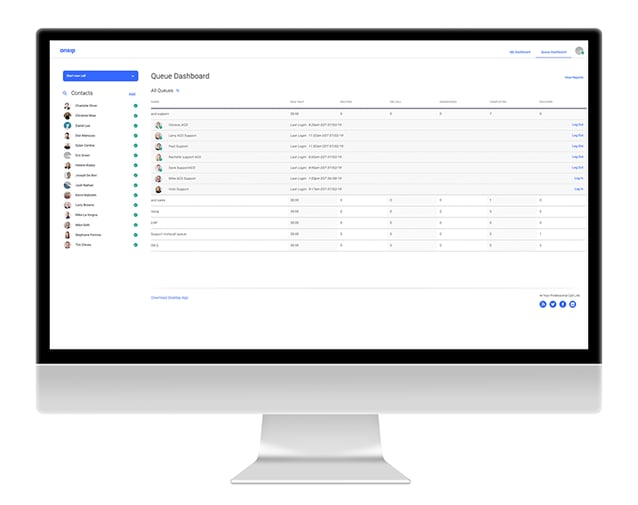 Personal cell phones don't allow you to monitor your employees' calls. But cloud phone systems have Enhanced Queue features that let you listen in on employees' conversations, track call analytics, whisper to your employee, and break into conversations to interject your viewpoints. Enhanced Queue features are normally packaged together, but each has its own distinct function.
Call Whisper allows you to 'whisper' to your employee so that the caller on the other end can't hear.
Call Monitor lets you listen in on a conversation without your employee or the caller knowing.
Call Barge is used when you want to 'barge' into a call and speak to both your employee and the caller.
Call Recording gives you the ability to record calls between your employees and your customers.
Sometimes you need to actively direct and influence your employee's interactions with customers - for example, when training a new employee or dealing with a tricky customer request. But a personal cell phone simply doesn't allow for that level of supervision. A cloud phone system gives you more leeway in how you deal with incoming calls. These valuable features give you a better chance to supply accurate information and provide the best service.
Reason #4: Softphone and Webphone Apps

The softphone (software phone) and webphone apps that come with most cloud phone systems simulate fully functioning phones on computers, tablets, or smartphones. Softphones and webphones are designed to replace standard office desk phones altogether. This means that your employees can still use their smartphones for work calls.
A softphone or webphone connects your employee to your company's network, not to his/her personal provider. You're charged directly for the minutes s/he uses, but you're not responsible for the minutes on his/her personal account. This saves you from sorting through phone statements at the end of the month to find out what calls your business should cover.
There are many mobile VoIP options available, and OnSIP provides our customers with a free mobile app for both iOS and Android devices. Softphones like the OnSIP desktop app use WebRTC technology and allow users to make HD voice and video calls directly in their browsers or from their computers or laptops.
Reason #5: IT Security
There is always a risk of employee cell phones being compromised. Your employees do all sorts of things with their personal cell phones. They browse websites, download email attachments, and leave the devices unattended for long periods of time. These oversights could reveal sensitive information or cost a racked up phone bill.
A cloud phone system keeps employees' personal and work lines separate, and discourages them from holding work material on their phones. With a business phone system, a hacked employee can't approach you about damages or costs for his personal cell phone due to negligence. This separation inoculates you from paying for security related missteps initiated by your employee.
Reason #6: Legal Protection
In Cochran v. Schwan's Home Service, Inc., the California appellate court ruled that businesses must reimburse employees for work-related phone calls made on personal cell phones or face liability—potentially on a class-wide basis. In other states, employers are legally obligated to reimburse employee cell phone costs if the calls were for business. If your business fails to pay back the claimed amount, you could end paying much more in legal fees to defend yourself in court.
You can sidestep these legal issues with a business phone system. Write an employee handbook specifying that the office phone system should be used to make all business-related calls. If you give your employees a clear way to make company calls, you won't dip into their pockets, and they'll have no legal basis to sue you.