With 10gen's rapid growth and frequent moves, they rely on OnSIP for easy setup and dependable service.
In the words of 10gen System Engineer Mike Fiedler, 10gen is an open source software company. "We write and sponsor open source software called MongoDB, which is a document store database-style application. It's quite easy to use, and it's fully free! As a company, we also offer training and support for our product for people who want to learn more."
With 10gen's rapid growth and frequent moves, they rely on OnSIP for our easy setup and dependable service.
Moving a Cloud Phone System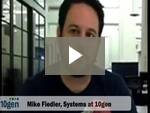 10gen has been a loyal OnSIP customer for quite some time now. They have worldwide offices, one of which is based right here in New York City. The others are spread across the world in London, Ireland, and California; rumors of a fifth office in Australia have also been mentioned. This year alone, 10gen has moved their New York City office three times, with a possible fourth move on the horizon.
Moving in general is never easy (although moving your cloud phone system can be). While moving an entire office can be a daunting task, one aspect 10gen did not have to worry about was, of course, their phone system. By using OnSIP, 10gen wasted no time handling on-premise PBX equipment and cabling, and they didn't have to call their service provider to let us know about their move. Instead, they merely plugged in their phones at their new location and got right back to work.
"By using IP-based telephony, we can keep our numbers and move them around. We have a lot of flexibility in assigning people their extensions on softphones to their Androids or iPhones, as well as traditional IP phones," Mike tells OnSIP.
10gen Growth
10gen is definitely a company to keep your eyes on. Having raised $42 million in funding by the time we conducted a customer interview, 10gen's employee base had grown more than 400 percent.
For further information about 10gen and their experience with OnSIP, watch the video above. Special thanks to 10gen, and congratulations on your growing success with MongoDB!