The following review was conducted in June 2012
A more recent review of this phone can be found here: Bria for iPad (Version 3.8.1)
The Bria for iPad software phone app was released over a year ago, and now that Counterpath has released Version 2.1.1 and packed it to the brim with features it didn't have at launch, we figured it was as good a time as any to give it the full 'OnSIP review' treatment.
What is Bria for iPad? If you've used Bria for iPhone, Bria for Android, or heck, even the Bria softphone, then you already have a very good idea of what this application does.
At its most basic level, Bria for iPad allows you to turn your iPad a full featured VoIP desk phone by combining features such as call transfer, 3-way conferencing, call recording, and more into an intuitive interface. Users can add their OnSIP credentials to get extension to extension dialing and have their business caller ID displayed on outbound calls, allowing them to work from anywhere with an Internet connection.
Premium features include presence management and messaging (SIP SIMPLE and XMPP), and video calling.
Configuration
This section will cover how to set up an OnSIP user as an account on Bria for iPad. You will need your OnSIP SIP credentials, which can be found in the OnSIP admin portal under the User tab. Please contact the administrator of your OnSIP phone system for help. Your OnSIP SIP credentials should include the following information:

When you open up Bria for iPad for the first time, you should be somewhere in the Settings menu, hopefully on a screen with the title 'Select VoIP Provider'. Choose OnSIP from the list of pre-defined VoIP providers, enter your SIP credentials, and hit the 'Register' button. That's all there is to it. Your application will now be optimally configured for use with your OnSIP phone system.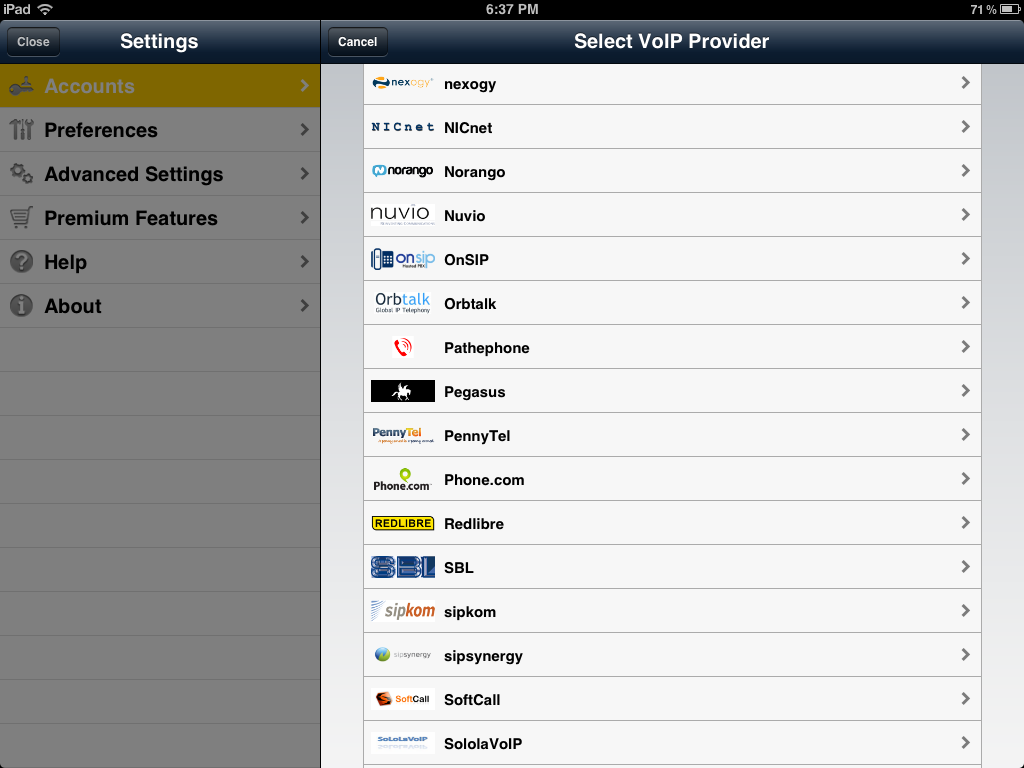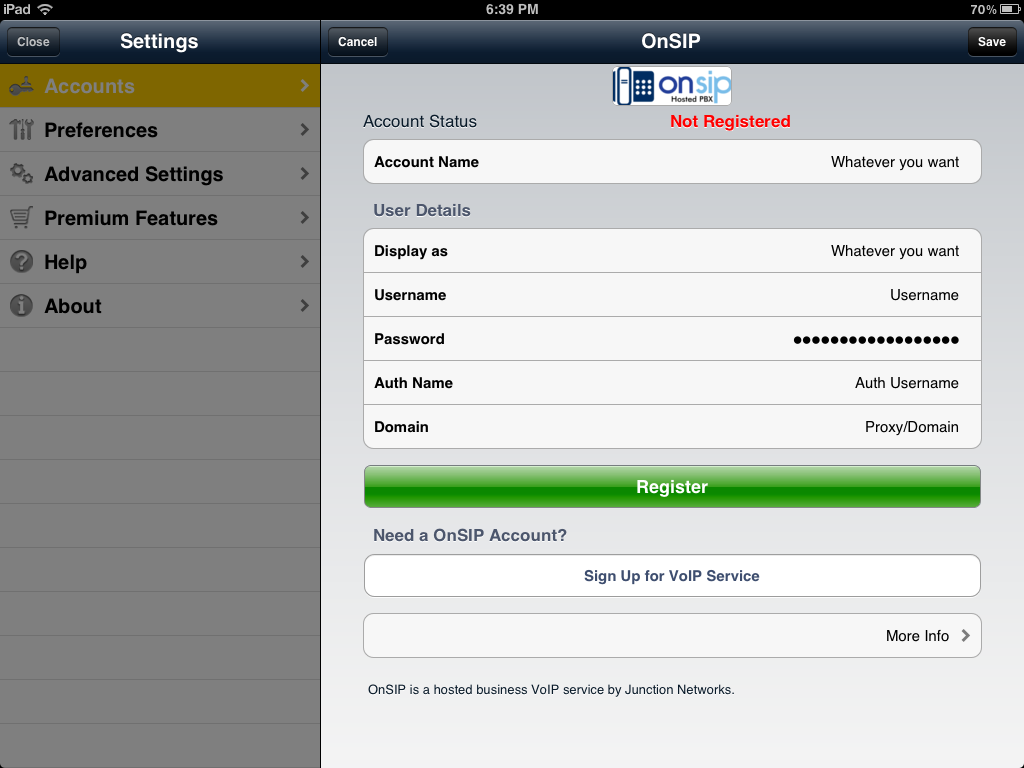 Bria for iPad currently supports up to 16 simultaneous accounts, which is many more than most of us will probably ever need. To add another account, simply go into Settings > Accounts and hit the + sign in the upper right hand corner of the screen.
Setting up your OnSIP XMPP instant messaging and presence account is even easier. After you've purchased the presence and messaging add-on, you'll see that you can add an XMPP account. Choose that option, give your XMPP account a name within the Bria app, and enter in your OnSIP SIP address and web password as follows.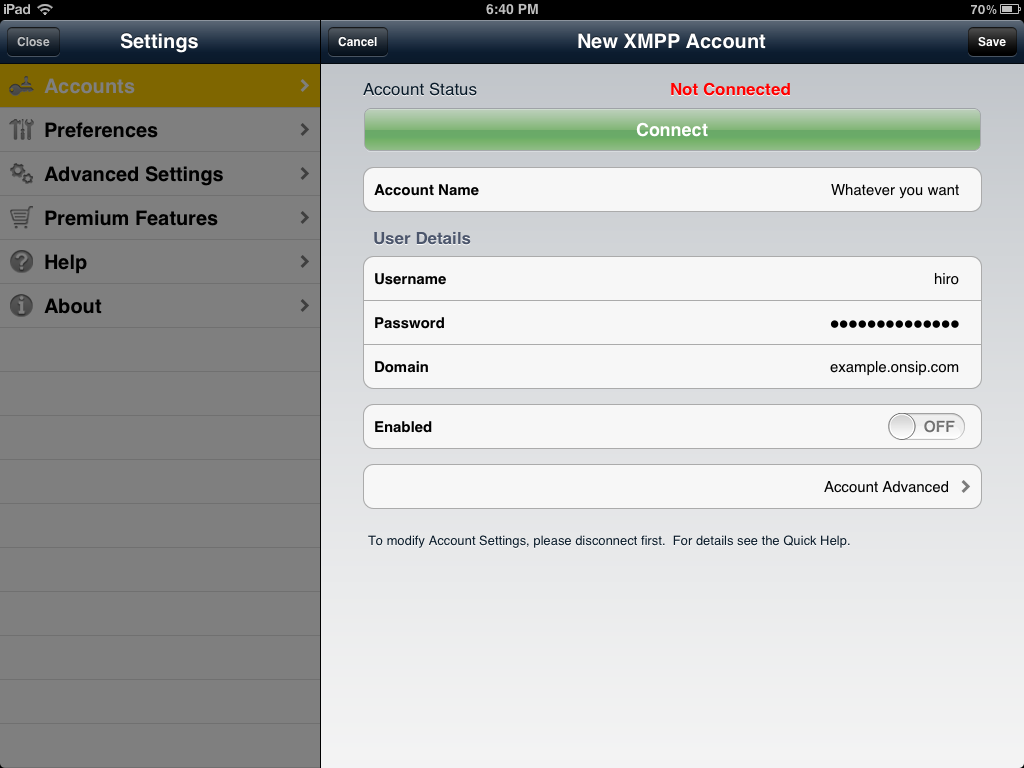 Username: Enter the first part of your SIP address - what comes before the @. For example, for hiro@example.onsip.com, I would enter 'hiro'.
Password: This is your web password, the same password you use to log in to my.onsip.com. If you do not know your web password, you can ask your OnSIP account administrator to email it to you from the OnSIP admin portal.
Domain: Enter the second part of your SIP address - what comes after the @. For example, for hiro@example.onsip.com, I would enter 'example.onsip.com'.
Overall, getting started up with the Bria for iPad app is very easy as long as you have all the information you need on hand.
OnSIP Tests
At OnSIP, we put each of the phones we use through a multi-step interoperability test in which we apply ~30 test cases. An example of a test case would be the following:
Test phone calls phone B

B picks up

B puts Test phone on hold

B calls phone C

C picks up

B transfers test phone to C

Call must be transferred correctly to C. B must be released correctly after the transfer. When C picks up, audio must work in both ways between test phone and C. When test phone is on hold, there is no audio between it and phone B.
We're happy to report that the Bria for iPad application passed all the tests we threw at it with absolutely no issues. It just works, which isn't particularly surprising considering Counterpath has a very good track record of releasing successful software products tailored specifically for business and enterprise customers.
Voice Quality
Calls sound very good. Bria supports G.722 for HD calls, G.711, iLBC, GSM and SILK. Users also have the option to purchase G.729 within the app. Call quality will of course depend on your network. Here's an audio clip of an HD call to Bria compared to the same call to a Polycom Soundpoint IP 550.
If you're going to use a headset (which is still recommended), please be aware that most headsets are not HD voice compatible.
Ease of Use
We decided that for Bria, it's better to show than tell. If a picture's worth a thousand words, then a video must be worth...more, right? Check out our video review of the Bria for iPad below.
We did some more video call testing with some of the different version of Bria, Bria for Mac, and Bria for iPhone. Here's what we found:
A call from Bria for Mac to Bria for iPad (Macbook Pro to iPad 2) - This works fine. There was some noticeable screen choppiness at times, but overall it's pretty good. Video quality is much better for the person using the iPad 2 (better resolution, better frame rate).
A call from Bria for iPad to Bria for Mac(iPad 2 to Macbook Pro) - Bria for iPad stuck in 'waiting for remote video' mode. Interestingly enough, Bria for Mac displayed inbound video with no problems. The frame rate was also much better when Bria for Mac received the call.
Calls between Bria for iPad and Bria for iPhone (iPad 2 to iPhone 4S) - Excellent video quality. Great frame rate and resolution. Absolutely no complaints here.
Calls between Bria for iPad and Polycom VVX 1500 - This worked well. Great resolution and frame rate on Bria for iPad (this is shown in the video above). Solid frame rate and resolution on the Polycom VVX 500.
This app isn't too bad when it comes to battery drain. We left Bria on (ready to receive incoming calls and messages) for a little under 5 hours, and the iPad's battery went from 81% to 71%. For more intensive stuff like video calling, an hour will cost ~10%.
Overall, Bria for iPad is a great application. The user interface is smooth and intuitive. Call handling options worked without a hitch, and the add-ons turn the app into more than a phone. If you happen to have an iPad and are looking for a way to take your work extension on the go, then definitely consider Bria.