"Please listen carefully to the following options, as our menu has recently changed."
Here's a phrase you've been hearing since soon after the auto attendant was invented, circa 1989. You certainly don't listen carefully, if at all, since the menu hasn't likely changed since the last office manager left. You just hope the phone navigation will be simple, the "next available" agent intelligible, and the hold time brief; less time than it takes you to turn on speakerphone, resume what you were doing previously, and hop on a train of thought going elsewhere.
Poor reward for the trouble of looking up and dialing an 800 number! And trouble it is, by today's standards of communication effort. After all, how many numbers do you actually dial anymore? "Remembering" phone numbers is for flash memory. If it's someone you know, you just click on their name.
The convenience of a contact listing—even if you don't know them.
At OnSIP, they've tried to reproduce this one-click convenience when you call them, even if you don't know them yet. Even if—unlikely as it seems—you might not have a phone handy.
How do they get click-to-talk calls from customers and even from strangers? By putting their faces, departments, and associated call buttons on their webpages. Need tech support? Have a question before purchase? Just click here. Up pops the softphone (and webcam!) they embedded in your browser. Type in your name, and they start a conversation, live and in person. In video, if you choose. Depending on where they've put this button, they might even have a good idea of what brought you to them.
They call that inbound calling solution sayso, and it's a feature they're not only using themselves, they're offering it to OnSIP subscribers to use with their own sites and callers. Think WD-40 for customer service. No phone number lookups, no ham-handed dial-by-name-or-department (As in, "For Z, press 9"). Just click on Elaine to call Elaine or on Mike for Mike, straight to extension or group, hands- and menu-free.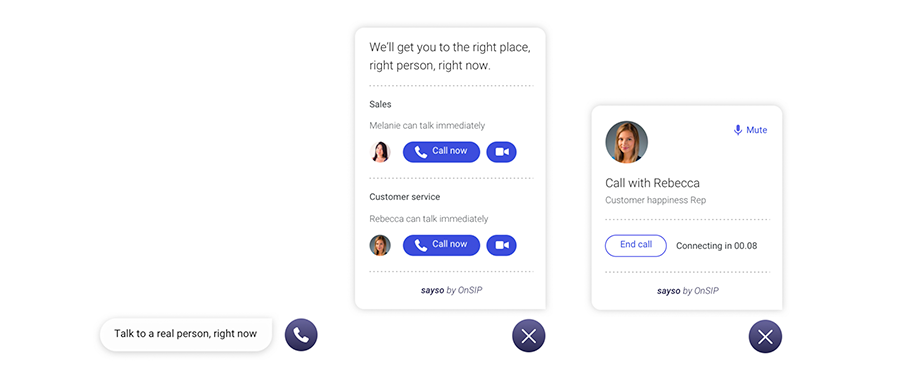 OnSIP's own support and sales people can tell which of their callers come to them this way; they even asked them why they chose to call by click. "It's quick, it's easy, it's right there," said Mike Hamrick from Telogical Systems, a data discovery and mining company. Other typical responses: "it's easier than cutting and pasting," and, "I'm too lazy to look up a phone number."
Then there's the plain-spoken benefit of... speaking. "I do a lot of support over chat, and so I chose that option because I prefer to talk to someone," said Maggie Sofer, with Lua, a secure medical messaging application. "In this [tech support] situation I knew what I wanted to do but I wasn't sure what it would involve, and in talking with the person I was able to get my answer quickly, without a lot of back and forth. From a customer perspective, you're saving time and minimizing frustration on either end."
Watch this space for more on how OnSIP plans to help their customer businesses do just that.