The WebRTC Conference and Expo kicked off this past Tuesday, November 18th with some big industry news setting the stage:
The end of the video codec wars may be here. Mozilla CTO Andreas Gal cited in his blog on Sunday, November 16th, that Mozilla has worked with Cisco and now supports both H.264 and VP8 in Firefox. And, he stated that "At the last IETF meeting in Hawaii, the RTCWEB working group reached strong consensus to follow in our footsteps and make support for both H.264 and VP8 mandatory for browsers."
Microsoft is going to rebrand Lync as Skype for Business and roll out Skype for Web (Beta), a WebRTC-based Skype app. This means Microsoft is officially supporting WebRTC.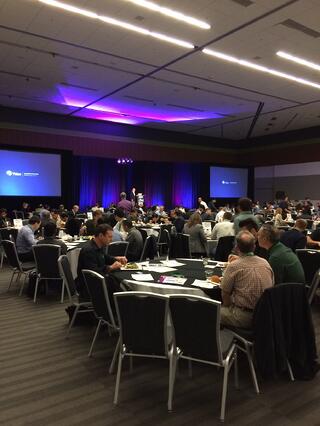 WebRTC Conference & Expo V attendees talk shop and take in the presentations
Ericsson's Bowser has just been accepted to Apple's App store at the end of October, making up for the lack of a WebRTC-compatible browser in iOS. The Swedish telecom vendor has also made OpenWebRTC, the browser's cross-platform WebRTC framework, available to developers. This means native OpenWebRTC apps can talk to other native apps or browsers that support WebRTC.
This November, Kelcor published The WebRTC Ecosystem, a comprehensive segmented analysis and directory of WebRTC vendor product and service offerings. The report is over 600 pages, and we are happy to say it profiles OnSIP.
Also in the analyst realm, Disruptive Wireless, analyst Dean Bubley's blog, published the WebRTC Industry Status & Forecasts Report, 2014 Edition. According to the report, WebRTC will be supported by ~4 billion devices by the end of 2016, up from about 1.5 billion today. Also, interesting to us, WebRTCWorld comments the report shows how the "growth of integrated communications on the Web is causing a disruption in the Market of OTT VoIP services."
That was just the stage, and I'm sure I missed news highlights. Now for a few comments on how the WebRTC Conference and Expo V went from my perspective, in comparison to prior shows.
The Hype is Gone
At prior WebRTC Conference and Expos, I witnessed a lot of feisty discussion about the future of WebRTC— It's going to disrupt communications as we know it! Out with the old— SIP will become a thing of the past! Media relaying isn't necessary! What is Microsoft going to do?!
It doesn't seem like that anymore.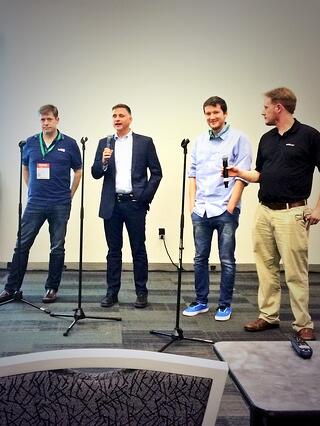 OnSIP CTO John Riordan discusses signaling options at the WebRTC Conference and Expo
At this conference, I listened to pragmatic panelists who've gotten their hands dirty in developing with WebRTC. For example, our CTO John Riordan participated on the panel Signaling for Different Applications. (While WebRTC handles media flow between peers, signaling is a necessary component in a WebRTC application to handle finding peers on the Internet and setting up communications between them.) I was surprised to hear all speakers, though they each represented different signaling choices (SIP, XMPP, proprietary), agree that the freedom to choose a signaling solution is a strength of WebRTC and depends highly on your use case, experience, and resources.
Demos are Here
The show featured live WebRTC demos and Audience Choice Awards. Over 18 vendors gave demonstrations. For the most part, they seemed to be production-ready WebRTC-based video chat communications, which is an improvement over last year's demos. One exception to the typical video chat demo was Ericsson's remote controlling a construction vehicle using WebRTC and Oculus Rift, a pretty big virtual reality headset. Congrats to them for winning the Beyond The Call Award.
I want to highlight a very cool project shown off in demos called Kurento, a WebRTC media server and a set of client APIs making simple the development of advanced video application. The Kurento people walked around in t-shirts with a mark that was augmented by the camera, and they watched as their booth visitors realized they had superimposed hats on the Kurento monitor. Kurento won the Wow Factor WebRTC Expo San Jose Award. Here is a recent video of an augmented reality demo at a meetup in San Francisco just after:
Developers Are Here, A Little
In one of my last posts about the WebRTC Conference and Expo, I posed the question Where are all the developers? It seemed the conference focused on rectifying this a bit by collocating with the HTML5 Summit.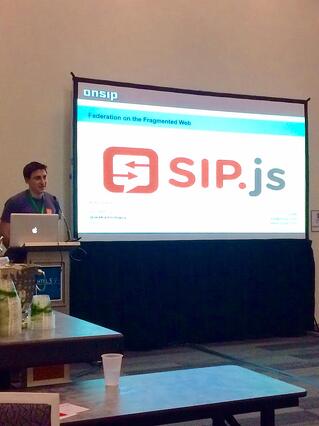 OnSIP Lead Developer Will Mitchell leads a keynote speech on the value of federation
The HTML5 Summit was a neat addition for us as the momentum for our open source JavaScript library SIP.js picks up. Our lead developer Will Mitchell gave a talk. Here are the concepts Will covered. (If you're interested, you can tweet him at @wakamoleguy):
Introduction to federation as a core component of HTML5 and the web.
The value of federation as a means to innovate with examples from WebRTC and SIP.
Roadblocks that fragmentation on the mobile web has placed.
The result? I'm not sure of the actual HTML5 Summit attendance, but it seemed pretty small. Still, we were really happy to have a few developers approach us at our table with specific SIP.js comments and questions. It was definitely more noticeable this time around.
OnSIP shows off its WebRTC solutions at our company booth
Telecom Has Joined The Party
We were one of the original companies in the VoIP / telecom space supporting WebRTC. At the conference, I was not-too-surprised to meet several attendees who run VoIP solutions. Mostly, it seemed many are interested in building WebRTC-based clients that work with their platform. (We talked a lot about SIP.js here.) Plus, we were seated right next to the call center software provider Aspect, demonstrating the Aspect RTC Platform, a solution that enables companies to provide website and app end users the ability to move from web chat to live service with the contact center with a simple click of a button.
WebRTC adoption is evident.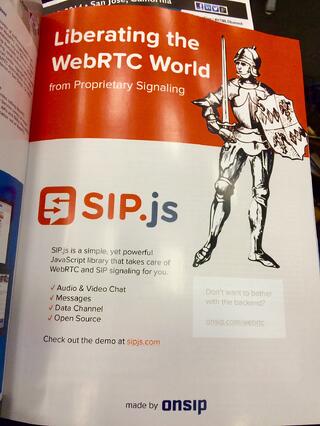 SIP.js makes an appearance on the conference guide and badges