We're happy to announce that OnSIP was recently named one of the 20 Most Promising Unified Communications Solution Providers of 2016 by CIOReview. This annual list highlights businesses offering cutting edge solutions in the Unified Communications space. OnSIP has also previously been named a Gartner Cool Vendor in Unified Communications.
"Unified Communications in enterprises today is being driven by a mobilized workforce, aided by innovative technologies and a changing vendor landscape," notes CIOReview. OnSIP recognizes that modern businesses require more than just an IP-based platform for making and receiving calls over the PSTN. That's why we focus on providing OTT (Over the Top) communications so companies can interact with customers without the need for a physical phone.
"We are very honored to be selected as a leading provider of Unified Communications Solutions by CIOReview this year," said Mike Oeth in today's press release. "To us, Unified Communications has always been about providing organizations with better real-time interactions at lower cost by moving calls to the web— not just for internal collaboration, but for communications with outside stakeholders as well."
In a recent interview with CIOReview, OnSIP CEO Mike Oeth explained how the company's custom-built platform and use of WebRTC allows customers to conduct business communications over the web "with as little friction as possible". The OnSIP app and InstaCall are two examples of innovative solutions that help OnSIP accomplish this goal.
The OnSIP app is a WebRTC-based browser phone that offers enterprise business calling features, call center functionality, and collaboration tools. Free for every customer, the OnSIP app is a complete replacement for the office desk phone. Users can use the OnSIP app to make voice and video calls, monitor call queues, see contacts' phone presence, manage voicemail, make drag-and-drop transfers, send messages using a Slack integration, and more.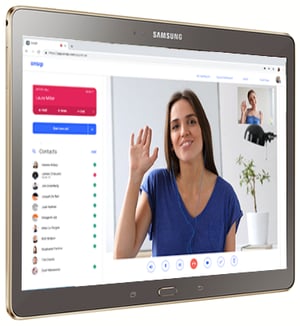 InstaCall is a solution that allows customers to add web call buttons to their website so visitors can initiate HD voice and video calls directly from their browser. These encrypted calls bypass the traditional phone tree and can be directed to any OnSIP application or phone. Agents can also play custom video-on-hold content while caller wait in the queue.
CIOReview notes that "a key impediment that crops up during the deployment phase of UC technology revolves around its integrability with existing applications within an enterprise." OnSIP offers several 3rd party integrations with best-of-breed SaaS platforms, including Salesforce, ZenDesk, and Slack. Not only do these integrations allow customers to connect their calling data with their CRM and other applications, they are also vital to OnSIP's own day-to-day activities.
We are honored to have been recognized in the Unified Communications industry by CIOReview! For information about OnSIP solutions, click here.