A virtual phone number is used to route calls from one phone number to another. Many VoIP providers offer virtual phone numbers, either as a part of a larger PBX offering, or as a key component of a lightweight phone system.
But what can a virtual phone number do for your business? In this blog, we'll answer that question, in the context of comparing various virtual phone number providers, including Google Voice, MightyCall, OnSIP, and 8x8.
Virtual Phone Number: Routing Your Calls
A virtual phone number is a phone number that serves to route calls to another phone number and does not have a unique endpoint. These virtual numbers are typically managed by an online service and can be purchased for use. The destination that a virtual number is pointed at can be updated as needs change. In the context of business, this features has several advantages.
First, virtual phone numbers can decrease the cost of your calls. A virtual phone number with a local area code means callers within those area codes can call the virtual number at local rates. If you manufacture pick-up trucks in Michigan, but a good portion of your clientele is in Texas, you could use a Texas number to reach those customers, all while avoiding steeper rates for out-of-area calling. This especially saves costs for international callers. Research shows that businesses gain 25% more contacts by using a local area code.
Virtual phone numbers can also enable remote working and geographic flexibility. Employees can assign virtual phone numbers to external devices, such as cell phones and computers, so they can be reached outside of the office. Virtual phone numbers also bolster features such as ring groups. When the virtual phone number of a ring group is dialed, all the group members are called in a preset order. This works well for after hours support groups and other geographically dispersed teams.
The Options: From Niche to CPaaS
Google Voice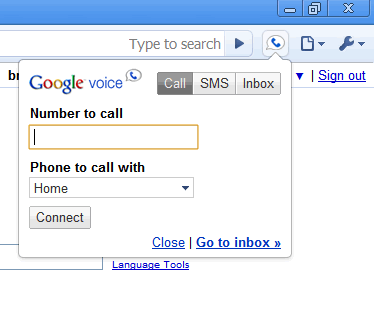 Virtual phone numbers are at the heart of Google Voice's operations. Google Voice allows United States residents to choose a local phone number for voice service. This phone number forwards all calls to devices that the user has specified, such as cell phones, computers, and the Google Voice web portal.
Google Voice has limited PBX functionality. Although the service comes with voicemail, text messaging, conference calling, and call transcription, it lacks E911 support, full SMS range, and VoIP interoperability.
Google Voice works best for small businesses that want to retain a professional image by having a business phone number. However, Google Voice has limited phone system functionality, which makes it hard to do anything other than making/taking basic voice calls. For more features and capabilities, you'll have to turn to a hosted VoIP solution.
MightyCall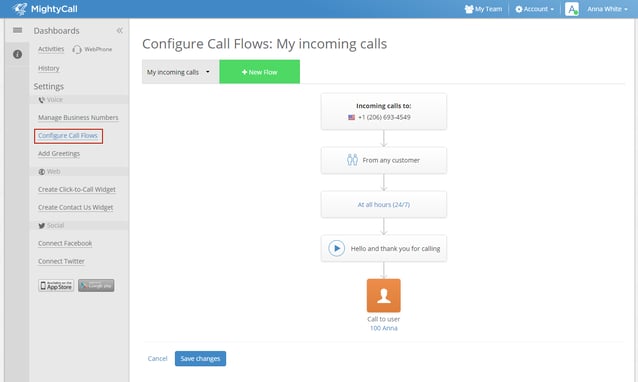 MightyCall bills itself as a virtual phone system for small businesses. The service gives users two virtual business phone numbers, including local, toll free, and vanity options. A perk of MightyCall is that users don't have to purchase new hardware to use the service. A free softphone app for desktop and mobile is included, and the service also works with landline and home phone devices.
MightyCall has more phone system functionality than Google Voice, including auto attendants, employee extensions, and custom greetings. However, the service is not as robust as full business phone systems, lacking third party integrations, video calls, and other leading UC features. There's also a limit to the number of virtual phone numbers you can assign to each phone system.
MightyCall can function as a step up from Google Voice, for users who want the minimum of a phone system package, and access to multiple virtual phone numbers, including vanity and toll free numbers.
OnSIP
OnSIP is a communications platform as a service provider (CPaaS) that offers feature-rich business phone systems for small and medium sized businesses. Virtual phone numbers are one of many features the service offers. These virtual numbers can forward calls to mobile phones, landline phones, IP phones, computers, or any device that's been assigned a phone number.
OnSIP has no limits for the number of virtual numbers you can create. Besides virtual phone number support, the platform is already primed for remote working, with high quality of service and geographic flexibility, including softphones and webphones that allow you to work from anywhere. OnSIP does not currently have SMS support, so those looking for a text-based forwarding service may have to look elsewhere. The service is a good choice for users who want a full phone system for SMBs.
8x8
8x8 virtual phone numbers are available in over 50 different countries, including the US and Canada. This allows for international callers to significantly reduce their long distance phone bills. The calls can be forwarded to IP phones, computers, and mobile devices.
If you have a significant presence in other countries, this option might be a good fit. However, 8x8 is a full business phone system solution for SMBs and enterprises. If you're a small business that just wants a business phone number, you might be better served by MightyCall or Google Voice.
Virtual Phone Number Options: Your Call
Virtual phone numbers enable remote working, cost savings, and geographic flexibility. From local area code rates, to higher prospect retention, to external device forwarding, and other advantages, a virtual phone number can create benefits that a landline phone system cannot.
You won't pick a provider based solely on virtual phone numbers, but the topic is something to think about when you're considering how to deploy your phone system. The options in this blog are a good starting point for your continued research.
Topics: remoteworker, hosted VoIP