1 million children die each year due to severe acute malnutrition (SAM). MANA Nutrition, established in 2009, is a non-profit company helping to fight this problem. Troy Hickerson, Development Director at MANA Nutrition, generously shared his time with us to tell us about his company and how they use OnSIP.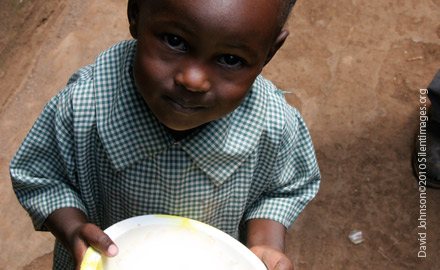 Describe to us what MANA Nutrition is. What are the main objectives of your organization?
MANA Nutrition started with CEO, Mark Moore. Mark came up with the idea of feeding kids experiencing severe malnutrition one day while at the Senate's office and began pitching his idea to others. After long days of knocking on many doors and a lot of hard work, Mark finally gained funding from a company located in the UK. With this funding, MANA was invented! MANA is defined as "food by prescription," designed to help end starvation for young children.
Our offices are located in Charlotte where we have about 5 people working out of it. Our factory in Fitzgerald, Georgia is situated next to a peanut field and peanut butter company. All together we have about 30 employees.
Can you tell us more about your MANA product? What are some of the other products MANA Nutrition is working on right now?
MANA ("Mother Administered Nutritive Aid"), is a ready-to-use therapeutic food ("RUTF"). It is a fortified peanut paste containing vitamins and all of a malnourished child's basic nutritional needs. It basically looks like an enlarged ketchup packet, but just three servings of MANA a day for six weeks can save the life of malnourished child. Since March 2012, our factory has been maintaining large scale production of MANA. A tanker full of peanut butter is shipped multiple times per week to the factory in Georgia and about 1,000 cases of MANA are produced per day.
The main focus at MANA Nutrition is on RUTF, ready-to-use therapeutic food. The ready-to-use concept refers to no water mixing, no heat or refrigeration needed.
How has OnSIP helped MANA Nutrition develop and grow?
By using OnSIP we are able to use our extension-based dialing from anywhere. You guys make it easy. At MANA Nutrition we distribute our product mainly across Africa with the help of the AIDs organization. When we're out on the road we use our cell phones and the find me app, which is great. We also use the external phone numbers feature, so when someone is trying to reach us on our extension and we are not there, our cell phones will ring. No matter where we are, we're covered!
What features are you taking advantage of? What phone do you use?
The conference bridge is great. We do a lot of extension calling as well on our Polycom 335s. Also, we hooked up a PA system in the Georgia factory. All one has to do is dial an extension and you're live on the PA across the whole factory. To do this we had to buy some equipment, a Valcom. Initially we had a few problems setting it up ourselves, but with a phone call to OnSIP, we got in touch with Eden and he was able to walk us through it all. Just like that and it was working.
Before OnSIP we all basically used our cell phones, and basic telephone land lines. It wasn't working out so I did a little online research and found OnSIP. We like the easy DIY interface, and the IT support has been great!
What are your future plans for MANA Nutrition? How can OnSIP help you achieve these goals?
MANA Nutrition's goal is to continue to increase our product production so we are able to feed more kids. We raise awareness through grants and foundations and even some consumer products (e.g. Buy this, Feed a child in Africa). In the future OnSIP can help us with interacting with these fundraising awareness campaign groups.
As we ramp up to provide RUTF to more organizations serving kids, we plan to develop a Readiness Program and we will need a place to convene and share ideas. This is where OnSIP comes into play. Being able to deal with a large scale and having video conferencing will make it easy for us to communicate.
Although MANA Nutrition has a manufacturing facility and works just like any other business, we are a non-profit organization. The money we gain does not go to shareholders but is reinvested back into the cause of helping end malnutrition. OnSIP works for us because it is a cost efficient way to keep our communications running.
How can others help the cause?
By checking out our website (www.mananutrition.org) and becoming aware of severe acute malnutrition (SAM), you are helping. Simple donations are also a big help. By donating $55 you are providing one child with treatment and saving their life. Because of the generosity of our some foundations to cover the overhead and working capital, 100% of the public donations to MANA Nutrition can be directed to our product (MANA).