Summary
| | |
| --- | --- |
| Overall: | |
| Configuration: | |
| OnSIP Testing: | |
| Voice Quality: | |
| Ease of Use: | |
Quick Specs
Open source XMPP client
File transfer
Pros
Highly customizable
Gateway into IM networks not using XMPP
Works with Mac OS X, Windows, and Linux
Cons
Not quite as intuitive as Adium for Mac OS X
As a standards-based XMPP client, Psi can connect to any number of the most popular IM clients on the open Jabber IM network (i.e. Google Talk). Psi can also connect to other popular IM networks that do not use the same protocol using gateways, programs on the server that translate events from one instant messaging network into events that Jabber users can view as standard Jabber events.
Adding your various Jabber accounts is easy. 'General' >> 'Account Setup' takes you to the menu with a list of your current accounts. Click on the 'Add' button and Psi will ask you to give your new account a name. Once your new account is on the list, simply select it and click 'modify' to enter in your login credentials (Jabber ID and password). It's not quite as slick as Adium, but it is still a very simple process.
Link: Adding my.OnSIP to Psi
Since Psi was designed to strictly adhere to XMPP standards, its understandable that adding accounts from IM networks not running on the same protocol would be slightly more complicated. We had to go through several more steps to add one of our AIM accounts to Psi.
1. Select 'Add' after going through 'General' >> 'Account Setup' like before.
2. Enter an account name, check 'Register', and click 'Add'.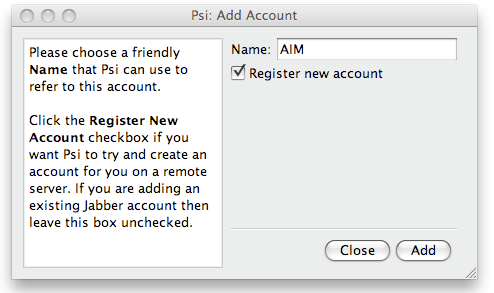 3. You'll be taken to a 'Register Account' menu where it asks you for the gateway/server you wish to register with. You can select from a large list of various choices in the drop down menu provided. We chose 'jaim.at' because it looked the most relevant. After you have chosen, click 'Next'.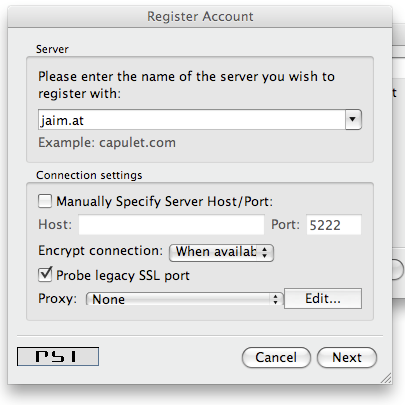 4. It will ask you to enter in a username and password to register with the server. This username will be your Jabber ID for this account. In our case, it was username@jaim.at. After you input those settings, save them.
5. You should now see your new account in the chat roster. Right-click on the name >> status >> online. Psi will prompt you to enter in personal info. You can skip this step if you want.
6. Before you continue, go to 'preferences' >> 'events' >> and check 'auto-authorize contacts' (IMPORTANT)
7. Click on the Psi logo at the bottom left hand corner of your IM roster >> Service Discovery >> the account name you just created. If you've picked a good server, this should take you to a list of 'transports'.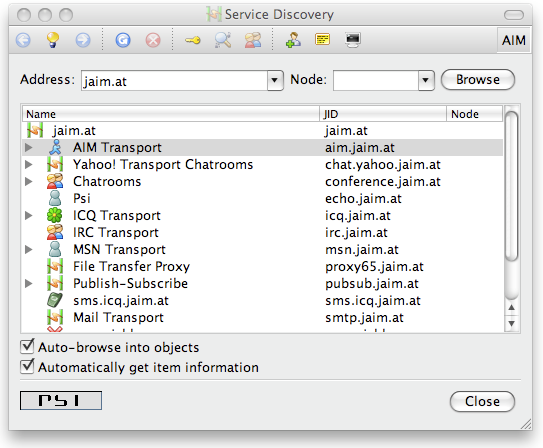 8. In our case, since we were adding an AIM account, we right clicked on AIM transport, selected 'register' and added in our AIM login credentials.
9. You might need to try out a few of the different servers to get this to work.
Okay, it may look a bit complicated at first but we promise it's not that hard. Probably the most annoying part of the process is finding the right server. Adding jabber contacts is also a little different than what you may be used to. Remember that you have to add a 'jabber version'. For example, the format for adding an AIM contact is contact@aim.gateway. So if I wanted to add my friend Scaredofgrizzlies88, I would put in Scaredofgrizzlies88@aim.jaim.at.
Please refer to the Psi forums for issues with non Jabber IM networks.
Link: Psi website
Psi supports a number of the common IM features. These include "contact is typing" events, chat history with search functionality, support for Growl notifications on the Mac OS X, and customizable sounds and appearance.
Other notable features include:
File transfer between other XMPP clients (it is also possible to receive/send files to other IM networks, server permitting)
Support for 20+ language packs
Voice calls through Jingle, an extension to XMPP that implements P2P signaling for multimedia communications
Built in GnuPG support for encryption
Psi is a very powerful XMPP client. The fact that you can have multiple Jabber accounts open from the same network makes it particularly useful for testing. Psi is easy to use and almost entirely customizable. You can set everything from the transparency to your own shortcut keys. Again, the menus may not be as streamlined as what you get with Adium, but they're still very intuitive.
Since Psi is completely open source, there are actually various builds available along with the official version. We haven't played around with any of these ourselves, but there's a lot to explore if you're interested.
For Mac users that just want an easy-to-use IM client, we would still recommend going with Adium as it provides a tailored, native experience. However, if a solid standards-focused XMPP client interests you, then it's hard to go wrong with Psi.
Link: Psi