Summary
| | |
| --- | --- |
| Overall: | |
| Configuration: | |
| OnSIP Testing: | |
| Voice Quality: | |
| Ease of Use: | |
Quick Specs
Support for a wide range of different Instant Messaging services
Growl Notifications
OTR Encryption
File Transfer
Pros
Easy to set up
Highly configurable
Supports nearly every IM network we can think of
Active 'Xtras' community
Adium is a free multi-protocol instant messaging client for Mac OS X. It supports an extensive list of the most popular IM networks, including AIM, Google Talk, Facebook, Windows Live Messenger, Yahoo! Messenger, Lotus Sametime, XMPP, and more. We've found that Adium is a great way to consolidate all the contacts on your multiple networks into one application.
Using Adium is incredibly easy. Features and settings are available in intuitive drop-down menus and adding accounts to your Adium app is as simple as clicking 'File' >> 'Add account'. You will see a list of the different types of accounts available to you and adding one only requires your regular login credentials (username/email and password). You will also never have to enter your login credentials again as Adium automatically saves them for you by default. The application allows you to conveniently sign on to all of your networks with a click of your mouse, but if you don't feel like being bothered by your Facebook contacts at work, there is always the option to selectively login to your different accounts. This is what we did for our Adium review.
Link: Adding your OnSIP account to Adium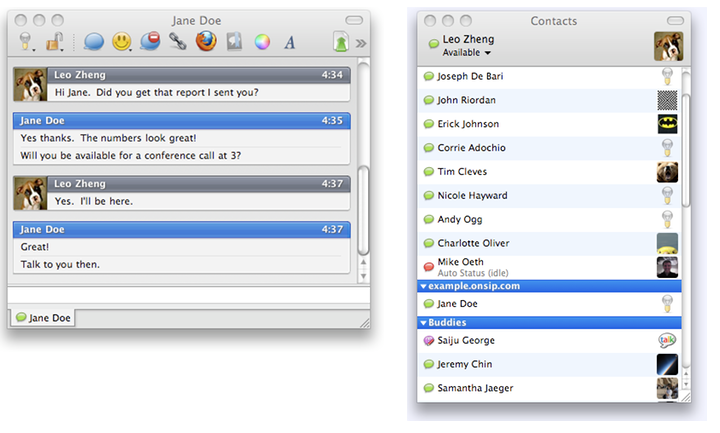 Adium comes with an extensive features list. You can assign personalized sounds and notifications to correspond with different events (contact signs on, message received, etc). You can even customize sounds and notifications for each contact if you want to.
Other notable features include:
Chat transcripts with search functionality
File transfer (We've heard that this can be a bit buggy at times)
Encryption through Off-the-record messaging
Adium is built on a plugin architecture, meaning that a lot of the features that come with the application (such as Growl notifications, Encryption via OTR messaging, and file transer) are actually bundled plugins. The developers regularly update the application with new plugins. We believe that Twitter interoperability is high on their priority list (hopefully, voice and video support as well).
Finally, we will mention that Adium has a very active user community that regularly contributes add-ons called 'Xtras'. These add-ons allow users to fully customize their IM experience with new dock icons, message styles, contact list styles, emoticons, and sounds. Having such an involved community behind the product is a sign that Adium should be high on your list of IM clients to try out.