This blog is by Eric Phipps, NOC Technician


One of the long requested features we've had at Junction Networks has been the introduction of a parking server, which would allow us to place a call on hold and allow another phone to pick up that call. We will shortly begin rolling out this feature, but one of the questions we dealt with while developing the feature is: what's the easiest way to let people know that they have that call? We think it's intercoms and paging systems.
Exploring solutions
With that type of solution in mind, we set out to find the best intercom system that would work with OnSIP. We tested three companies who have a hand in shaping this field and here's what we found.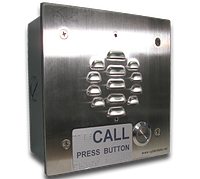 The field for competition in this segment of VoIP isn't that large. When consulting with suppliers, customers and others who work in the VoIP industry, we kept hearing the same three names - CyberData, Digital Acoustics and Valcom. Each of these were well regarded by the market, so we wanted to put them head to head to find out which of these would be the best for our users.
We had problems with both the Valcom and the Digital Acoustics devices, unfortunately. The issues don't discount their value within the field of SIP paging, but just mark them as being incompatible with OnSIP at this time.
Testing Cyberdata's offerings
The two Cyberdata systems which we looked at both excelled with the OnSIP system. Once we got them up and running, they were good, stable devices with excellent build quality. They were very easy to use and very easy to set up. We tested the SIP-enabled IP Ceiling Speaker v2.0 and the SIP-enabled IP Outdoor Intercom. The most difficult aspect was finding the IP address of the devices in order to log into their webpages to set them up. We plugged in the devices onto our network and then checked the DHCP lease against the manufacturer's MAC address. From there, we logged into the device and manually set a static IP address; this way, we would always know the IP address of the device, making maintenance easier.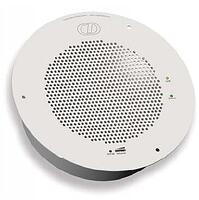 We also found that the Nightringer functioned as needed for both devices. Nightringer is an option where, if a call is sent to the device, the device will broadcast a ringtone to let somene know that there is a phone call. This is typically handy in a warehouse situation. A speaker can broadcast a ringing sound to alert a late night worker that there is an inbound call. Cyberdata accomplishes this by creating a secondary user agent within their devices which does not broadcast speech, but rather upon receipt of the call will broadcast the ringing sound. For our testing purposes, we created a group with the Nightringer user and a Bria softphone, and we were able to replicate the expected behavior.
In Conclusion
In our survey of the market for various paging systems, we learned that the three lead manufacturers all offer a fairly solid product. However, software issues hampered both the DigitalAcoustics and Valcom lines, making Cyberdata the line we found to work best with OnSIP right out of the box. Cyberdata was the only device to make it to the Junction Networks compatibility guide.