If you're an IT professional, you've probably heard of Spiceworks.com. If you haven't, you should check it out. Spiceworks is a rapidly growing community of now over 2 million IT pros and 1,200+ tech vendors who are sharing product reviews, vendor ratings, how-tos, discussions and more. Not to mention Spiceworks offers "a free IT management app for everything from network inventory and network monitoring to help desk software..."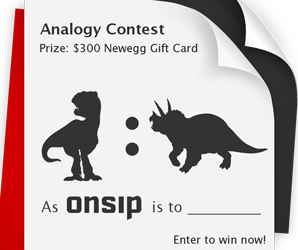 I got wind of this IT community through an agent prospect who said he'd heard of OnSIP because a Spiceworks member (a.k.a. SpiceHead) had recommended us in a forum. As Spiceworks is maintained as a free site/service through sponsorships, we decided to become a Spiceworks sponsor and run a fun contest, the OnSIP Analogy Contest.
If you thought you'd never need to think about analogies after the SAT tests, think again. Participants have a chance to win a Newegg gift card of $50-$300 in value by submitting a creative analogy like:
"Carrier Pigeon is to GMail as ____________ is to OnSIP."
Check it out and participate here!