"The introduction of video capabilities has allowed me to actually put a face to a name," said OnSIP Sales Manager Chuck Dunne. "InstaCall will change the customer service experience by allowing customers to see the people behind the voices and connect with our company on a personal level."
We're happy to announce our InstaCall (Beta) solution, the merger of InstaCall and our latest in-browser app InstaPhone for real-time voice or video calling from your website or application.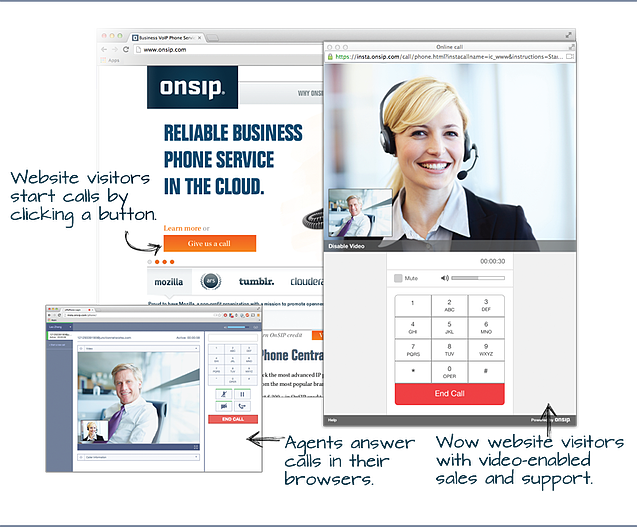 This feature is easy to set up and easy to use:
Create a button in the admin portal under Apps > InstaCall
Copy and paste a snippet of code into your webpage HTML
Voila! Your customers will be able to get in touch with a single click.
The option of initiating a video call is now available right alongside with audio— Video calls can be answered using InstaPhone. InstaPhone is a fully-featured WebRTC-based app that allows for advanced call handling, including call transfer and support for simultaneous calls. The complete OnSIP InstaCall (Beta) solution also offers custom caller data, so you can pass along custom data (e.g. account ID, web page visited, etc.) about your callers from your website/application to InstaPhone. All of this comes completely FREE with every OnSIP hosted PBX account.
InstaPhone can be accessed by simply visiting https://app.onsip.com/app/, and logging in with your SIP address and web password. While extension to extension and SIP URI dialing is also possible, PSTN calling will be unavailable at launch. (This feature will be added in the near future.)
After GetOnSIP, our WebRTC-based video chat, our team was prepared to tackle something that integrated this technology into a project focused specifically on connecting businesses with their prospects and customers: InstaCall, now complete with InstaPhone to answer inbound voice and video calls with contextual caller information.
OnSIP engineers found that working on InstaPhone required them to push the limits of browser functionality. "Working right on the edge of browser capabilities with InstaPhone has been really interesting, as well a challenge," said Software Engineer James Criscuolo. "It was really interesting to research some of these problems right down to the point where we find out the browser can't do it yet. Pushing past these limitations to get the job done was rewarding, and these crucial breakthroughs made the project what it is."
Ready to get started? InstaCall can be configured in the admin portal under Apps, much like an Attendant Menu or a Conference Suite. See the configuration guide. To get InstaCall up and running fast, please get in touch with us through this contact form, and one of our specialists will be in touch with you shortly.