We're happy to announce that we just won TMC's WebRTC Product of the Year Award for InstaPhone! OnSIP has taken home the TMC Communications Solutions Product of the Year Award twice before (2011, 2014), and this marks our latest win in the overall product category.
"It gives me great pleasure to honor OnSIP as a 2015 recipient of the WebRTC Product of the Year Award for their innovative product, InstaPhone," said Rich Tehrani, CEO, TMC. "Our judges were very impressed with the ingenuity and excellence displayed by OnSIP in their groundbreaking work on InstaPhone."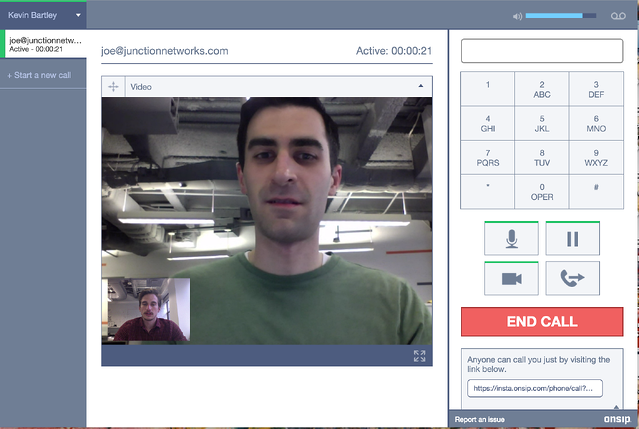 OnSIP team members Joe and Kevin on a video InstaPhone call
InstaPhone offers all the features of a desk phone right within an Internet browser. It has the ability to initiate and receive calls with any SIP phone, software phone, PSTN phone, or accessible webpage at the click of a button. The app also offers instant video calls with capable devices. With its WebRTC design, InstaPhone automatically runs in a browser window without requiring any downloads or plugins. It has been fully integrated into leading platforms such as Salesforce to offer enhanced lead capture and custom CRM data.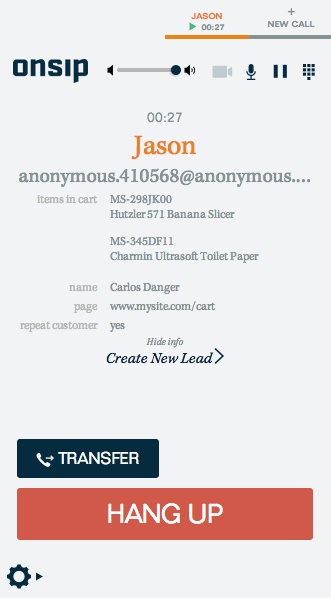 InstaPhone for Salesforce displays the URL and items in a customer's cart via custom data
"InstaPhone began as a simple phone alternative for businesses to get started with the OnSIP cloud phone system in minutes," said OnSIP VP of Marketing and Product Management, Nicole Hayward. "As we continue to add features, it is becoming my phone of choice at work and on the go. We are excited to continue to innovate with WebRTC."
TMC is a global, integrated media company that supports clients' goals by building communities in print, online, and in person, with tech journalism ventures such as TMCNet. We're excited to receive this new award from them, and we look forward to more of their contests in the coming future!