WebRTC World recently published its WebRTC Outlook 2014, a collection of feedback and statistics from leading vendors, entrepreneurs and users in the WebRTC community on the future of the emerging technology. The 19 page study serves as a kind of brief and helpful barometer of the industry's current climate toward WebRTC development in the coming year. The study does not necessarily break new ground in the substance of its claims (other outside observers, along with the OnSIP blog, have already documented many of its trends), but it does serve as an effective cornerstone to the ideas and opinions that shaped the WebRTC ecosystem in 2013.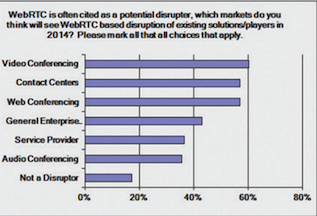 (Image Courtesy of WebRTC World)
Factors as diverse as embedding WebRTC in Smart TV, IP TV, and TV service providers; Avaya/Midtel/Shoretel announcing native WebRTC support; and even new government regulations are cited as potential boons for WebRTC's adoption in 2014. But without question, the biggest factors that could affect WebRTC adoption this year would be support from either Microsoft or Apple. And throughout the study, these two factors are rightly esteemed as the two major events that would fundamentally alter the WebRTC landscape.
WebRTC is often cited as a potential disruptor of industry standards and business practices. Several of our own projects within the past year have solidified the findings of the graph above. OnSIP InstaCall Beta combines all of WebRTC's instant audio and video conferencing capabilities for smarter, faster sales and CRM. And GetOnSIP uses WebRTC to initiate free, SIP-based video chats. According to the graph, the telecommunications world appears to be the industry that will be disrupted the most by WebRTC in 2014, and we are happy to contribute our solutions to this field.
Perhaps the most interesting feature of the study is its examination of the factors that will impede WebRTC adoption in 2014. The top response, lack of awareness, seems to be a bit of a truism, because the problem can't be defined by any single factor. Once again, the titanic importance of a lack of Microsoft and Apple support are specific, concrete barriers to adoption. The specter of unspecified codec standards, and the inherent limitations of WebRTC (a topic that is rarely discussed) are tied to underlying technical issues with the technology. But these issues are placed lower than the business related impediments, which suggests that WebRTC's primary detriment has to do with bureaucratic decision making, and not with the actual nuts and bolts of the technology.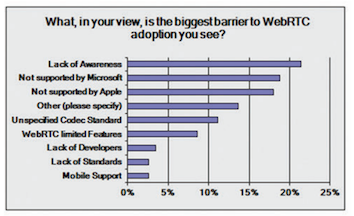 (Image Courtesy of WebRTC World)
Overall, this new study by WebRTC World consolidates some of the prominent ideas and opinions that have fueled the debates in the WebRTC world over the past year. It's ultimately a helpful gauge of where the broader WebRTC community stands in terms of collective wisdom and considerate speculation, and it will be interesting to see how these predictions play out in 2014.
Click here to read the full WebRTC World Report