It's no surprise that many network administrators and IT professionals are seeking Nortel Meridian Phone System tech support. Released initially in 1975, it's been said that the Nortel Meridian is still the most widely used PBX for businesses with 60 to 80,000 lines. But when it comes to support, the hard truth is: Meridian systems are well beyond end-of-life.
Nortel went out of business in 2009, and Avaya acquired its assets. There is no single source for Meridian tech support, but I've gathered a few resources and tips below. Please keep in mind: You're probably better off selecting a Nortel Meridian phone system replacement. The cost of extending your old PBX's life is likely to dwarf that of choosing a modern VoIP solution. I'll touch on that too.
Troubleshooting: Common Nortel Meridian Failures
This blog by TeleDynamic Communications explains 3 common reasons for Meridian system failures:
PBX Power Supply Failure - The power supply can 'burn out' over time. If your entire phone system stopped working, this is likely the issue. You may be able to replace by finding a refurbished supply online (here's one for the Meridian 1 Option 11C for $1,875).
Line Card Failure - There are a handful of cards used on the Meridian system. "

The T1 card or one of the station modules can often fail," describes Randy Kremlacek of TeleDynamic Communications. "If the T1 card fails, there are no inbound or outbound calls. This means any customers trying to call you, will hear the ring but no answer! Not exactly a good way to treat customers. If a station module fails, 32 telephones stop working, just like that."

Like power supply, it's possible to find card replacements online.
System Programming Failure - "The Nortel Norstar system utilizes a super capacitor (super cap) for maintaining the programming data in memory. The problem is that the supercapacitor has a high incidence of failure as it ages. There are no outwards sign of failure (nor any way to test, other than unplugging the system) as it's only there as a data "backup" system." [

Kremlacek]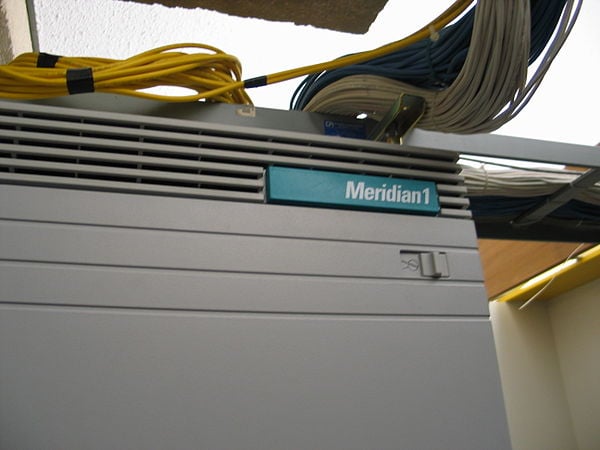 Nortel Meridian Manuals
If you have prior experience with Meridian equipment, manuals may help. Otherwise, don't try this at home, folks.
While I couldn't find a single repository of Nortel Meridian manuals on Avaya.com, many of the past PBX resellers and business partners have published them. I found a big list of Meridian 1 Options 11C, 51C, 61C, and 81C manuals here. You can find a particular manual by Googling the system option, e.g. "Meridian 1 Option 11C Manual."
Avaya Support Services for Legacy Nortel Equipment
According to this Avaya brochure in 2014, Avaya offers support for legacy Nortel equipment. Support services include remote technical support 24x7x365, advance part replacement, monitoring, MACs and more. You can see if your equipment is supported by searching this maintenance index by product.
That said, you can only take advantage of Avaya support if you have a maintenance contract directly with Avaya or an Avaya-certified partner. You can use this tool to locate an Avaya partner near you, but there is no indication of whether the partner you find has prior experience with your legacy equipment. I recommend, instead, that you search for a Meridian equipment consultant near you.
Locate Nortel Meridian Tech Support Near You
To find Nortel Meridian tech support near you, use Google to search "Nortel Meridian support [your city/state]" and/or variations therein. For example, I searched "Nortel Meridian support NYC" and found Armstrong Communications Systems Inc. Per their website:
If you are in need of any Nortel Meridian One components in the New York City Metropolitan area, please give us a call... If we can not repair your out of service equipment at your site we can easily replace or refurbish it. We also offer extended maintenance contracts that would cover all material and labor costs needed to keep your Telephone System in optimal operating order.
A consultant like Armstrong Communications Systems may be able to help you troubleshoot your current system.
Take Control - Consider Hosted VoIP
While it's tempting to keep your existing phone system on its last legs, consider the costs: your time, a technician service and/or Avaya maintenance contract, refurbished parts, etc. And at the end of the day, it's a short-term fix. You are better off considering a new phone system solution, and it's likely a hosted VoIP PBX will work for you.
Why hosted VoIP? If you were getting along fine with the basic phone system functionality that the Meridian PBX offered, your organization will be floored with the capabilities that a cloud VoIP providers offer. Switching to hosted VoIP can be done in a matter of days. Most hosted VoIP solutions, like OnSIP, have 50+ phone sytem features, utilize your existing LAN, and require no investment in equipment beyond the phones. Still if you're on the fence, read SMB VoIP Options: Is Hosted or On-Premise Right for You?
Bottom line: I hope this blog gave you some pointers on Meridian phone system tech support, but your time is probably better spent on implementing a modern hosted PBX solution for your business. We can help. Download our eBook: Everything You Need for Hosted VoIP .