I'm proud to announce that OnSIP won a Silver American Business Awards for Company of the Year - Business Services this year. This is the third year in a row we've been honored by The American Business (Stevie) Awards, but this year was a particularly interesting and unique nomination.
The American Business Awards are the nation's premier business awards program. All organizations operating in the U.S.A. are eligible to submit nominations – public and private, for-profit and non-profit, large and small.
More than 3,000 nominations were submitted this year in a wide range of categories. The finalists were named in mid-May, and the award winners were announced this past Tuesday, June 18th. Mingling amongst the other finalists were a few members of the OnSIP team: President Rob Wolpov, CEO Mike Oeth, CTO John Riordan, Sales Director Tim Cleves, and Marketing Director Nicole Hayward (me).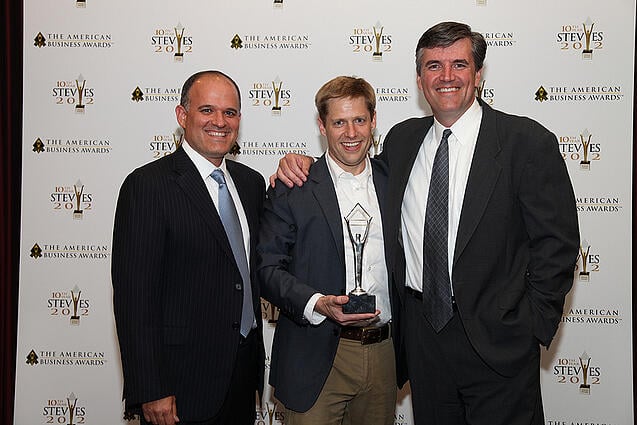 As the finalists were announced, we were happy to hear our company name for Company of the Year - Business Services. Our nomination stood out because of our commitment to delivering quality, on-demand phone services that help businesses day-to-day and in times of crisis. Specifically highlighted during nominations: OnSIP was used to swiftly replace downed telephone systems during Hurricane Irene and the Bastrop County Complex fire crisis. As Rob Wolpov said in today's press release:
"We are excited to have been named a Stevie winner for the third year in a row for delivering dependable business phone services. The notion that OnSIP is an on-demand hosted phone system is weaved into our marketing messaging every day because it distinguishes us from competitors. However, it's customer stories like those during Hurricane Irene and the Bastrop County Complex fire crisis that teach our team the impact our innovation can have. We're proud to be recognized this year for our efforts and thank our resellers for their knowledgeability and fast delivery of our service."
Thank you to the American Business Awards organization for recognizing us this year.