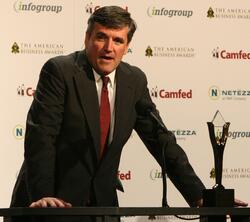 We are excited to announce that OnSIP CEO and Cofounder Mike Oeth has won a Gold Stevie Award for Executive of the Year – Telecommunications on Monday at the 11th Annual American Business Awards!
The ABAs are the nation's leading business awards program. All businesses in the United States – public or private, for profit or non-profit, large or small - are eligible to submit nominations, and Mike was happy to compete in this selective field. This summer, OnSIP also won a Gold Stevie Award for Business Innovation of the Year – Business Products for its partnership and integration with Panasonic North America.
Mike cofounded OnSIP in 2004 with President Rob Wolpov and CTO John Riordan. The company, which began as a 3-person bootstrapped startup in NYC, is now the business communications provider of choice for over 20,000 small and medium sized businesses. And this is in no small part to Mike's dedication and devotion to both our team and our customers.
Unbeknownst to Mike, our team secretly nominated him for the Stevie Award. In the awards application, we described Mike's routinely setting the bar for customer service, teamwork, and career fulfillment through leading by example. We cited examples such as his answering support calls on a daily basis— We called it "Undercover Boss – everyday"— and building a slot car track for child office-goers.
Staying in touch with our customer base in unique ways and implementing an open work environment that fosters innovation and employee satisfaction were crucial factors in his winning the award. Mike was selected for the gold award by over 320 executives nationwide.
"Please join me in congratulating Mike on winning a Stevie award for Telecommunications Executive of the Year in the New Product Category," said Rob Wolpov. "Some time ago, I got a call from Mike asking me if I wanted to reunite and start a new venture. I asked 'Doing what? His answer: 'I don't know, we'll figure something out.' How could I turn that down! I promptly abandoned my successful management consulting career at IBM and headed to Mike's house to start making stuff up. Personally, I could not have asked for better cofounders and business partners. It's amazing we've come this far."