The following content was published on January 11th, 2016. Any new information since that date may not be included in this article.
As the saying goes: you get what you pay for. And so it is with Hosted VoIP. Ooma For Business offers some of the lowest prices on the market - but it lacks certain popular and powerful features, including video conferencing, CRM integration, and scalability.
On the other hand, OnSIP offers all of those listed features, but you might end up paying a little more on its service if you're an active phone user.
So in order to give you perspective on what the right deal is for you, we did a deep dive comparison between OnSIP and Ooma for Business.
Other OnSIP Comparison blogs: OnSIP versus Jive VoIP Comparison, OnSIP versus 8x8 VoIP Comparison, OnSIP versus Nextiva VoIP Comparison, OnSIP versus ShoreTel Sky VoIP Comparison, OnSIP versus Ringcentral VoIP Comparison. OnSIP versus Fonality VoIP Comparison.
Pricing
Ooma
Ooma for Business allows you to add up to 20 users to your phone system. Ooma's platform is not built to accommodate significant scaling. With this 'ceiling' of 20 users, Ooma has optimized its service around smaller deployments. The Ooma Office package starts at $19.98 per month, with each additional user charged at $9.99 per month.
Additional phone numbers, internet fax plans, and conferencing features all respectively cost $9.99 per month. Ooma offers unlimited calling for North America with each user. International calls are charged at varying rates. At $9.99 per user per month, Ooma's service is relatively inexpensive. But it does lack many leading hosted PBX features - such as ACD queues, video conferencing, call whisper, and other capabilities.
On-site hardware prices also factor into Ooma's overall cost. Ooma's service operates via the Ooma Office Base Station, a piece of hardware that looks like a router. The base station, Ooma Telo, comes in at $109.00 per unit. The adapter for each individual phone, Ooma Linx, costs $39.99 per unit.
OnSIP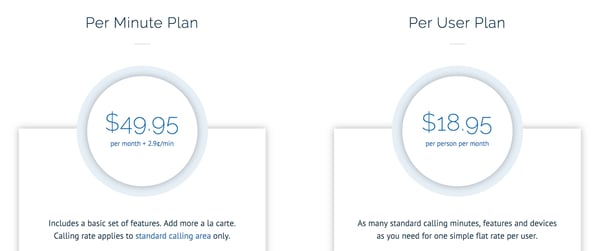 OnSIP has two paid pricing plans:
Per Minute Plan: The Per Minute Plan pricing allows you to pay for features and calls on a monthly basis. You can customize your account with this plan by building your own feature package: starting off with a basic set of popular business phone features at $49.95 per month, you can then add (and delete) additional features as needed. Calls cost 2.9 cents per minute (and 3.9 cents per minute for inbound calls to toll-free numbers). Extension to extension dialing, in-house calling, and SIP-to-SIP calls are all free. You won't be charged when adding users or phones on this plan; you simply pay for the calls that those phones make.
Per User Plan: The Per User Plan offers unlimited Standard Area Calling for $18.95 per person per month (the Standard Calling Area covers the continental U.S. and 14 other countries). This plan enables customers to set up an unlimited amount of calling features like voicemail boxes, groups, and auto attendants; additional features like conference suites and call queues can be bought a la carte. Call recording is also included in this plan.
Features
OnSIP and Ooma differ significantly in the kinds of features they offer, but they do overlap in basic areas. Both services offer auto attendants, ring groups, music on hold, HD voice, and conference bridges as a part of their respective packages.
One fundamental difference between OnSIP and Ooma is scalability. Ooma's service maxes out at 20 users per phone system. OnSIP, however, has no ceiling on the number of users that can be deployed on its phone system. If your business is in a growth heavy phase, ask yourself if you ever see your company employing more than twenty people. If this is the case, Ooma may not be suitable for your needs.
OnSIP advertises geographic redundancy on its website. Geographic redundancy is when a service provider has more than one data center to route its calls through. If there's a problem with one of the data centers, the service provider can simply route traffic through another data center, leading to no downtime for the customer. With data centers in New York and Los Angeles, OnSIP is entirely geographically redundant.
On the individual features front, one particularly noticeable difference between the services is that OnSIP offers ACD queues, while Ooma does not. ACD Queues put callers in a line so they can wait for an operator to answer their calls.
In addition to sorting callers, OnSIP ACD Queues also offers call monitoring, call whisper, and call barging as part of its 'Enhanced Queue' package. Monitoring allows a supervisor to listen to calls without either the agent or the caller knowing; whisper allows the supervisor to talk to the agent alone; and barging lets the supervisor speak to both the agent and the caller. OnSIP Enhanced Queues also have call tracking that gives a supervisor an overview of important queue metrics.
Ooma offers a faxing service - but it's not the kind of online faxing service that other hosted PBX providers offer. Ooma's faxing service requires a physical fax machine to send faxes. Ooma customers use an adapter to send faxes via Ooma's network.
OnSIP offers video conferencing solutions with both the OnSIP app and sayso. The OnSIP app is a softphone that essentially replaces a desk phone. It features extension dialing at no charge and the ability to call the public switched telephone network (PSTN). OnSIP's softphone is available in the browser (Chrome, Firefox, and Opera), as a desktop app for Mac and Windows computers/laptops, and as a browser app for iOS and Android.
A central part of its cloud communications platform, OnSIP's sayso is a unique web calling solution that lets website visitors engage in video or voice calls with one of your employees using only their Internet web browsers—no downloads or plugins required. Your customers can simply quickly start up a conversation with your sales and support team members with just a mouse click.
There are a handful of other features OnSIP offers that Ooma does not. Dial-by-name-directory, click-to-call, alerts and notifications, and busy lamp field are some odds and ends that OnSIP has over Ooma. However, Ooma does offer voicemail to SMS - a feature OnSIP lacks.
Phones