The following content was last updated on February 4, 2020. Any new information since that date may not be included in this article.
OnSIP and Ooma both provide cloud phone systems for SMBs and Enterprises. While many of their features and functionality overlap, each service offers a variety of calling features that the other lacks. And Ooma—uniquely—even works with analog phones. So in order to give you perspective on which service is best for you, we did a deep dive comparison between the two VoIP providers.
Pricing
Ooma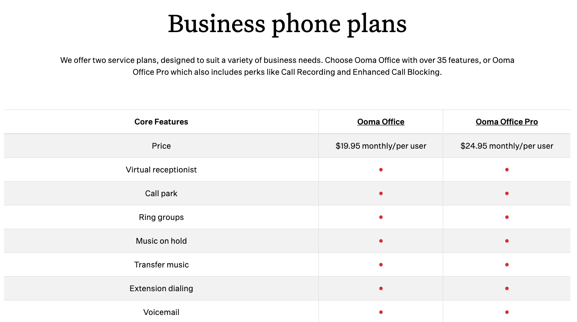 Ooma has two pricing plans for its Small Business service: Ooma Office and Ooma Office Pro. Ooma Office is $19.95 monthly/per user and provides a range of calling features such as: ring groups, one conference bridge and one virtual fax for each user, voicemail to email, and an included mobile app. Ooma Office Pro is $24.95 monthly/per user and provides the same feature set of Ooma Office, but with additional features like call recording, voicemail transcription, and overhead paging.
Both plans provide unlimited calling in the U.S.A., Canada, Mexico, and Puerto Rico. International calling rates are charged separately and vary upon the location/country called.
OnSIP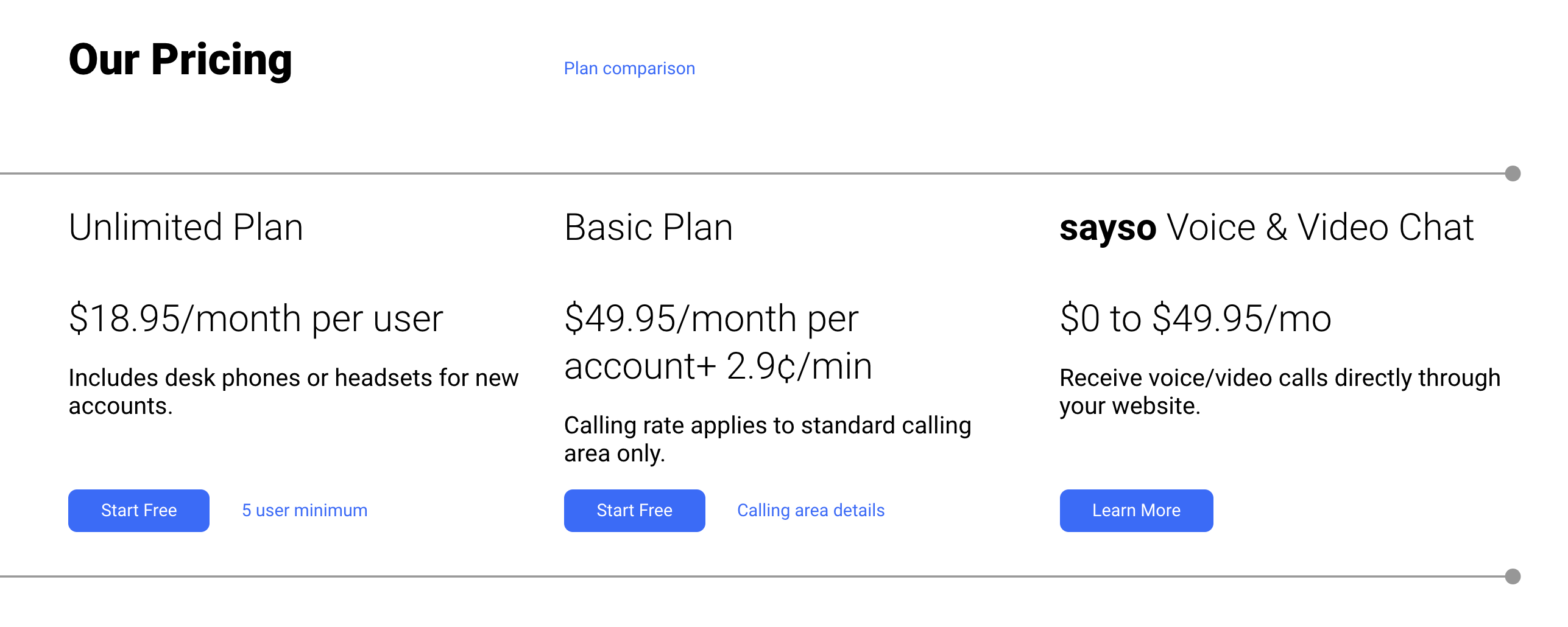 OnSIP has two paid pricing plans and one free plan (offering voice and video calls on your website):
Unlimited Plan: The Unlimited Plan offers unlimited Standard Area Calling for $18.95 per person per month (the Standard Calling Area covers the contiguous U.S. and 16 other countries). This plan enables customers to set up an unlimited amount of calling features like voicemail boxes, groups, and auto attendants; additional features like conference suites and call queues can be bought a la carte. Call recording is also included in this plan.
Basic Plan: The Basic Plan allows you to pay for features and calls on a monthly basis. You can customize your account with this plan by building your own feature package: starting off with a standard set of popular business phone features at $49.95 per month, you can then add (and delete) additional features as needed. Calls cost 2.9 cents per minute (and 3.9 cents per minute for inbound calls to toll-free numbers). Extension to extension dialing, in-house calling, and SIP-to-SIP calls are all free. You won't be charged when adding users or phones on this plan; you simply pay for the calls that those phones make.
sayso Website Chat Plan: OnSIP's innovative sayso Website Chat Plan lets you use

sayso

, our website voice and video chat solution, for free! Once you add

sayso

to your website, site visitors can click on a call button to quickly start a voice or video call with one of your business representatives right through the browser window—no phones needed. The call occurs within the browser and entirely over the Internet.
All OnSIP plans have a 30-day free trial period.
Features
OnSIP and Ooma offer roughly the same set of cloud phone system features. Both services offer auto attendants, ring groups, music on hold, voicemail, conference bridges, and call blocking as part of their respective platforms.
A central part of its cloud communications platform, OnSIP's sayso is a unique web calling solution that lets website visitors engage in video or voice calls with one of your employees using only their Internet web browsers—no downloads or plugins required. Your customers can simply quickly start up a conversation with your sales and support team members with just a mouse click.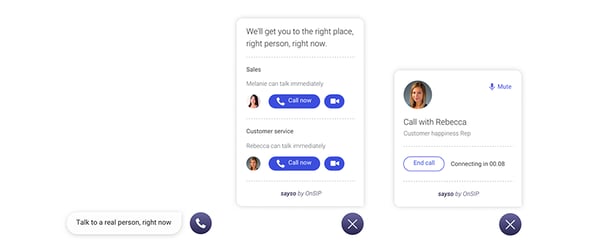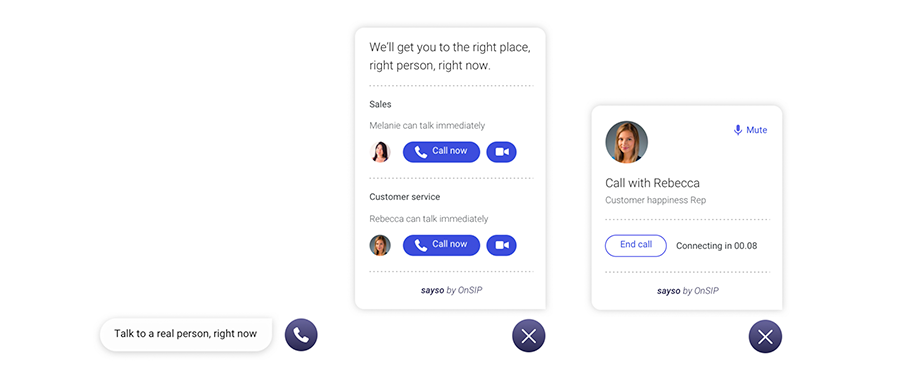 OnSIP provides its customers with a free softphone application that puts a business phone onto a computer, laptop, tablet, and mobile device. The OnSIP app is available in the browser (Chrome, Firefox, and Opera), as a desktop app for Mac and Windows computers/laptops, and as a mobile app for iOS and Android devices. The app features extension dialing, voice and video calling, coworkers' Presence statuses, the ability to listen to/delete voicemail messages, and more. The web and desktop app also let users host group video conference calls without any downloads or plug-ins required.
Ooma equips its customers with the free 'Ooma Office mobile app,' available for iOS and Android devices. Using the app, Ooma users can make/receive calls, listen to voicemail, and even send/receive text messages. Ooma does not have a web browser softphone app or a desktop softphone app.
OnSIP offers call queues on its platform. OnSIP's Enhanced Queue provides queue supervisors with a dashboard—accessed in the OnSIP app—to monitor the call queue in real-time and generate performance reports. They can also access live calls by using three monitoring features: Monitor, Whisper, and Barge. Monitoring allows a supervisor to listen in on calls without the agent or the caller knowing; whisper allows the supervisor to talk to the agent alone; and barging lets the supervisor speak to both the agent and the caller. OnSIP Enhanced Queues also have call tracking analytics that give a supervisor an overview of important queue metrics.
Ooma offers call queues as part of their Enterprise Call Center platform. Their 'Automatic call distributor' feature routes calls based on factors such as business hour rules and agent skills. They also provide their customers with call analytics and reports, and they can even provide the call rep with a sentiment analysis of the caller, based on his tone and use of key words.
OnSIP advertises geographic redundancy on its website. Geographic redundancy is when a service provider has more than one data center to route its calls through. If there's a problem with one of the data centers, the service provider can simply route traffic through another data center, leading to no downtime for the customer. With data centers on the East and West Coasts of the U.S., OnSIP is entirely geographically redundant.
Both Ooma and OnSIP have features on their platform that the other provider does not. Ooma has SMS messaging, Call Flip (allows a customer to move an active call from a desk phone to the Ooma mobile app, and vice versa), virtual faxing, and voicemail transcription. However, OnSIP has a web browser softphone app and desktop softphone app, as well as more integrations with business applications: HubSpot, Zendesk, Slack, and more.
Phones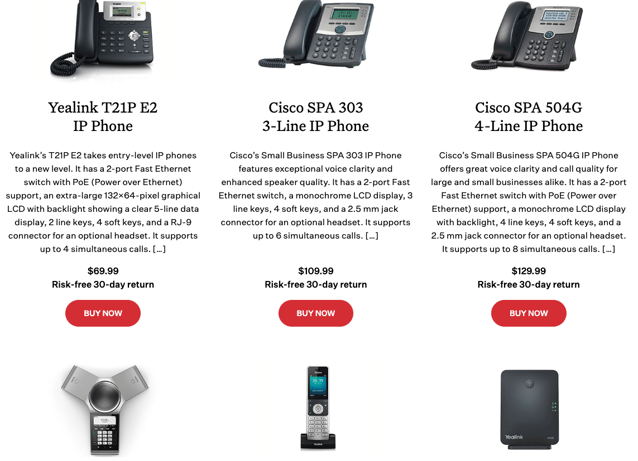 Ooma is unique in the market as its service is compatible with both digital and analog phones. If you want to use IP phones, you have to purchase them directly from Ooma. Ooma has a phone store that sells select desk phones, wireless phones, conference phones, and even an expansion module. Available IP phones in the webstore are from Yealink, Cisco, and even an Ooma wireless desk phone. These phones will be pre-provisioned to your account and are plug-and-play ready.
You can use your own analog phones with Ooma, but you need to have the Ooma Office Base Station or Ooma Linx (wireless) device, sold separately, to connect those analog phones to your Ooma service.
OnSIP does not sell VoIP phones. Rather, it has a Bring Your Own Device (BYOD) policy for its customers; any SIP RFC compliant phone works with the OnSIP service. The company does offer provisioned phones through a preferred partner. OnSIP additionally maintains its own boot server of Polycom, Yealink, Grandstream, Panasonic, and Cisco phones to speed up the phone registration process. OnSIP also keeps its own series of objective phone reviews to assist customers in making the best buying decision for their needs.
Support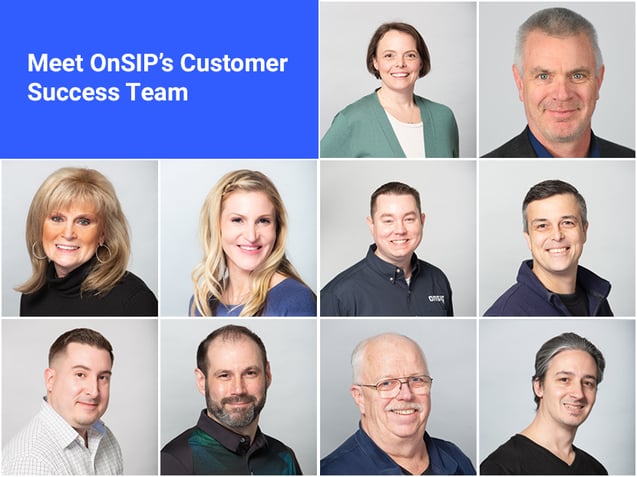 The OnSIP Customer Success Team answers support calls (average wait time for a caller is 22 seconds), live chat, and fields support tickets from Doylestown, PA. OnSIP customers have given the service a 4.5/5 TrustScore rating on Trustpilot. OnSIP also has a Knowledgebase full of how-to articles and videos for DIY support.
Ooma provides a 24/7 support line with trained representatives as well as a live chat option on its website. It also maintains a support page, Ooma Support, stocked with how-to articles that cover feature guides, general account management, and video tutorials.
Ooma is a registered trademark of Ooma, Inc. Ooma and its products/services are not affiliated with OnSIP or Junction Networks, Inc. OnSIP believes the statements made in this post to be accurate as of the publish date of this post.