Summary
| | |
| --- | --- |
| Overall: | |
| Configuration: | |
| OnSIP Testing: | |
| Voice Quality: | |
| Ease of Use: | |
Quick Specs
Video, Conference Calling
Transfer and attended transfer
Multi line
Voicemail support
Call Forwarding
Pros
Design conveniently similar to native phone app
Highly customizable
Cons
Slightly more expensive than competitors
New - Video Calling
Multitasking background support for iOS4 and later
Transfer and attended transfer
Push Notifications
Multi line
Conference Calling
Voicemail support
Enterprise SMS support through SIP SIMPLE
SMS Support for betamax providers, pennytel and sipme
Call Forwarding
Web Callback and Call through for your native GSM number
GoogleVoice integration
Customizable ringtones
HD wideband audio through G.722
Simultaneous registration of multiple SIP accounts
iPhone contacts integration
Bluetooth support for iPhones iPad 2 and iPod Touch 4th Generation
Call recorder and player, seamlessly integrated into the call history
This review predates OnSIP's mobile app for iOS and Android, free to OnSIP users, so is not affected by bias.
Acrobits is a mobile software company primarily focused on mobile SIP clients. Groundwire iOS is the business version of its Acrobits Softphone and is marketed as a viable replacement for desktop phones.
First Impressions
Groundwire's UI design doesn't stray far from the iPhone's native phone app, making it familiar and all in all a visually pleasing experience.
This mobile VoIP app includes many of the components you would expect from enterprise VoIP software or SIP hardware devices. Features like multiple lines, blind and attended transfer, and conferencing set it apart from its sister app: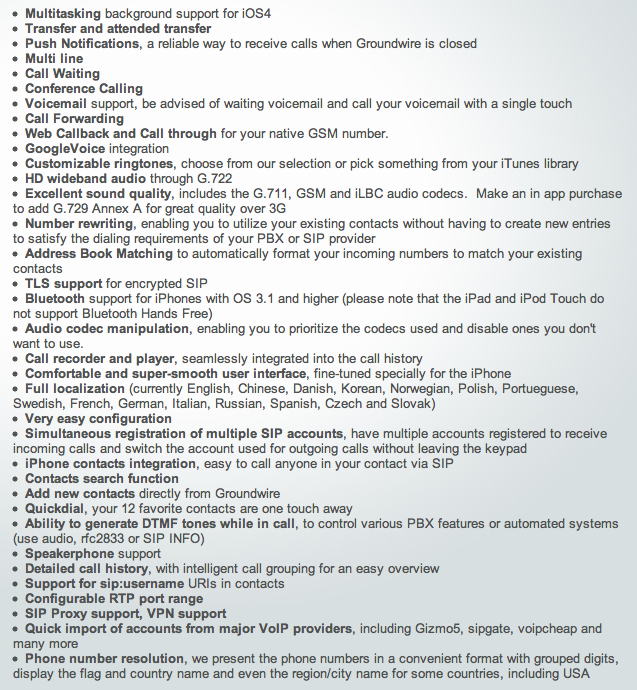 Acrobits's website has helpful articles and tutorials.
Groundwire is priced at $9.99, with Bria for iPhone priced at .99 per month or $9.99 per year. (OnSIP's iPhone app, by comparison, is free for OnSIP customers.)
Ease of Use
Groundwire is incredibly intuitive and easy to use. The upper left-hand corner has a status indicator, and the main navigation bar at the bottom has three main tabs: Quickdial, History, and Keypad. The fourth, Contacts, is merely an import of your native contacts.
The name of the currently active VoIP account appears next to the status indicator icon, which you can tap to switch accounts. If the icon is green, you're registered. Green with two arrows means you're taking incoming calls on that account. Red means you're not registered, and there's probably an error somewhere in your settings.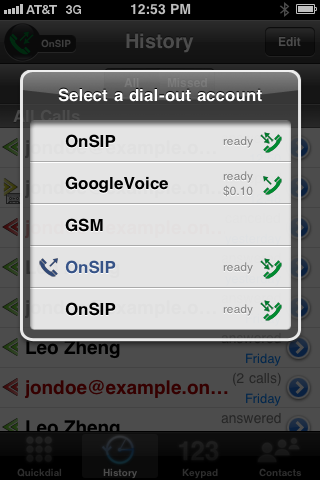 The Quickdial screen is simply a collection of your 12 favorite contacts, which you can tap to call.

History lists the call history for all of your VoIP accounts, and you can filter to only missed calls. Tapping the name within each list item automatically dials that number, while tapping the arrow brings up a screen with more detailed information about the call. It's only here where you can find out which of your SIP accounts is associated with a particular call—absolutely necessary if you have multiple accounts.
You can also access your call recordings here, and each call with an associated recording has a cassette icon next to it. You can listen to your recordings from your iPhone or email them to yourself.
The Keypad screen is your standard dialer with a SIP address input field at the top. It's also home to Settings, where you can customize your SIP accounts as well as the look and feel of the app. Settings > Preferences leads you to a full list of customizable options. For example, you can enable the "Shake Gesture" to switch between active calls just by shaking your phone.
Call Experience
This is your screen during a call: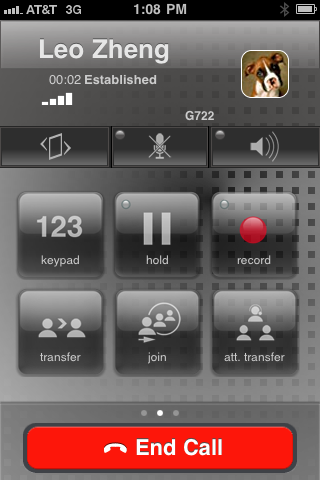 You'll notice three options directly under the Caller ID info. The angled rectangle icon on the left takes you back to the main keypad screen so that you can make another call. Note: This does not put your current caller on hold until after you have dialed another number. The X-ed out microphone in the middle is your mute button, and the speakerphone is the far right icon. The latter two have indicators that show when they are active.

The center of the screen has six other call handling options. These include another keypad option (to interact with attendant menus), hold, call record, transfer, join (a conference feature that only works if you're on two calls already), and attended transfer. The transfer and conferencing features are fairly intuitive. When you hit the transfer button, the app takes you back to the main keypad screen. Simply enter the number to which you want to transfer your caller and hit dial.

If you're on two simultaneous calls, you can hit the attended transfer button. The app displays your other active call, which you tap to conduct an attended transfer.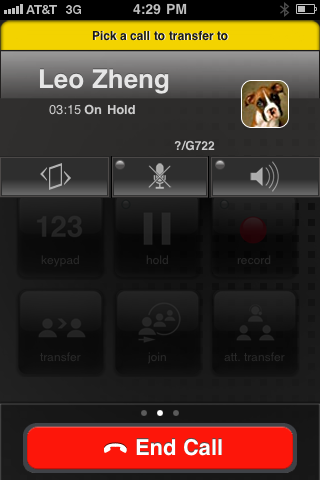 The join button to start a conference only works if you already have at least two calls going. If you do, hit the join button and you'll be asked to select another party to invite to the conference. The app shows your other active calls, and all you have to do is tap on one. Once you're in a conference you'll see this screen:

| | |
| --- | --- |
| | |

To transfer someone out of the conference via blind or attended transfer, simply tap the names of the attendees to select them individually.
Voice Quality
The voice quality on Groundwire is pretty good. With G.711 u-Law, the call quality is on par with what you get on a regular cellular (GSM) call.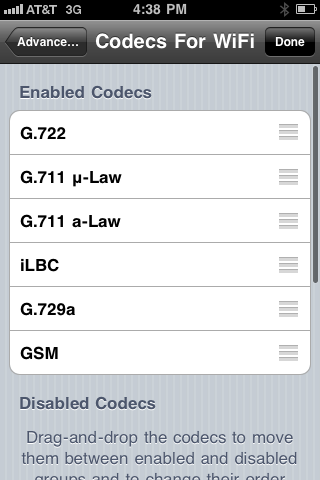 The Groundwire app offers users the ability to select their preferred 3G and Wi-fi codecs. HD-G.722 is available for both. We found that calls negotiated in G.722 sounded much better, even while using our 3G network here in New York City.
Keep in mind that your overall call experience with Groundwire depends almost entirely on the network strength at your location. During a call, Groundwire displays a 5-bar scale that claims to measure the strength of your connection. You can also scroll to a screen (run your finger across the part of the screen with your call handling options) that displays the packet loss and jitter of the call.
JN Testing
At Junction Networks, we put each of the phones we use through a multi-step interoperability test in which we apply ~30 test cases. An example of a test case would be the following:
Test phone calls phone B

B picks up

B puts test phone on hold

B calls phone C

C picks up

B transfers test phone to C

The call must be transferred correctly to C. B must be released correctly after the transfer. When C picks up, audio must work in both ways between test phone and C. When test phone is on hold, there is no audio between it and phone B.
Groundwire version 1.5 passed our test cases with no issues, although we did notice that having Groundwire open throughout the day significantly drained the battery on the iPhone 3GS.
App Configuration
Here's a quick rundown on how to set up an OnSIP SIP account on Groundwire. You'll need your personal SIP credentials, which you can find in your user's tab in the OnSIP admin portal. This is what you're looking for:

In Groundwire settings, the first option listed is "SIP Accounts." Tap the plus sign to add an account, and select "Generic SIP Account." Enter your user credentials as follows:
Title - Your Choice
Username - Username
Password - SIP Password
Domain - Proxy/Domain
Display Name - Your Choice
Next, tap on "Advanced Settings" and scroll until you see "Auth User Name." Enter the Auth Username info you have from your SIP credentials.
Finally, scroll down even farther until you see "Outbound Proxy." You"ll want to enable it, set the "Host" to "sip.onsip.com," and make sure that the "Transport Protocol" is "udp." Hit "Done" when finished. These are the steps:

Acrobits has helpful video tutorials on its YouTube page.
Intuitive, customizable, and feature-packed, Groundwire seems to be a promising addition to the growing number of enterprise-class SIP applications.