Summary
| | |
| --- | --- |
| Overall: | |
| Configuration: | |
| OnSIP Testing: | |
| Voice Quality: | |
| Ease of Use: | |
Quick Specs
Dual HD Voice capable
Multi-line BLF
3-way conferencing
Integrated PoE
Supports up to 2 SIP accounts
Pros
Solid feature set
Easy setup
8 BLF buttons
Low cost
Cons
Odd attended transfer
Useless recording button
The Grandstream GXP1628 is the most elaborate phone in Grandstream's new line of inexpensive SIP phones. The GXP1628 is shooting for the general use crowd with its respectable feature set and decent HD voice capabilities. Imagine a stellar office phone that prices about $100 less than the Polycom Soundpoint IP 550 —that's what the GXP1628 is looking to offer.
The GXP1628 is a Linux-based, two-line IP phone that includes eight BLF keys and three-way conferencing. The phone also comes with dual HD audio, multi-language support, integrated PoE, and three XML programmable buttons. The eight-line BLF function makes it ideal for office users who transfer between several different destinations throughout the day.
But does the Grandstream GXP1628 offer the "powerful VoIP features" and "crystal clear calls" touted by its marketing copy? We put the phone to the test so that we could figure out where the GXP1628 stands.
First Impressions
The GXP1628 is a smallish lightweight phone. The plastic frame is hollow, but the construction of the phone feels solid and durable. The buttons have a nice density and remain satisfactory to the touch. A removable phone stand fits into two slots on the back of the phone, and the stand can also be used as a wall mount.
The handset is not very heavy, but it does feel somewhat awkward holding it on the shoulder for extended periods of time. If you're going to use this phone a lot, it would probably be a good idea to buy a headset (RJ9). The locking mechanism that keeps the handset in place was difficult to get out. We had to force the spring out using a screwdriver, but after that, there were no issues with this feature.
The display is somewhat tiny for a phone of this build. But with backlight capabilities and reasonable length, the display is the right size for the LED text. It serves the bare bones UI well, and it actually contributes to an appealing lo-fi aura that emanates pure business rather than elaborate bells and whistles.
Features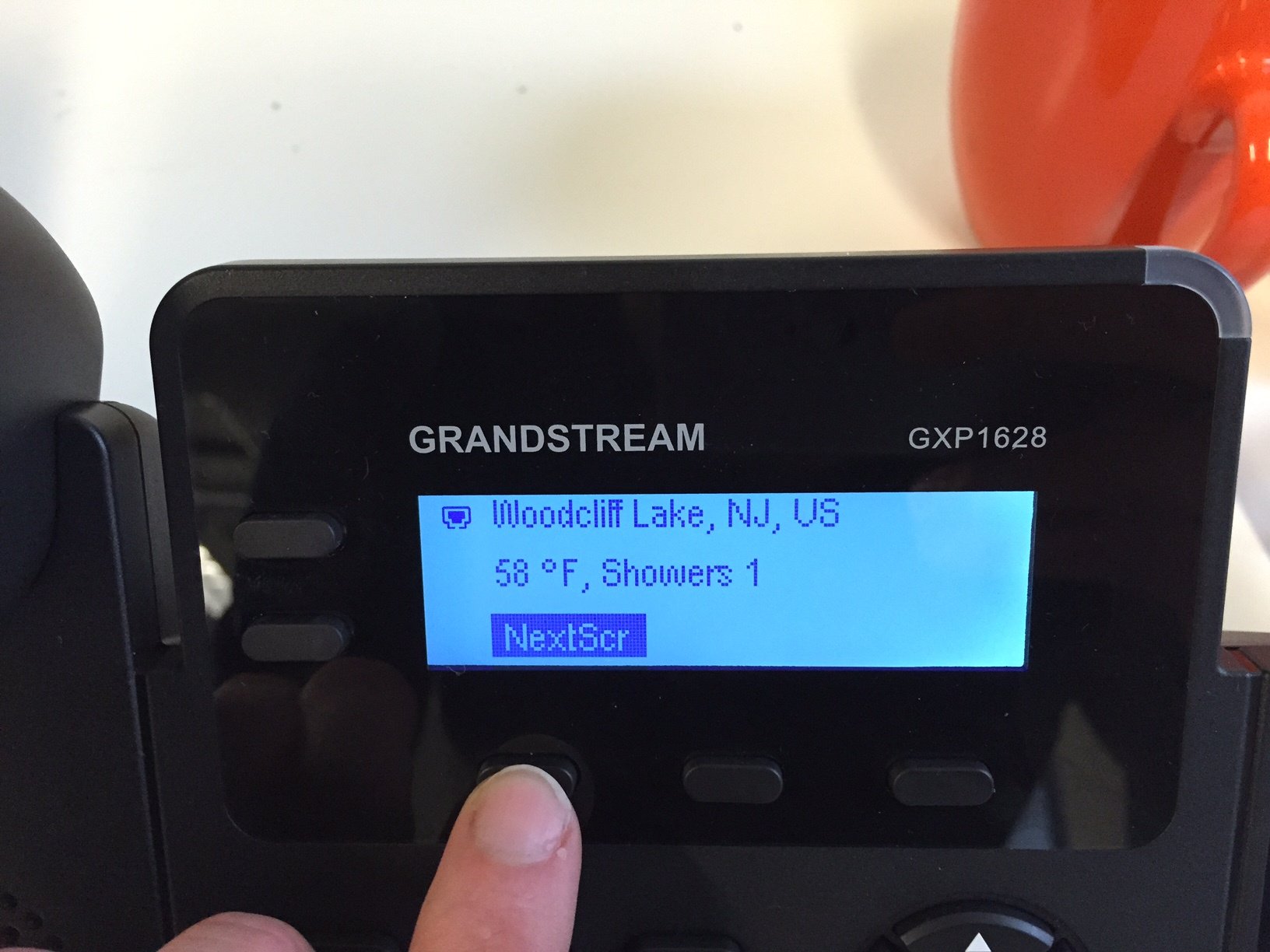 The choice of the face buttons and their overall layout is generally very good. The most commonly used transfer and conference buttons are next to each other, and the general device functions (phone book, voicemail, hold, intercom) are all grouped together. It also includes a recording button that seems to offer functionality with the Grandstream PBX UCM61xx, although the feature appears to make little sense in this regard.
Uploading contact info can be done via an XML file, so if your office contact info is only exportable through a CSV, you'll need to find a converter. Up to two SIP accounts can be registered simultaneously on the GXP1628. The display allows you to see which line is registered, but you may not be able to see what account the line is linked with.
The eight BLF buttons stand out as one of the best features of the GXP1628. They are clear and well placed, with each button evenly spaced across the frame of the phone. But the paper used to label the buttons is inexpensive, which might lead to tearing and other maintenance issues. The GXP1628 comes with extra paper inserts, but there doesn't seem to be any way to purchase these inserts individually.
Our main issue with the GXP1628 is the issue we have with all Grandstream phones. For some reason, Grandstream has refused to modernize their attended transfer functionality. Trying to do an attended transfer is a bit of a nightmare when it's done to phones that are not produced by Grandstream. The process involves too many steps and is cumbersome for users to navigate.
Voice Quality
Like most of the other phones on the market, the Grandstream GXP1628 claims to be HD voice compatible. In our testing, we found that the voice quality was good to middling. There certainly wasn't the same kind of crystalline sharpness found in a phone such as the Panasonic KX-UTG300B, but that model is more than $100 more expensive than the GXP1628. For the price tag, the GXP1628 delivers voice quality that is clear enough to do business at the office.
The decision to purchase the GXP1628 ultimately comes down to why you're buying the phone in the first place. The sound quality of the GXP1628 is reasonable and the price tag is acceptable enough that it could work as an office-wide phone deployment for your company. But if you're just getting a phone for yourself, a more expensive model can offer you truly leading HD voice quality. Other phones we might compare the GXP1628 to in terms of voice quality are Grandstream's own GXP2140 and the Yealink SIP-T28P.
Compatibility Testing
At OnSIP, we put each of the phones we use through a multi-step interoperability test in which we apply ~30 test cases. Here's an example of a test case:
Test phone calls phone B

B picks up

B puts test phone on hold

B calls phone C

C picks up

B transfers test phone to C

The call must be transferred correctly to C. B must be released correctly after the transfer. When C picks up, audio must work both ways between test phone and C. When the test phone is on hold, there is no audio between it and phone B.
Besides the attended transfer issue, we did not encounter any problems while testing the GXP1628.
Phone Configuration
Step 1: Gather information for each user.
Each user has a set of credentials that will be needed to configure each phone. For each phone that you are configuring, obtain the following:
SIP Address (Address of Record)
SIP Password
Auth Username
Username
Proxy/Domain
You can find this information in the user detail pages under the Users tab in the Phone Configuration section.

Step 2: Log into your Grandstream phone through a web browser.
When your phone is powered on and connected to your LAN, use a browser to navigate to the IP address of your phone. To locate the IP address of your phone, select menu and then status. The IP address will be located on that informational page. The default password is "admin." Once you've logged in, select "Account 1."
Step 3. Enter your user information from Step 1.
For most setups, you will need to simply configure "Account 1." If you are trying to configure multiple users or multiple line appearances, you can repeat the steps below for each of the identities you are configuring.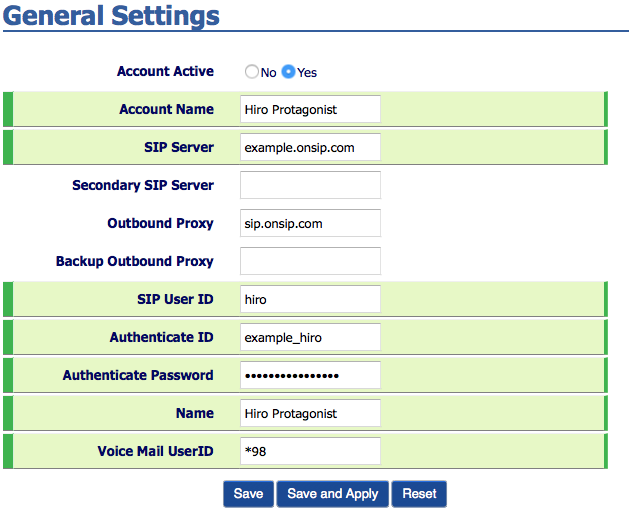 Account Active: Yes
Account Name: Your Choice
SIP Server: Domain
Outbound Proxy: sip.onsip.com
SIP User ID: Username
Authenticate ID: Auth Username
Authenticate Password: SIP Password
Name: Your Choice
Click the "Update" button.
Note: The phone has a timeout on the interface. If you hit "Update" and the phone returns to the login page and your changes were not saved, it timed out. Make your changes more quickly and hit "Update" to save them.
Step 4. Confirm that you have disabled all network address translation (NAT) settings.
We handle all NAT-related issues. So make sure to turn off any NAT settings in order for your phone to communicate properly with our servers. Scroll to the bottom of the "Account 1" section.
Confirm the following settings:
Use DNS SRV: Yes
User ID is phone number: No
SIP Registration: Yes
Unregister on Reboot: Yes
Register Expiration: 10
Local SIP Port: 5060
SIP T1 Timeout: 1 sec
SIP T2 Interval: 4 sec
NAT Traversal (STUN): No, but send keep-alive
Turn off speaker on remote disconnect: Yes
In the following field under Account settings: Make sure Send DTMF: via RTP (RFC2833) is checked. Uncheck any other options.
Step 5. Confirm that your phone is registered.
In the Admin Portal, click on the "Users" tab. You will see a green "online" notation next to each user with a registered phone.
Final Thoughts
The Grandstream GXP1628 is a good-to-decent quality phone that is impressive for its modest price tag. It would work well as a home office POTS replacement or for any low-usage needs in an office (waiting rooms, break rooms, other common areas). If you're a small business looking to get off the ground quickly, the GXP1628 will get you up and running in a jiffy.
The GXP1628 is well worth the price tag. For $89, you get a bevy of features (including eight BLF buttons) that even some of the most expensive phones on the market fail to offer. But with so-so voice abilities and a primitive user interface, the GXP1628 lags behind leading phone models in aural quality and ease of use. Your decision to buy it ultimately comes down to how much you're willing to spend to go from capable to superior.