Summary
| | |
| --- | --- |
| Overall: | |
| Configuration: | |
| OnSIP Testing: | |
| Voice Quality: | |
| Ease of Use: | |
Quick Specs
132x48 pixel graphical LCD, with separate LCD segments for status icons.
2 line keys, but single SIP account support.
3 XML programmable context sensitive soft keys.
2 dual switched 10/100Mbps ethernet ports
PCMU/PCMA, G.726, G729, G722, Opus (pending)
Pros
Excellent value for the $45 MSRP
Quality hardware in a budget conscious IP phone.
Surprisingly good audio quality
Cons
Attempts at forced integration by binding features to other Grandstream products (call recording)
Single SIP account.
New recording, and MOH features have bugs that prevent them from working in many cases.
Lack of ability to dial alpha based user names like "bob" instead, only able to dial extensions like 1002.
First Impressions
The GXP1600 series (GXP1610/GXP1620/GXP1625) is clearly targeted at the low price market segment. It is easy to say that the GXP1610 is a cheap phone, but the MSRP for this device is $45 and will likely retail at most online suppliers for less. That is incredibly inexpensive, and it is something we will keep in mind for the remainder of the review.
The GXP1610 comes across as what it is: a basic IP phone without lots of high-end features like numerous SIP accounts support, color screen, or even a backlight. This is a "fleet" device of IP phones—we can see it generally being used by people who are doing large deployments, those who need inexpensive yet versatile devices for service industry use, or dynamic campaigning-type environments.
The physical device matches the quality of Grandstream's other GXP line of phones, representing a significant improvement since the days of old when Grandstream released really cheap budget phones like the BT100 series. The casing plastic is hard and does not have any flex to it. The assembled product's fit and finish are good, with no misaligned seams or gaps.
The phone feels solid, and all the surfaces have a gently textured finish, excluding the bezel surrounding the LCD. We think that Grandstream has finally gotten it together in the sense that an inexpensive IP phone can have fewer features, but it still needs to have a quality feel to it, and we think the GXP1610 accomplishes that.
After looking over the data sheet for the device, we were slightly taken back by a noticeably missing feature: no HD audio support (more on that to come). The device does have some interesting features: unusually hard keys—specifically "record" and "intercom." These are not function keys that are regularly found on IP phones, especially ones targeted at the low-cost market segment. The phone also features multicast paging, a relatively new feature for Grandstream IP phones generally.
General Configuration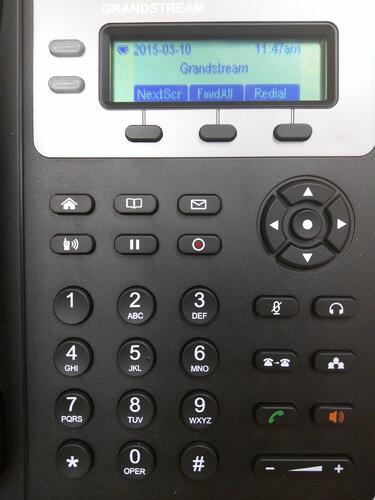 Historically speaking, OnSIP tests devices from a signalling perspective with a series of scenarios designed to suss out issues in signaling that might occur in all but the most basic calling cases. We're going to condense this set of results to let you know that making and receiving calls, as well as making blind and attended transfers, all work without issue.
Grandstream offers quite a bit of configuration on the signaling side: stripping of outbound proxy route headers, ability to set a preference for generating refer targets based on the contact versus the from/to header. Many of these configuration "knobs and switches" are not interesting to most consumers, but as a developer of SIP-based signaling systems, the availability of configuration options is something that we have come to value in Grandstream products.
Grandstream has done a good job of creating an easy-to-use WebUI for configuration, as well as simple mechanisms for provisioning devices from a server. The WebUI provides access to all of the configuration options, and there are no hidden elements that are only exposed via provisioning server configuration. It is also worth noting that all of the required configuration options for use with OnSIP are available.
Features and Testing
Previously, Grandstream had provided two stands for most of their phones: one for desk use and one for wall mounting. Grandstream has done some interesting physical design work and figured out how to make the single stand work for both cases. We think this is quite nice so that we don't have to keep a box around that holds an unused stand.
Until recently, multicast paging has been a feature that did not exist on many Grandstream devices. Grandstream recently released firmware versions for the GXV3275 and GXV3240 that included multicast paging, so we will be able, for the first time, to test multicast paging between Grandstream devices. Grandstream has a multicast paging guide that helped us to get things configured quickly.
Multicast Paging
In testing, we set up the GXV3275 to be the listening device for multicast paging and the GXP1610 to make the page. We configured the secondary line key to be multicast paging with the target ip:port of the GXV3275 address we set up. We set the GXV3275 to use G.722 as the multicast paging codec, but when we did our page, the GXP1610 showed PCMU. Since the GXP1610 was the device initiating the page, we assume it uses whatever preference it has, for which there appears to be no setting, so when you initiate a page from it, it will always be in PCMU.
Other than that, paging worked as expected and is a nice feature addition that some consumers absolutely need.
Remote MOH URI
OnSIP supports an RFC7088-based MoH (music on hold) mechanism in which the user agent placing the other caller on hold acts more or less as a person in the middle of the offer/answer exchange between the MoH server and the person being placed on hold. Polycom has implemented this MoH mechanism as well as Cisco, and it is very nice to see that Grandstream is working on—because of two bugs—adding this to their GXP models.
The first bug is that the GXP1610 does not use the configured outbound proxy when making a request to the MoH server. It instead attempts to resolve the location and send the request directly. For use with OnSIP, this feature would still work as long as you set the phone to use SRV records versus A records for DNS resolution except that there is a second bug. The second bug is that the GXP1610 sends an INVITE to the MoH server with a From: header that contains a uri of sip:ipaddress;port instead of a correct From uri of sip:username@domain.
We authorize users based on from headers, and as a result, this causes MoH not to work. Alternatively, you can use a public MoH server that accepts direct requests off the Internet.
Syslog SIP Messages
Many phones include the ability to log different levels to a remote syslog server; the GXP1610 extends that with a configurable option to include the SIP messaging in the syslog. In our testing, the full SIP messages were not included. Rather, the request line, along with the first three following lines, were included—not the entire SIP message. While this is still useful, we would like to see the option to have complete SIP logging to syslog.
Another thing worth noting: The syslogging is extremely delayed. We have made a call only to see the syslogs come in more than ten minutes later. It is definitely not a feature that can replace a live SIP trace at the moment.
Dedicated Paging/Intercom Button
As a result of Grandstream's previous lack of multicast paging, they have relied on a signaling mechanism based on inclusion of a Call-info header on requests. Many of their IP phones dating back to the GXP2000 have had a call mode button that would allow you to cycle between call/ip call/paging. This button is a little different in that the dedicated paging button on the GXP1610 is not a method of calling but rather a pre-programmed "intercom" address that automatically dials and injects a call-info header on. The utility of this as a hardware button is arguable, but it could be just the feature someone needs.
In testing, this feature worked exactly as expected. If the far end is configured to have "paging/intercom" enabled, it will automatically answer the call. Many phones, including most Polycoms, have this turned on by default. But it usually needs to be enabled on most Grandstream devices.
Dedicated Call Recording Button
When we first saw the promotional images for the GXP1610, we noticed the call recording button and thought, how are they doing call recording on this phone—if they are trying to keep costs down, we would be surprised if it has a USB or SD card port for saving recordings. As it turns out, we were right. We found the following excerpt from the user manual:
"Recording feature is only available when using the Grandstream UCM series IP PBX appliance. The recorded file will be saved automatically to UCM."
We can only assume there is some type of rtp mirroring happening to the UCM PBX, and we'll try to reverse engineer this process. Our first attempts did not show anything immediately apparent in the signaling when the record button was pressed, nor did we see anything in our syslog messages. For now, assume that this feature won't work unless you have a Grandstream UCM PBX.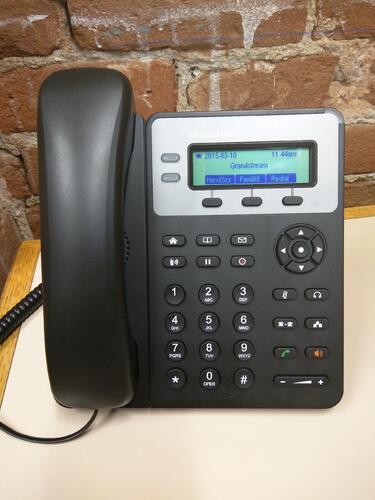 Audio Quality
As we mentioned earlier, a notable missing feature was HD audio. At first we were particularly concerned that this meant the best codec available would be G.711. Fortunately, this is not the case—G.722 is available. But the response range of the speakerphone and handset is apparently not sufficient for Grandstream to be able to call the device HD. With that out of the way, we can assume that the GXP1610 was not meant to be a crystal clear wideband audio experience. But how good is the audio quality overall?
In our testing, the audio quality of the GXP1610 was really good. We were rather impressed by the speakerphone performance as well. There didn't seem to be a great deal of difference between a GXV3275 and a GXP1610 from an audio perspective.
We called the GXP1610 while it was on speakerphone from our version of Jitsi on a laptop using a pair of Koss SB-45 headphones, which we answered on speakerphone. We muted Jitsi so that the only audio would be coming from the GXP1610 and then made a recording using Jitsi's call record feature. It was pretty good quality from a cheaply priced phone that does not claim to be HD quality.
Another thing worth noting: Grandstream has advertised the phone as "Opus (pending)." They have done this before with the GXP2200, the GXV3240, and the GXV3275. The GXP2200 never got Opus before it was EOL'd, but both the GXV3240 and GXV3275 do have Opus support. We would very much like to see continued adoption of the Opus codec by Grandstream as it simplifies high-quality audio interop between WebRTC user agents, where Opus is a required codec.
Conclusions
The GXP1610 is a good phone that provides a lot of value for a low cost. Grandstream is implementing new features that add significantly to the device, such as multicast paging and remote music on hold. But it is also attempting to lock you into using some of their other PBX products by binding features like call recording to those integrations. These factors, along with some small issues such as providing a single SIP account even though there are two line keys, ultimately cheapen the GXP1610 from a product value perspective.
The GXP1610 has surprisingly good audio quality, but don't buy it if you are looking for the absolute top of the line in HD audio. We would like to see more SIP support, specifically the ability to have a contact with a user like "Alice" that you can dial. This is a common problem with many Grandstream devices in that the dial plan validation fails.
As of yet, we have not been able to figure out how to disable the dial plan to allow you to dial these types of users. Along with the new features come bugs, and be aware that this is a review of a beta unit. The whole point of the beta program is to help suss some of these issues out before the device is generally available, and hopefully we will see some resolution to these considerations before the full launch.