Note: The GXP 2100 has since been discontinued.
Industry veteran Grandstream proves that you don't have to spend out the wazoo to get the latest VoIP hardware for your office. The manufacturer recently added four phones to their GXP series, a growing line with enough desktop phone models to satisfy the varying needs of any SMB. Need phones on the desks of your employees who rarely make and take calls? Grandstream hopes you'll consider the GXP1450, a two-line phone that you can find for under $70. If you're looking for something with a lot more oomph, then the six-line GXP2120 executive phone might be right up your alley. It's no surprise that the 2120 is also very reasonably priced; you can pick one up for a little more than $100 if you know where to look. Today we're going to be taking a quick look at the GXP2100, a phone that currently sits in the middle of the pack.
First Impressions
Introduced back in October of last year at IT EXPO West, the GXP2100 is Grandstream's four-line desktop phone. As you can see in the image below, the phone has a slightly different look from the other models in the GXP series. It's a subtle touch that succeeds in making the device seem a bit more modern than its predecessors.

Like all the newly released Grandstream phones, the GXP2100 advertises that it supports HD audio on the handset.
The phone also features a backlit 180 x 90 LCD that's small but gets the job done, three XML programmable soft keys, and seven programmable BLF extension keys and labels. If you've ever used an older Grandstream phone from their GXP series, then you'll be familiar with the key setup on the 2100. Not much has changed. The numpad keys are noticeably larger than everything else, and key features like transfer, mute, conf (up to four way on the GXP2100), etc., have their own dedicated buttons.
Phone Configuration
The following is a quick guide to setting up the GXP2100 with OnSIP. The steps shown here should also work (more or less) if you're using another provider.
First you'll need your SIP credentials. You can find them in your OnSIP admin page under "users." The information you're looking for should look a little something like this:

When your phone is on and connected to your LAN, log into the Grandstream device configuration page in your web browser. Simply type in the IP address of your phone into your browser. The GXP2100 conveniently displays this address on the phone's default screen. You'll be asked for a password. The default is "admin."
You should see three options in the top navigation bar of your screen: Status, Settings, and Accounts. Click on Accounts. For most setups, you will need to simply configure "Account 1." If you are trying to configure multiple users or multiple line appearances, you can repeat the steps below for each of the identities you are configuring.
Enter in your User details as follows:
Account Active: Yes
Account Name: Your Choice
SIP Server: Domain
Outbound Proxy: sip.onsip.com
SIP User ID: Username
Authenticate ID: Auth Username
Authenticate Password: SIP Password
Name: Your Choice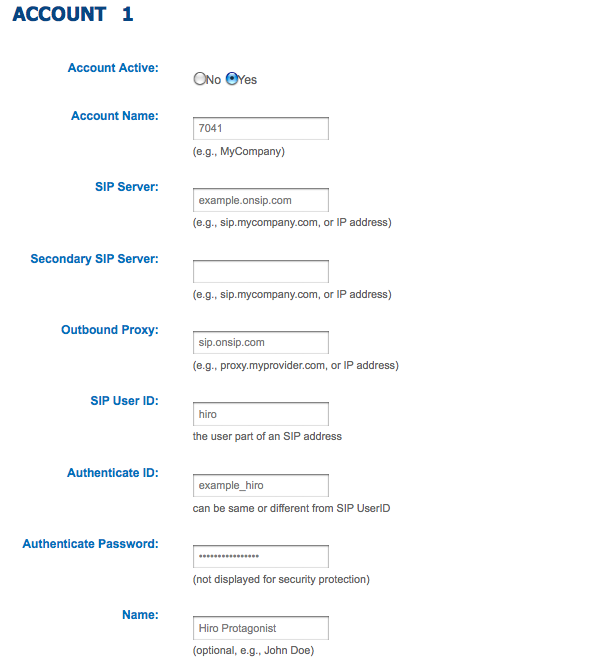 There are many more settings you can tweak here, but you shouldn't need to for a basic account setup. Scroll down to the section labeled "Preferred Vocoder" for your account, and set your codec preferences: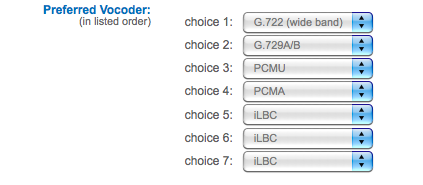 Scroll to the bottom of this page and hit the "Update" button.
Note that the phone has a timeout on the interface. If you hit "Update" and the phone returns to the login page and your changes were not saved, it timed out. Make your changes more quickly and hit "Update" to save them.
For more advanced settings like programming your soft keys or the seven BLF/speed dial extension keys, click on "Settings" in the top navigation bar of the GXP2100 Device Configuration page.
Compatibility Testing
At OnSIP, we put each of the phones we use through a multi-step interoperability test in which we apply ~30 test cases. Here's an example of a test case:
Test phone calls phone B

B picks up

B puts test phone on hold

B calls phone C

C picks up

B transfers test phone to C
The call must be transferred correctly to C.

B must be released correctly after the transfer. When C picks up, audio must work both ways between test phone and C. When the test phone is on hold, there is no audio between it and phone B.
The Grandstream GXP2100 passed our test cases with no issues.
Voice Quality
Calls negotiated using the G.722 wideband codec sound great on the Grandstream GXP2100. It probably isn't quite the best example of high-definition audio we've ever heard in our long history of phone testing, but it is still very impressive considering the price of the hardware. If you're looking for a way to introduce high-definition audio to your team, the GXP2100 is an inexpensive way to do it.
Note that you will not get the benefit of high-definition audio when calling a landline, mobile phone number, or another VoIP user who doesn't have hardware that supports G.722. We were also unable to get high-definition calls with the GXP2100 when we tried dialing our own extensions from the auto attendant.
Calls negotiated using G.711 sounded good as well, but if you're like us and used to high-definition audio, callers can sound like they are talking to you from the end of a hall.
Ease of Use
The GXP2100 doesn't stray too far from the other phones in the GXP line. With four line keys and seven configurable multipurpose keys (BLF/speed dial), the phone can handle up to 11 call appearances, more than enough for your average user. Users can configure their seven multi-purpose keys in the Grandstream device configuration web portal. Options include speed dial, BLF, and presence watcher. With the exception of speed dial, some of these options may or may not work depending on what your VoIP provider offers.
The GXP2100 comes with dedicated hard keys for many of the features users might need throughout the workday. These include transfer, four-way conference, speakerphone, intercom, messages, a shortcut to activate the headset feature (you'll find both a 2.5 mm and RJ9 jack in the back of the phone), and a "contact" shortcut that takes you to your phonebook.
Also included is a navigation wheel very similar in appearance to the ones you find on Polycom phones. This can be used to navigate through menus and select menu options. Depending on the screen you're on, the arrows in the navigation wheel can also act as shortcuts. Both "down" and "right" take you to your phonebook/contacts, while "up" takes you to a list of your missed calls. Above the navigation wheel is a button that allows you to set the volume for your ringtone, headset, handset, and speakerphone.
The backlit 180 x 90 LCD can fit three or four menu options on the screen at the same time, which is enough that using it does not feel like a chore. Under the LCD are three context-sensitive soft keys. By default, you'll see "SwitchSCR," "ForwardAll," and "Redial" when you're looking at the home screen of the phone. The "SwitchSCR" button takes you to Grandstream's already included integrated real-time web applications. You can navigate through weather reports, stock reports, and currency exchange rates by tapping the "SwitchSCR" button. Grandstream advertises that the GXP2100 also supports advanced Web and enterprise app integration; we have yet to thoroughly test XML capabilities.
Final Thoughts
We were impressed with this phone, which is no surprise considering that we also liked the GXP2020 when we reviewed it last year. The GXP2100 does just about everything that comparable VoIP phones from competing manufacturers can do at a fraction of the price. Grandstream proves time and time again that fully featured enterprise VoIP hardware can be affordable. The GXP2100 is great if you are a company looking for an inexpensive way to experience high-definition audio quality.
Images used in this review are from the Grandstream marketing site and Grandstream user manuals.