Summary
| | |
| --- | --- |
| Overall: | |
| Configuration: | |
| OnSIP Testing: | |
| Voice Quality: | |
| Ease of Use: | |
Quick Specs
1920x1080 camera with 180 degree viewing angle

125KHz: EM4100 RFID reader (2 RFID cards and 2 RFID key fobs included)

2 channel alarm input and output

RS485, Wiegand input and output

H.264, G722, and G711 codec support
Pros
Solid hardware

Good resolution and wide field of view

Lots of integration and expansion capability

Priced to be "disruptive"
Cons
No IR / night vision

Poor access control over RTSP feeds

Only able to call numbers, no alpha-based address works

Requires a plugin that only works on Windows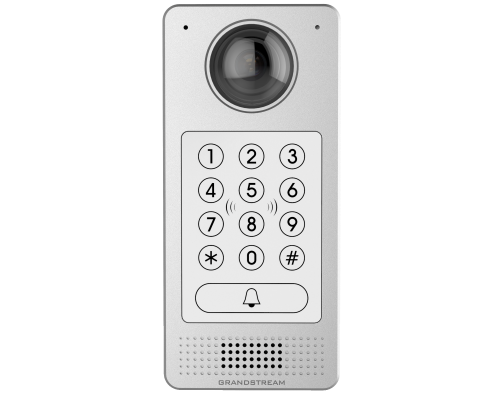 The GDS3710 is an IP video door system that also serves as a high-definition IP surveillance camera and IP intercom to offer facility access control and security monitoring. The GDS3710 also enables voice communication between the device and a chosen extension.
You can use the GDS3710 for a variety of purposes. Landlords can use the device to enable secure entry and surveillance of specific households and apartment complexes. Commercial applications include using the device to secure sensitive business materials, warehouses, medical repositories, company offices, government facilities, and other important property, all through a SIP-based security mechanism.
We were intrigued by the Grandstream GDS3710's multifaceted abilities. Grandstream was kind enough to offer a pre-release version of the device for us to review. Here's our full assessment.
First Impressions
The Grandstream GDS3710 feels solid and heavy. The main housing of the device is metal and substantial, while the back portion is a dense ABS plastic that feels solid without any type of flex. The front has a pleasing design, and the keypad and speaker are well laid out.
One immediate concern was the lack of any type of IR/night vision for the camera. This seems like an oversight for a camera with an IP66 rating, one that someone might want to mount outdoors to secure perimeters and fencing, for example.
Another interesting discovery was that the device did not have a plug for an Ethernet cable. There is a "wiring module" that plugs into the device, but we had to break out an Ethernet cable and wire it to the appropriate screw terminals. This makes us believe that the GDS3710 is targeted to integrators or value-added resellers, rather than the end consumer, because there's a likelihood of you having to wire up an electronic striker and alarm inputs/outputs with this device.
Testing
General Configuration
The first step in setting up the Grandstream GDS3710 is wiring the terminal block. Grandstream has some documentation for this in the manual, but if you're using PoE (which is almost certainly what the vast majority of installations will do), the manual is not particularly clear in the way it describes wiring. The guide tells you to "short out" some specific wires, when it really means to say, "Wire both to this terminal."
Here is a picture of a correct PoE wiring setup for the GDS3710: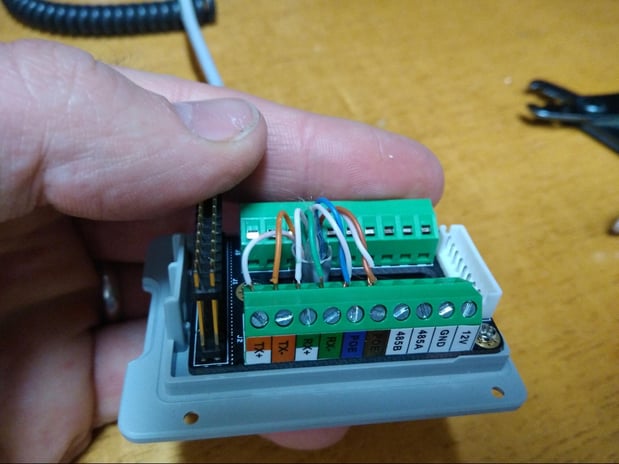 Grandstream has emphasized that this is a "door system." To that end, it's worth noting that Grandstream has produced separate management software to facilitate the overall management of the door system.
Unfortunately, this software only runs on Windows, and as a result, we were not able to test it. That's a big note of caution if you're using a Mac or Linux. However, the GDS3710 is itself capable of managing all aspects of access via its web interface, including radio frequency identification (RFID) cards/fobs management.
As with all other Grandstream security products, a browser plugin is required to view video in the browser and define motion control regions. This plugin is only available for Windows. While Grandstream has made an HTTP API available for all of its other security products, it is currently unavailable for the GDS3710. This would have allowed you to do things that would otherwise require the Windows-only plugin, such as defining motion detection regions, as described in this forum post.
Currently, using a Windows computer appears to be your only option if you want to have the complete ability to manage the GDS3710.
SIP Configuration
General SIP setup for the Grandstream GDS3710 is straightforward from the "SIP Basic Settings" menu option.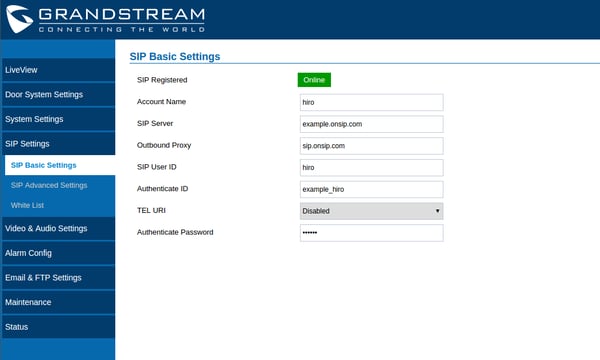 Doorbell Configuration
After we set up our basic SIP account, we wanted to enable the doorbell feature. This was done in the "Basic Settings" subsection of "Door System Settings."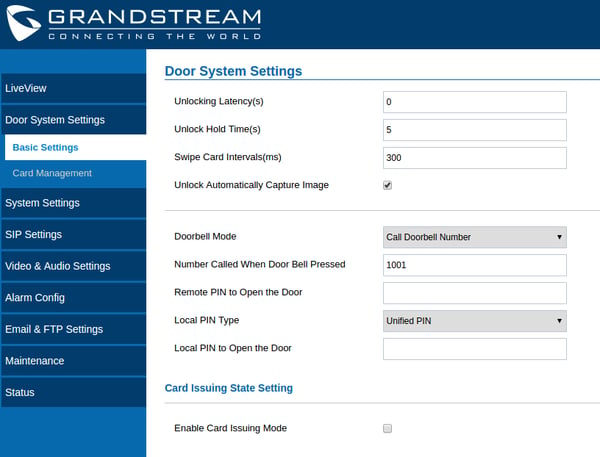 We initially tried entering the user portion of an address of record (AoR), e.g., Bob for bob@biloxi.com. However, the GDS3710 does not seem to work when nondigits are used. We changed the "Number Called When Doorbell Pressed" to a set of digits for Bob's extension, and then things worked as expected.
Camera Image Sample
We temporarily mounted the GDS3710 to the back door of an office and made a direct SIP call to a registered user with Jitsi, a video-capable softphone, from a desktop computer. The image below is a screenshot showing the 180-degree field of view.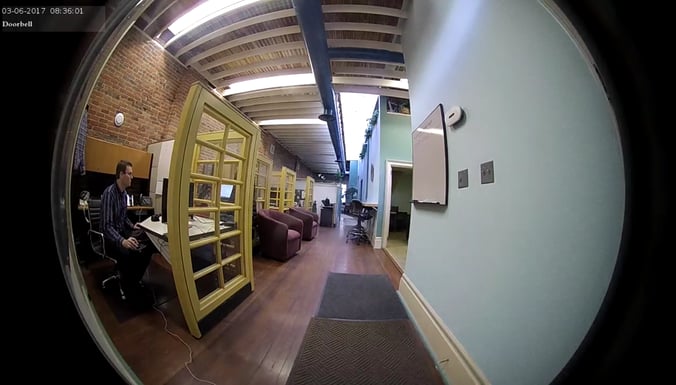 RFID Card and User Management
On the Door System Settings page, you can enable "Card Issuing Mode." When this box is checked and you hit save, the Grandstream GDS3710 will flash its keypad backlight on and off, indicating it is ready to scan RFID cards and add them into its memory. After scanning a card, the GDS will issue a tone to indicate the card has been scanned.
When you're done adding cards, simply go back to the web UI, uncheck the box, and hit save. The GDS will leave card scanning mode and the keypad backlight will stop flashing. After you have done this, you can go to the "Card Management" page. Any newly scanned cards will show up in the list of cards and can then be edited and assigned more user-specific information.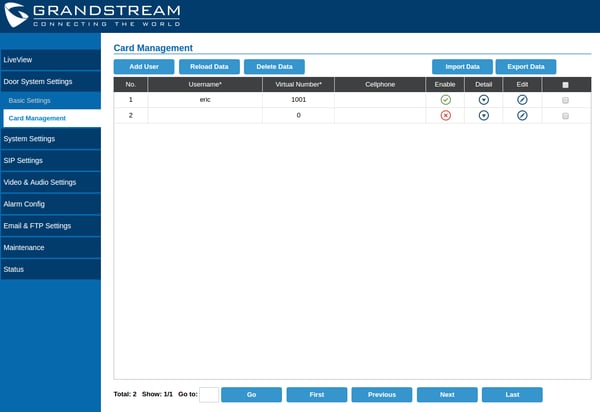 Alternatively, you can choose to enter each card number by hand. Each card/user requires a username, card number, virtual number, and SIP number. The virtual number is effectively a keypad alias that is used to dial the actual SIP number.
As of firmware version 1.0.1.19, Grandstream added the ability to dial a SIP address or extension directly from the keypad. This is only available if you switch the "Call mode" setting to "SIP number." If you set the call mode to "virtual number," you will only be able to dial numbers that have been assigned as a virtual number to a card/user.
It is also worth noting that the "SIP number," when using the virtual number mode, experienced the same issues as the doorbell address in that it only allows digits and certainly does not support a complete SIP URI like bob@biloxi.com.
RTSP Stream and NVR Integration
Since the Grandstream GDS3710 is what we would consider a security product, it should integrate with an on-premise network video recorder (NVR). We tested the real-time streaming protocol (RTSP) feeds and noted that they all required a password. The password was the same as the web UI password. There's no way to change the RTSP stream password without changing the web UI password.
The GDS3710 has three different streams, and you can tailor your NVR to record a specific stream given the disk space you have. We experienced some glitches with the RTSP streams with a specific version of VLC (Live555's openRTSP) but not when using the most current version of upstream library.
Conclusion
The GDS3710 is the first offering from Grandstream for a video door system. The hardware generally lives up to expectations, barring the noticeable lack of any type of IR/night vision. The device provides a great deal of integration with electric door strikes and alarm systems. It also offers expandability with RS485, along with Wiegand input and output.
That said, the GDS3710 currently falls short on the software side. The lack of ability to dial full SIP URIs is somewhat reasonable, but only being able to call digits is not acceptable. There's no ability to discreetly configure RTSP stream access, and there's no documented HTTP API. All of these issues have been reported to Grandstream during the beta program.
We've spoken with the product manager for the GDS3710, and he responded specifically to the lack of any HTTP API documentation, saying that "most of the HTTP API of Grandstream IP camera will be applied to GDS3710" but that "engineering needs some time to work, repack, and organize the API for GDS3710."
To reiterate, this is a review of a beta product that is still a work in progress.