VoIP phones come in all shapes and sizes, but the cream of the crop stand out no matter what price range you're looking at.
Whether you want a simple voice-capable device, or a smart phone-esque monolith, we've chosen five leading phones at every point of the price spectrum.
1.
Grandstream GXP1610
Type: Entry level
Price: $45
As far as economy phones go, the Grandstream GXP1610 is as simple as they come. The phone is meant for people who want a bare bones SIP phone exclusively for voice calling. With 2 line keys, a single SIP account, 3 XML programmable context sensitive soft keys, 2 dual switched 10/100Mbps Ethernet ports, and decent voice quality, the GXP1610 gets the job done for one of the least expensive prices on the market.
Grab this phone if all you plan on doing is making basic voice calls.
2. Grandstream GXP2140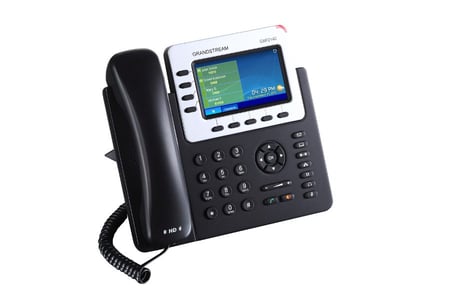 Type: Mid range, full featured
Price: $104
Grandstream GXP2140 comes with 4 SIP accounts, a 4.3 inch TFT Color LCD screen, 5 XML programmable context-sensitive soft keys, and dual Gigabit network ports. It offers fully integrated PoE, an Electronic Hook Switch (EHS), and 4 GXP2200EXT modules to view an additional 160 contacts. The phone's language can be customized for global use. This is a very capable phone with a great price tag for all the given features.
Buy this option if you want a feature-rich office phone with stellar voice quality.
3. Yealink SIP-T28P

Type: "The quality of a Polycom at the price of a Grandstream"
Price: $122
Yealink phones are known for offering feature sets that are usually found in higher priced phones. The Yealink SIP-T28P is no exception. The phone comes with a PoE enabled enterprise capabilities that support up to 6 simultaneous SIP account registrations, 320 x 160 pixel backlit LCD, 48 keys in total including 10 programmable 'shortcut' keys, support for BLF and SMS, and impressive HD voice quality.
The Yealink SIP-T28P is for users who want the features of higher priced phones at a lower cost.
4. Polycom Soundpoint IP 550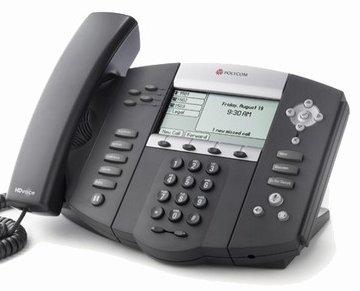 Type: Business grade office phone
Price: $200
As far as business grade phones go, it doesn't get much better than the Polycom Soundpoint IP 550. That's why we use them in our offices. Features include a 320x160 backlit LCD screen, 4 context sensitive "soft" keys, 24 dedicated "hard" keys, a full duplex speakerphone, and an XHTML browse. The Soundpoint 550 also comes with bridged line appearance, distinctive incoming call treatment, and remote missed call notification.
Get this option if you want a powerful business grade phone with awesome HD voice quality.
5. Panasonic KX-UTG300B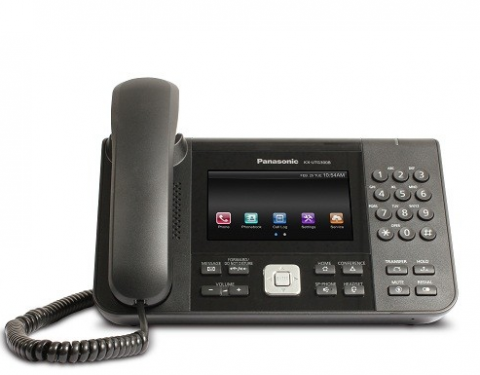 Type: Hybrid touchscreen
Price: $226.99
The Panasonic KX-UTG300B is a phone that breaks down the barrier between smart phones and desk phones. The HD Voice quality is superb, perhaps the best on the market. And the bevy of features it offers is jaw dropping: a full duplex speaker system, 2 Gigabit Ethernet ports, (PoE), built in Bluetooth capabilities, six SIP accounts, 24 programmable keys, expansion module support, and numerous buttoned features.
Get this phone if you want the best VoIP phone on the market with excellent usability.